Discover more from Utah Lacrosse Report
The latest happenings with the sport of lacrosse in Utah.
Over 3,000 subscribers
2022 HS Playoffs: First Round Recap, Second Round Preview
Issue 93 - Girls All-Region Teams Announced, Cedar Wins Region 10 Title, A Season of Service For Corner Canyon
Good morning lacrosse fans! To the Seniors who played their final game yesterday, thank you. Thank you for showing up and being part of the community. Hopefully, your lacrosse journey doesn't end and you'll continue to contribute.
As always, please visit our title sponsors Tribal West Lacrosse (website) & MinersTown Strength and Conditioning (website).
Boys High School
Congrats to Cedar High School for winning the Region 10 (Southern Utah) championship over Canyon View, 6-4. Cedar was led by Ryan Hill, Kaigen LeFevre, Zak Reid and Joe Baruffi. Hill was 71% from the faceoff X and goalie Mason Yuen had 16 saves.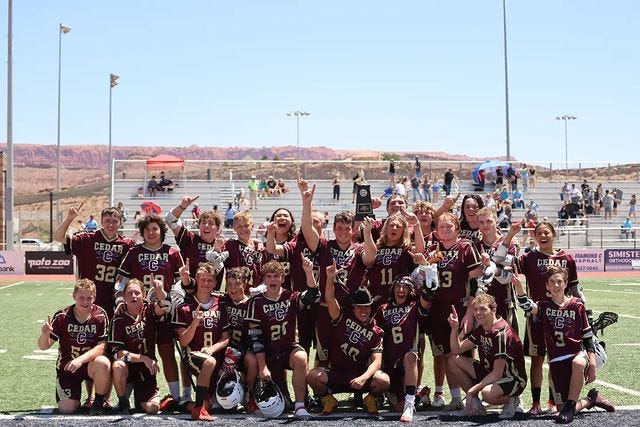 Say what you want about Corner Canyon, but the defending champs have been playing at a level Utah has never seen before on the field. But, they are also doing great work off the field and in the community. Before the season began, the Chargers released a video calling out the need to 'Stand Up' to bullies. A few weeks ago, the Chargers were honored by Governor Cox and First Lady Abby Cox for the Chargers 'Season of Service' and the 'Show Up' program. And just last week, the team visited the Washakie Cemetery and helped to restore graves that had been sinking and had been lost and newly discovered again. Please read the caption of the Instagram post below for more information about how you can help and be part of this project as well.
6A
No. 1 Corner Canyon (15-1) v. No. 17 Pleasant Grove (4-13)
Corner Canyon Key Players: Mason Quick (63G, 33A), Jon King (68G, 25A)
Pleasant Gove Key Players: James Livingston (34G, 13A), Isaac Anderson (75GB, 32TA)
Pleasant Grove is coming off a 12-9 win over Clearfield. You can watch that game here. Corner Canyon should breeze to victory as they did in the previous matchups with the Vikings, 23-2 and 24-1.
No. 2 Davis (15-1) v. No. 15 Copper Hills (9-8)
Davis Key Players: Rhett Rice (66G, 27A), Emmett Rice (48G, 25A)
Copper Hills Key Players: Lucas Abbott (36G, 16A), Logan Kofford (69% save average)
Copper Hills edged Syracuse, 11-8, to advance in the playoffs. Lucas Abbott had 2 goals and 3 assists while Travis Bach finished with 1 goal and 2 assists for the Grizzlies. The Darts should skate by the Grizzlies in this one. For Copper Hills to have a chance, they'll need to slow down the potent Davis offense led by the Rice brothers. The Davis defense is just as good, allowing just 6.8 goals per game.
No. 3 American Fork (13-2) v. No. 14 Skyridge (8-9)
American Fork Key Players: Camden Oswald (51G, 37A), Zachary Bezzant (86.4% faceoff wins)
Skyridge Key Players: Barrett Heilner (31G, 37A), Shaeden Stevens (48G, 10A)
Skyridge enters the game coming off a 20-2 win over West Jordan. American Fork won both region games against the Falcons, 15-2 and 15-3. It should be a similar result on Thursday.
No. 4 Weber (13-3) v. No. 13 Riverton (9-8)
Weber Key Players: Squish Easley (45G, 46A), Pierce Brinton (49G, 14A)
Riverton Key Players: Colton Rasmussen (25G, 4A), Adam Shulsen (21G, 12A)
On Tuesday, Riverton earned a spot in the second round by beating Layton, 25-1. Weber takes the No. 4 spot after losing to Fremont once and Davis twice. The Weber offense will likely be too hot to handle, as they average 13.375 goals per game. Riverton is giving up 9.7 on defense.
No. 5 Mountain Ridge (14-3) v. No. 12 Roy (9-10)
Mountain Ridge Key Players: David Wright (55G, 24A), Collin Hurst (74% faceoff percentage)
Roy Key Players: Colby Dickson (33G, 15A), Kotah Sudyka (62% Faceoff)
Roy beat West, 22-0, to advance to the second round. Colby Dickson led the Royals with 3 goals and an assist. The Sentinels played Roy in the beginning of the season in a tournament game and won 14-0. Mountain Ridge is clearly the favorite in this one and should win but never count out the Royals when they get on a roll.
No. 6 Fremont (12-4) v. No. 11 Herriman (8-7)
Fremont Key Players: Davis Searle (58G, 52A), Carson Isaacson (56G, 39A)
Herriman Key Players: Parker Sorensen (26G, 28A), Asher Deputy (68.5% save percentage)
The high-flying Fremont attack will challenge the stout goalie play of Deputy for Herriman. Fremont leads Herriman in almost every stat category. The Mustangs will need to bring their best defense in order to upset the Silverwolves.
No. 7 Lone Peak (12-6) v. No. 10 Farmington (8-7)
Lone Peak Key Players: Anders Neuenschwander (49G, 32), Connor Kelley (62GB)
Farmington Key Players: Mason Hepworth (42G, 23A), Leif Erickson (57.9% save percentage)
The Knights will come out and look to dominate the Phoenix physically. Can Farmington respond? Neuenschwander has been great for Lone Peak all season but don't sleep on the Farmington offense who loves to spread the wealth. Don't be surprised to see great battles at the faceoff X as well.
"I think faceoff wins and just taking care of the ball are keys for us," said Lone Peak Head Coach Bruce Tucker. "We are great when we are in settled 6 v 6.  We will need to see other players on offense step up."
No. 8 Bingham (11-5) v. No. 9 Westlake (9-7)
Bingham Key Players: Nick Anderson (34G, 6A), Christian Jones (63.6% save percentage)
Westlake Key Players: Hunter Hernandez (59G, 32A), Ethan Boren (43G, 23A)
I am really excited about this matchup. I think that Bingham has taken its lumps early in the season and Westlake plays in the toughest 6A region so you can't always judge a team by its record. The Miners lost one game in April, an 18-1 drubbing from Olympus. Westlake is 3-3 and Bingham is 2-3 against common opponents.
"Nothing in Region 4 is easy and I thought we showed exceptionally well in Region 4 play," said Westlake Head Coach Danny Horne. "Westlake is no longer a program to brush off or overlook. Each year, we know we are playing against storied juggernauts and we feel like those match-ups prepare us to play against anyone in this State and stay competitive with them. We're excited to battle Bingham. They are another team our program has never beat and we look forward to heading their way this Thursday.  Keep an eye out for all of our players. We've gotten to where we are as a program through a monumental group effort. We will be doing the same for every Bingham player. Both teams have been battle-tested and in every game, there are new players rising up to the occasion and making big-time plays."
5A
No. 1 Olympus (16-0) v. No. 17 Salem Hills (9-8)
Olympus Key Players: Hutton Murphy (64G, 60A), Camden Rossi (48G, 28A)
Salem Hills Key Players: Landon Buttars (64G, 14A), Christian Shuler (103GB, 11TA)
Salem Hills beat Orem, 11-10, in the first round to advance. (Highlights | Photos) Land Buttars had 4 goals while River Jackson had 3 goals and an assist for the Skyhawks. Olympus should have no problem getting to the next round. They are just too much to handle on the offensive end and play great defense.
No. 2 Park City (11-5) v. No. 18 Box Elder (7-10)
Park City Key Players: Brendan Johnson (31G, 30A), Jack McHenry (70.6% faceoff wins)
Box Elder Key Players: Quade Simpson (26G, 18A), Aiden Anderson (45G, 20A)
Box Elder beat region foe Woods Cross, 14-9, on Tuesday to advance. (IG Reel) The Miners will look to score early and often en route to the quarterfinals. It could be a long night for the Bees if they don't stay disciplined in all facets of the game.
No. 3 Bountiful (14-2) v. No. 14 Lehi (9-7)
Bountiful Key Players: Hayden Hansen (86G, 20A), Cole Terry (201GB, 66TA, 17G, 19A)
Lehi Key Players: Steele Cooper (69G, 17A), Makafefie Havea (45G, 19A)
Lehi sneaked by Bonneville, 12-9, to advance. Bountiful will look to prove it belonged as the No. 2 seed as it opens playoff play against Lehi. The Redhawks offense is dynamic and the defense is stout. If you're at this game, pay attention to how quickly Bountiful pushes transition through Cole Terry.
No. 4 Alta (13-3) v. No. 13 Spanish Fork (9-7)
Alta Key Players: Berkley Horoba (55G, 72A), Josh Updike (69.4% faceoff wins)
Spanish Fork Key Players: Andrew Seidel (41G, 16A), Wyatt Swasey (54% save percentage)
The Dons beat Cedar Valley, 15-4, on Tuesday to advance. Jason Lukins had 6 goals and 2 assists while Andrew Seidel finished with 6 goals for the Dons. Region 9 Coach of the Year Jesse Thorpe will look to have his squad ready to take on the high octane Hawks. Alta will look to score in transition through the Horoba brothers.
No. 5 Skyline (9-6) v. No. 12 Northridge (8-9)
Skyline Key Players: Zane Neville (23G, 21A), Julian Hodges (24G, 6A)
Northridge Key Players: Andrew Tate (36G, 14A), Trey Bowen (31G, 4A)
Northridge beat Timpanogos, 18-3, on Tuesday in a statement game. Will that momentum carry over to Thursday? The Skyline defense is allowing fewer goals than Northridge and the Eagles offense is scoring more. Is that a sign of what's to come?
No. 6 Timpview (13-4) v. No. 11 Wasatch (11-6)
Timpview Key Players: Charlie Freedman (53G, 44A), James Bauer (35G, 39A)
Wasatch Key Players: Caleb Taylor (39G, 20A), Cole Jorgenson (54GB, 40TA)
Both of these teams played on Tuesday with Timpview beating Mountain View, 14-1. Wasatch beat Highland, 14-3. Cole Lent had 5 goals for the Wasps. I'd give the edge to the T-Birds in this one since the game is on their home field, however, Wasatch is on a 9-game winning streak and will look to pull off the upset.
No. 7 East (10-5) v. No. 10 Brighton (9-8)
East Key Players: Lo Tafisi (39G, 23A), Jack Taylor (84GB, 10TA)
Brighton Key Players: Grayson Harris (40G, 11A), Donovan Wismer (21G, 27A)
East beat Springville, 21-3, and Brighton beat Provo, 18-2, to set up this Region 6 showdown. These two teams played each other last week with Brighton taking home a 15-9 win over the Leopards. I suspect this will be a fantastic game. Both teams will enter with confidence after convincing wins in the first round.
No. 8 Viewmont (10-6) v. No. 9 Maple Mountain (12-5)
Viewmont Key Players: Abe Salmon (50G, 15A), Tommy Fraser (61.4% save percentage)
Maple Mountain Key Players: Porter Kraft (37G, 24A), Andrew Pilati (135GB)
The Vikings opened up the playoffs with an 11-5 win over Jordan (IG Reel) while Maple Mountain took it to region foe Payson, 15-5. As the seeding suggests, this has the potential for a classic showdown between two great teams. Both teams are 2-0 against common opponents.
4A
No. 8 UMA Hill Field (1-11) v. No. 9 Logan (0-18)
UMA Key Players: Aydyn Nelson (19G, 1A), Hunter Keller (68.8% save percentage)
Logan Key Players: Steven Neilsen (9G, 2A), Nathan Mcallister (49GB, 8TA)
Can UMA pick up its second win of the season or will Logan play spoiler and come out on top? The winner faces No. 1 Sky View on Saturday.
---
Girls High School
The girl's All-Region teams were announced and can be viewed here.
6A
No. 1 Skyridge v. No. 17 American Fork
Roy v. American Fork: The Cavemen were down at halftime but came back with passion and drive. They tied up the game 10-10 and won in sudden victory in overtime. American Fork was led by Rachel Taylor with 6 goals including the final goal in overtime on an assist from Rachael Rose. "Way to fight girls," said American Fork Head Coach Ray Langhaim. 
For the upcoming match, Skyridge is favored to win with 93% of their games won, 14-1 overall and 226 goals on the season. Skyridge won the regular-season matchup, 18-6, on April 28.
No. 2 Mountain Ridge v. No. 15 Westlake
Westlake v. Layton: "It was a tight game in the first half with both teams going back and forth with no one having more than a 3-point lead at any point. At the end of the half, the score was 9-8 Westlake. In the second half, Westlake's transition defense was the difference causing lots of turnovers and leading to goals on the offensive end. The scoring was balanced for Westlake with Hailey Romrell scoring 4 and McKenna Emero, Katie Baertsche, Eliza Lindsay, Elli Stevenson and Paige Payne all scoring 2 apiece. 6 of the 16 goals were assisted. On defense Halle Parry and Maggie McEwen lead the way with 5 and 4 caused turnovers respectively," said Westlake Head Coach Stash Dabrowski. 
For the upcoming matchup, Mountain Ridge is favored to win with 88% of their games won, 14-2 overall and 293 goals on the season.
No. 3 Lone Peak v. No. 14 Weber
Weber v. Copper Hills: Weber didn't let anyone take over their field with a shutout game of 18-0. They defeated Copper Hills on home turf, moving them onto the second round against Lone Peak. 
For the upcoming matchup, Lone Peak is favored to win with 75% of their games won, 12-4 overall and 221 goals on the season.
No. 4 Davis v. No. 13 Bingham
Bingham v. Clearfield: Bingham stomped the game with a 21-4 win. "They played beautifully, they connected their passes, moved down the field quickly and made hard shots. We have a few things to work on in practice tomorrow, but we are very excited to play Davis on Thursday," said Bingham Head Coach Sydney Christensen. 
For the upcoming matchup, Davis is favored to win with 81% of their season won, 13-3 overall and 196 goals on the season. 
No. 5 Syracuse v. No. 12 Herriman
Herriman v. West: Herriman showed West up for the third time this season with a defeat of 21-1 which sets up a second-round game against Syracuse.
For the upcoming matchup, Syracuse is favored to win with 79% of their games won, 12-4 overall and 219 goals on the season. 
No. 6 Fremont v. No.11 Riverton
Fremont Key Players: Senior Livia Sargent 66G, 16A, 62GB, 13 CT, 131 DC and 199DA. Kaitlyn Davenport 15G, 11A, 70GB and 8CT. 
Riverton Key Players: Sophomore McKaylee Sargent 41G, 9A, 47GB and 16CT. Senior Sara Baker 57GB and 21CT. 
For the upcoming matchup, Fremont is favored to win with 75% of their games won, 12-4 overall and 196G on the season. 
No. 7 Corner Canyon v. No. 10 Farmington
Corner Canyon Key Players: Senior Simone Parker 71G, 3A, 108GB and 27CT. Junior Kenzie Simmerman 18G, 4A, 106GB and 7CT.
Farmington Key Players: Senior Grace Kunzler 32G, 5A, 25GB and 6CT. Freshmen Kate Carter 5G, 37GB and 21CT. 
This should be an interesting matchup as the Phoenix have the better record, but the Chargers have played more meaningful games.
No. 8 West Jordan v. No. 9 Pleasant Grove
West Jordan Key Players: Senior Sydnee Brinton 85G, 43A 74GB and 34CT. Sophomore Amelia Henderson 17G, 26A, 52GB, 14CT, 129 DC and 230 DA.
Pleasant Grove Key Players: Senior Mackenzie Sulz 66G, 13A, 68GB, 17CT, 63DC and 306DA. Senior Katelyn Sperry 65G, 17A, 68GB, 23CT, 90DC and 58DA. 
For the upcoming matchup West Jordan is favored to in with 75% of their games won, 12-4 in the season and 275 goals on the season. 
5A
No. 1 Park City v. No. 16 Springville
Springville v. Box Elder: Springville defeated Boxelder 10-7. "For Springville offense highlights: Olivia Ottley 4 goals and 1 assist, Maizie Thompson 2 goals, Morgan Zabriskie 1 goal and 1 assist, Brindley McCarty 1 goal and 1 assist, McKenzie Larsen 1 goal and 1 assist, Emery Cardoza  1 goal and Ella Welsch  1 assist. Springville defense highlights: Ashlyn Cannon 5 GB,  3 CT. I'm so proud of how hard our team has worked this year. Today they really showed how to play together as a team. Every single starting attack and middie got either a goal or assist or both—it was amazing teamwork! Additionally, our defense worked hard and got a lot of ground balls and CTs. Well done, ladies!" said Springville Head Coach Adrienne Ottley.
For the upcoming matchup, Park City is favored to win with 100% of their games won, 14-0 and 259 goals on the season. 
No. 2 Brighton v. No. 15 Timpanogos
Timpanogos v. Timpview: "We won 15-7 in our third time playing Timpview this season. It was a great game on both sides! Just a few players I would like to highlight, #17 Amanda Mcdonald - 5 goals - 6 Ground balls, #11 Eleanor Haslam - 3 goals, #4 Millie Yarro - 3 goals, and #13 Brenna Bronson - 5 Caused turnovers" Coach Meghan (Casper) Hallam. The Daily Herald was on hand and provided this recap.
For the upcoming matchup, Brighton is favored to win with 81% of their games won, 13-3 overall and 233 goals on the season. 
No. 3 Olympus v. No. 14 Highland
Highland v. Viewmont: Highland made their school proud tonight with a striking 18-5 defeat over Viewmont moving them into the second round with Olympus.
For the upcoming match, Olympus is favored to win with 86% of their games won, 12-2 overall and 247 goals on the season. The Titans won the regular-season matchup, 22-2, on April 25.
No. 4 Wasatch v. No. 13 Provo
Provo v. East: The Provo Bulldogs had an exciting night with stats all across the board. Starting with a few standout players #5 Jessica Edwards 3G, 7A and 7GB. #11 Ellee Scott 4G, 3A, 3DC and 3GB. #1 Sally Otterstrom 5G, 6DC, and 7GB. #33 McKinley Jorgensen 1G, 3DC and 7GB.
For the upcoming matchup Wasatch is favored to win with 71% of their games won, 10-4 overall and 189 goals for the season. Wasatch won the regular-season matchup, 18-7.
No. 5 Jordan v. No. 12 Bountiful
Bountiful v. Cedar Valley: Bountiful showed up and showed off with a win of 13-6. A few star players for the Redhawks #4 Emily Stewart 4G 3GB and 2CT and #13 Eliza Collin's 8GB and 4CT. "Our team had a rough start. But I called a time out and told them the score wasn't reflecting the amount of possession we had and we needed to place our shots and put them in the goal. But after that things went more like I know our team should look," said Bountiful Head Coach Olivia Cope.
For the upcoming matchup, Jordan is favored to win with 75% of their games won, 12-4 overall and 204 goals for the season. 
No. 6 Payson v. No. 11 Maple Mountain
Maple Mountain v. Mountain View: Maple Mountain shut down the field with a defeat over Mountain View, 14-0. Maple Mountain will be challenging the higher seed No. 6 Payson. 
For the upcoming matchup, Payson is favored to win with 87% of their games won, 13-2 overall and 177 goals on the season. Payson won the regular-season game, 7-6 in double overtime.
No. 7 Alta v. No. 10 Skyline
Orem v. Alta: The Hawks shot and scored 32-2. "I was very proud of my team today. They really showed us the skill and effort they have on and off the field. We are very proud of the way our team played today. Can't wait for Thursday," said Alta Assistant Coach Madisen Robert.
Skyline v. Salem Hills: Skyline had a dominating win over Salem Hills, 16-5. "We had an explosive start this evening and made sure to underline the importance of draw control throughout the game. Salem Hills was a great opponent and this game gave us the opportunity to really dial in our transitions. We are excited to play Alta on Thursday and are ready to show them what Skyline Lacrosse is all about. A few players that stood out this evening were Sammy McMaster who led Skyline in draw controls once again, Maleah Holloway who led us in caused turnovers, and Lucy Randall who led us in ground balls. Our goalie, senior captain Olivia Lowe, was absolutely on fire and had a 75% save percentage tonight," said Skyline Head Coach Nicole Jermak.
For the upcoming matchup, Alta is favored to win with 77% of their games won, 13-4 overall and 243 goals on the season. 
No. 8 Woods Cross v. No. 9 Lehi
Lehi v. Bonneville: Lehi had a shutout game over Bonneville, 16-0. A few All-star players for Lehi: #44 Karli Fiedler 5G 2A and 5GB and Mylee McAllister 2G, 5A, 1GB and 1CT. 
Woods Cross v. Spanish Fork: Woods Cross only let 2 slide by them, ultimately defeating Spanish Fork, 19-2.
For the upcoming matchup, Woods Cross is favored to win with 80% of their games won, 12-3 overall and 218 goals on the season. 
4A
No. 8 Judge Memorial v. No. 9 Logan
Judge Key Players: No stats listed
Logan Key Players: Freshmen Lucy Colton 9G, 33GB and 10DC. Freshmen Channing Karaghouli 2G, 15GB and 2CT.
For the upcoming matchup, Judge Memorial is favored to win with 20% of their games won, 2-8 overall and 68 goals on the season.
---
That's it for today, stay safe out there and see you on the sidelines!
— Tim Haslam (Intro/Boys) & Kenzie Christiansen (Girls)