Discover more from Utah Lacrosse Report
The latest happenings with the sport of lacrosse in Utah.
Over 3,000 subscribers
Baer at Wasatch, 2020 Utah Schedule, and Fall Classic Highlights
Issue 6
This issue features an interview with Wasatch head coach Chris Baer, a look at the 2020 Utah Schedule, Fall Classic highlights, and a follow-up on the game in 1946.

Please forward to a friend!
Baer Has Wasps Ready to Sting
As I continue to reach out to coaches, I'm constantly reminded of the tight knit community we have here in Utah and former Utah high school players want to continue to contribute to the game. Another great example is the new head coach at Wasatch, Chris Baer.
Baer grew up in Media, Pennsylvania just south-east of Philadelphia. He moved to Utah when he was 18 and has since spent time on Long Island and Clearwater, Florida.
"No one ever leaves Utah for good," said Baer. "I moved my family back to Kamas in February 2017."
Baer, hailing from a traditional hotbed, began playing at an early age.
"I started playing when I was 7 because baseball wasn't my thing and I haven't looked back," said Baer. "It really starts with coaching and there are some absolutely outstanding coaches in that area like the legendary Jeff Pettit, who has helped coach thousands of players in his tenure as the founder of Rose Tree Optimist Lacrosse.  In that program, there was a certain focus on the importance of the game and I had coaches not let the team step on the field until we could recite all six of the tribes of the Iroquois nation. I lived in Pennsylvania for another 10 years, playing for Penncrest High School and Wayne Matsinger who has been with Penncrest for nearly 30 years. When I was 18, I moved out to Park City, where I started playing for Ryan Sheaffer, an unbelievable coach who is still a great friend and mentor."
Baer excelled on the field and went on to play at New York Tech with Hall of Fame coach Jack Kaley,  and Westminster learning from Mason Goodhand.
"I had a tumultuous collegiate experience and decided to hang up the cleats early to start coaching," said Baer. "I have had stints with several programs including Highland, Skyline's women's program, Clearwater High, and Park City."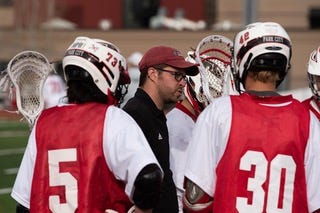 Baer feels he's found a home at Wasatch.
"I am honored by the opportunity to coach Wasatch," said Baer. "We have a great group of young players who are eager to work hard and build the program.  We only have a couple seniors but our talent is through the roof so expect great things in the years to come."
When it comes to lacrosse, Baer states that Wasatch is 'all in'.
"Our administration has put an emphasis to make sure that the sport takes off in town," said Baer. "Heber City loves their sports and there must be something in the water because the athletic talent level in this town is unbelievable.  The administration, specifically Ryan Bishop and Brad Foster, have been full steam on taking my advice and working with me to create a positive lacrosse culture at the school and a successful schedule for this upcoming year. Our parent board is supportive, working to fundraise for our program, and helping me create volunteering opportunities to help get our kids involved in the community and with communities we care about. Most important, the players, we have 40 incoming freshman that are joining the program. We are full steam ahead."
Baer will have help on the sidelines from brothers David and Mike Williams, Mark Vargas, Jon Franco, and Cameron Smith.
"Dave and Mike are two guys with great lacrosse resumes," said Baer. "They come here from Delaware where they played at Concord High School and since then Dave has started up multiple high school teams including Riverton and Herriman.  Dave also was the head coach for the UVU Wolverines mens and women's team… at the same time.  We are thrilled to have Dave's coaching experience signed on for this season. Mike is also new to the program. Bringing his offensive knowledge, he brings a number of years experience with the Woods Cross program. Mark is a football guy from Texas.  He has been working with the Wasp football team for the past few years and now with our lacrosse team.  He is the only coach we have returning from last year. He brings his tough, no nonsense, hard-nosed philosophy to our team. Jon was a great player in high school and has a passion for coaching. We brought on Coach Cam as our Strength and Conditioning coach.  He is another guy with a football background who has jumped head first into lacrosse.  Cam doesn't allow anyone to stand in line and wait, his philosophy is there is always something that can be done while you wait. Cam will be working with Goalies and FOGOs as well this season."
Baer is hoping returning players like Brody McGuiness and Rhett Griffith really propel the team as well as new players with experience.
"Brody is coming off a ridiculous Sophomore campaign as LSM," said Baer. "He is a great leader on defense and has worked with Summit Lacrosse Club over the summer and has built his game quite a bit since last year.  I expect big things from this young man as a Junior leader in the program. Rhett is also a Junior leader at midfield. He loves to lead the offense and has excellent lacrosse IQ. Easily coachable young man with a motor that won't quit. We have an incredible group of players coming into the program, guys like: Dylan Harmston,  Josh Nokes, and Cam Horner."
When not on the field, Baer teaches social studies at Treasure Mountain Junior High in Park City.
Q&A
TH: What is your favorite thing about lacrosse? 
CB: Lacrosse is inclusive. There isn't a single person who can't be great at this sport. In basketball, you have to be tall and coordinated, both of which I am not. In football, there are specific body types for every position. If you're over 260 pounds chances are you're playing the line, but in lacrosse, everyone can play no matter what your size. You have guys who are the size of lineman like Will Yeatman who was a star attackman for Maryland and then played Tackle for the San Diego Chargers. And then you have guys that are 5'8 and could shake you out of your shoes.  One of the best players I ever watched play the game was Eric Bishop who played at Salisbury University from 2004- 2008.  He was 5'6" at the most, but so unbelievably shifty and quick. He had a first step that would leave people in the dust. There isn't a person who picks up a stick that doesn't have the opportunity to be great if they put in the work. Thats what I love about this game.
TH: If you could change one thing about lacrosse, what would it be? 
CB: I'd like the state to give the lacrosse community more media attention.  If we can grow attention to the game then we can have more kids signing up in youth programs and we can have more schools sanctioning because the number of kids playing is growing at high rates.  I perceive schools in Davis and Weber county sanctioning next year but I'd love to see 5 new schools build programs as well; schools like Cedar Valley, and South Summit.  If we get KSL and other local channels to air some of the top games this year, we can increase our lacrosse community exponentially in the next 5 years.  
Wasatch finished 2019 with a 6-12 record and lost in the second round of the Class C playoffs. The Wasps will compete in Region 8 which features Mountain View, Orem, Provo, Timpanogos, and Timpview.
2019 Region 8 Standings - Team (Rank)
Timpanogos (16)

Timpview (25)

Wasatch (36)

Mountain View (DNP)

Orem (DNP)

Provo (DNP)
Lacrosse in Utah in 1946: A Venue Change
In Issue 4, I wrote about an article in the Salt Lake Telegram about a lacrosse game at East High School in 1946. According to another article, the game had to be moved and ended up at White Park, a softball complex across from the Fairgrounds in Salt Lake City. Tickets were sold at the Mint cafe on the corner of Regent Street and 200 South on the first floor of the Beason Building. Stay tuned for the game recap!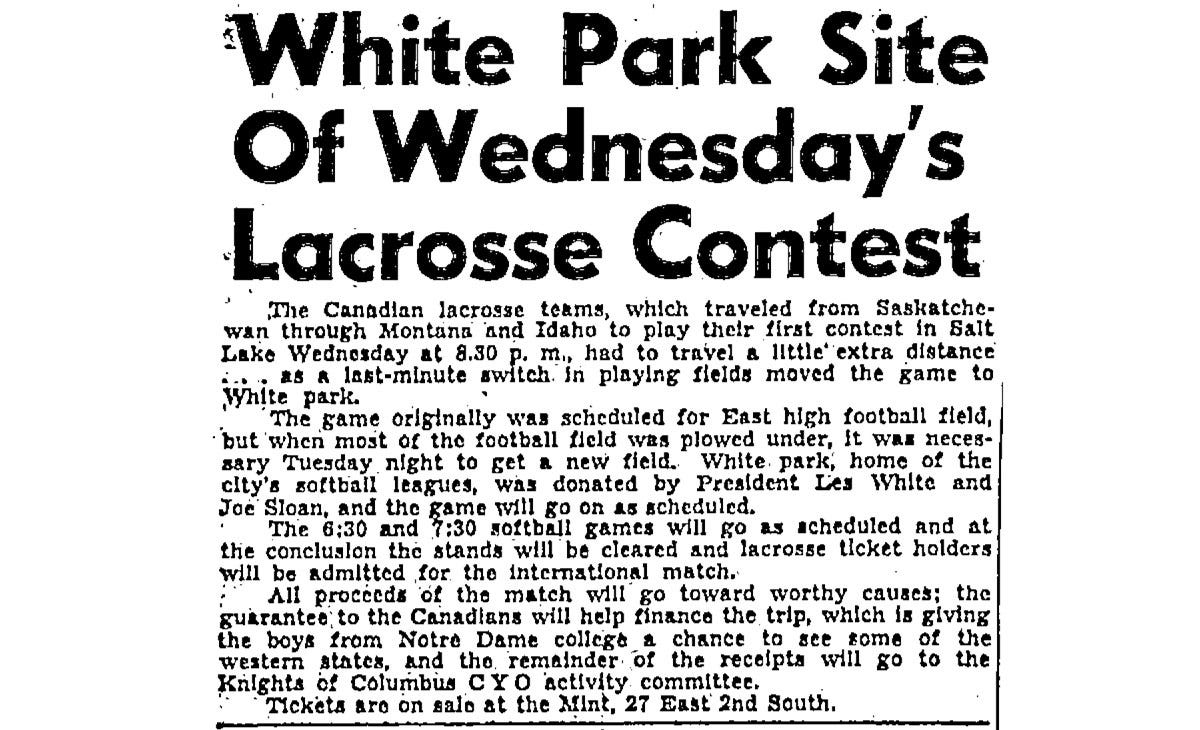 Utes Release 2020 Schedule
Utah released its 2020 schedule. The home slate features 5 games: Bellarmine, Air Force, Furman, Hampton, and Marist. The Utes will take to the road to face Lehigh, Jacksonville, Mount St Mary's, Long Island to face UMass, Boston, Virginia, Georgetown, Cleveland State, and Duke. College Crosse has the Utes traveling 33,809 total miles.
2019 Fall Classic Review
The USA and Canadian Men's teams met on Friday night in a rematch of the 2018 World Championship Gold Medal game. The United States won 7-6, with Utah assistant Will Manny scoring the game-tying goal and assisting Joe Nardella on the game-winning goal. The US Women's team beat Canada, 16-4. The US also beat Virginia, 11-6 on Saturday.
If you missed the first four issues, you can view them here: 
ISSUE 1 | ISSUE 2 | ISSUE 3 | ISSUE 4 | ISSUE 5
If you view the post on a browser, you can leave a comment at the bottom!
Please shoot me a note if you have something you'd like me to cover: tim@timhaslam.com
Don't forget to forward to a friend.
— Tim Haslam