Discover more from Utah Lacrosse Report
The latest happenings with the sport of lacrosse in Utah.
Over 3,000 subscribers
Dodd Downs Duke, Utes Beat Knights, MCLA Action, and is Andy Reid a BYU Lacrosse Fan?
Issue 15
If you're just joining us, the Utah Lax Report is a once a week email newsletter that covers the great sport of lacrosse in the great state of Utah.

This issue features a look at the weekend that was with the kickoff of the college season as well as some Andy Reid/BYU Lacrosse info.
As I was calling the Utah v. Bellarmine game for Pac-12 Plus, I was keeping an eye on the rest of the college lacrosse world. A few games were final when we began the broadcast but the Air Force v. Duke game was going on as we began. Duke has been susceptible to weird losses in February and haven't faired well against Air Force. The Falcons won, 14-13. Duke has now lost three of the last four to the Falcons. What was more interesting to me is that Air Force was led by Brandon Dodd, a Logan alum who is in his freshman season for the Falcons. In his debut, Dodd notched 4 goals and 4 assists which is one of the best, if not the best performances from a Utahn at the Division I level. The Blue Devils jumped out to an early 5-0 lead before the Falcons started to chip away with Dodd dishing out three assists in the first quarter. Dodd had two goals and an assist in the third quarter and the game-winning goal in the fourth quarter as he put the Falcons up 14-12. Duke would score with 7 seconds remaining but obviously it wasn't enough.
I was texting with a friend after the game and concluded it was an incredible game for the Cache Valley native. I dug through some team stats and found that eight points in a game was tied for a Utahn at the D-I level. Josh Stout (Lone Peak/Utah) had 7 goals and 1 assist last year against Mercer, at home. Dodd did it on the road against No. 5/7 Duke. I told the same friend that the few times I saw Dodd play for Logan, he didn't stand out to me. "He was a different player for Logan than for his club teams," which explains it.
I recorded a podcast with Utah head coach Brian Holman this week. While making small talk before the episode, Coach Holman told me he expected Air Force to be a Top 15 team and much improved over last year. I can't wait for Air Force to play Utah on February 15 at Rice-Eccles Stadium.
You can listen to the podcast on Spotify, Apple Podcasts, or through your favorite browser (scroll down once you get to the page).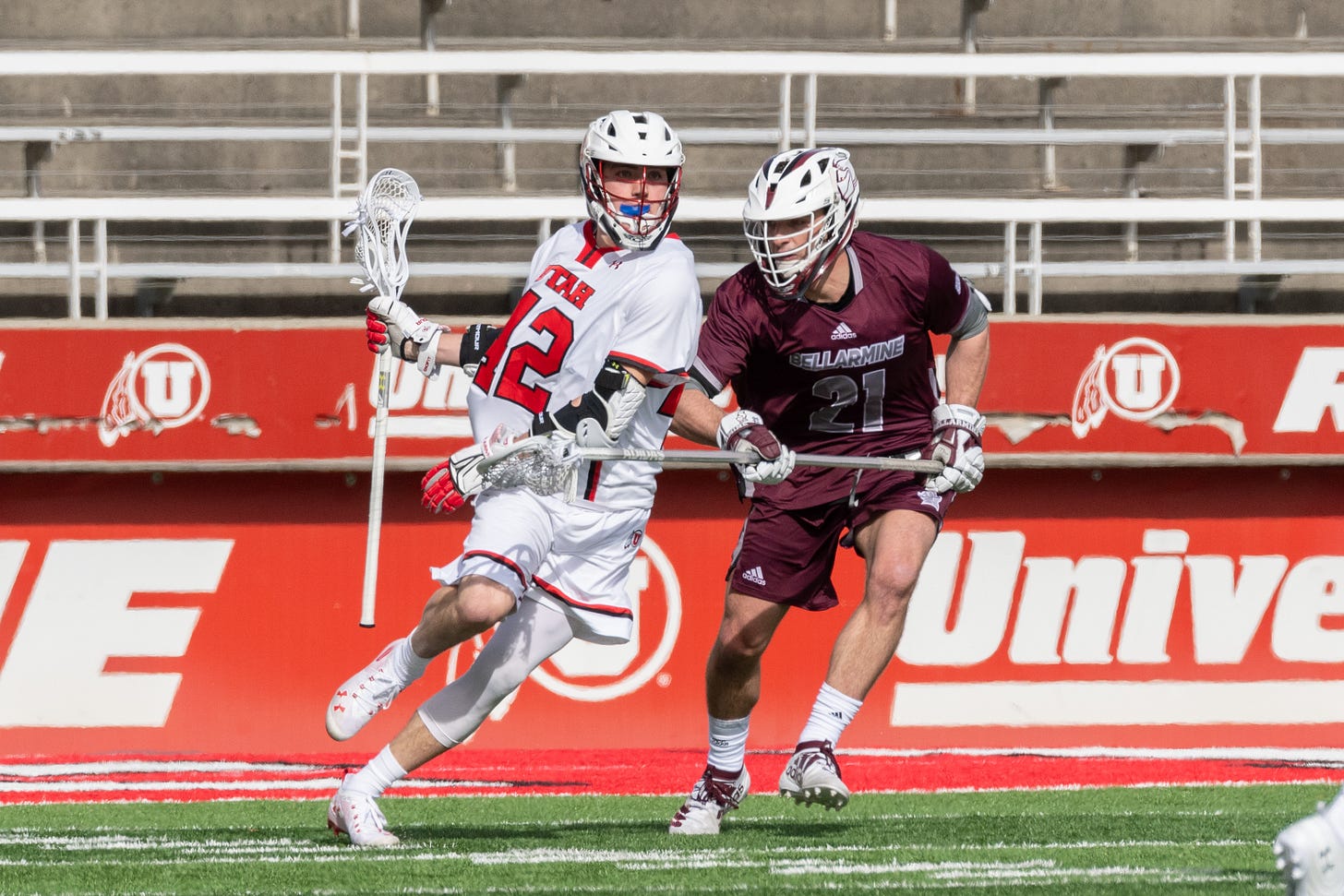 c/o Utah Athletics (Ben Haslam)
Speaking of Utah, the team earned its first win of the season as they defeated Bellarmine, 16-10. Captain Jimmy Perkins scored four goals, included two back-to-back midway through the fourth quarter to seal the victory. Newcomer Colin Burke (transfer from Fairfield) made his mark with two goals and four assists to lead the team in points. Stout had two goals and two assists while seven other Utes had at least one goal. Cole Brams went 15-27 from the faceoff X which is a great sign for the Utes moving forward.
I'm grateful for Bryan Brown for coming out to cover the game for Utezone.com. 'Brownie' and I rode the varsity bench at Highland for a season back in the Spring of 2000. We were both close defensemen and I was a Freshman and he was a Junior. We stood at the end of the bench and became good friends. You can read his recap here.
In the MCLA, No. 16 UVU kicked off its campaign with a great win over Boise State, 11-4. No. 13 BYU beat Auburn on Friday, 15-7 before losing to No. 4 Georgia Tech, 9-4 on Saturday. The Cougars face No. 18 Clemson today at 5:00pm MT.
The BYU Women's team scrimmaged Colorado Mesa and Colorado College over the weekend. The Cougars were overmatched in both games but the experience should bode well moving forward.
To close out the college section of this newsletter, check out this video sent to Inside Lacrosse Editor Terry Foy. It's from the Navy/Georgetown scrimmage which ended in a tie so they decided to do a Braveheart to find a winner. Love it!
PLL: Brent Adams and Nick Ossello Clinic
If you're looking for a great clinic, check out the CLNC Sports clinic on Wednesday. For more information and to register, click here.
I sent Brent some questions about coming to Utah:
TH: What are you looking forward to the most about coming to Utah? Have you been to Utah before?
BA: We're looking forward to getting the University of Utah experience, hiking, and maybe getting a day of skiing/snowboarding in. I've been to all of the national parks in Utah and have been to Salt Lake twice. Absolutely love the environment and scenery around the area.
TH: What makes your clinics unique? 
BA: With our clinics we encourage everyone to be engaged and ask as many questions as possible. Nick and I are extremely passionate about coaching and seeing results immediately with everyone we coach. Our passion for the sport is very apparent when we're buzzing around drills and getting involved with the kids. 
TH: What can a participant plan on taking away from the clinic? 
BA: The biggest take away from one of our clinics, we hope, is a higher appreciation for the game of lacrosse. While we want to make sure kids are getting the best possible instruction on the techniques and nuances of the game, we want to make sure that they understand the bigger purpose of being on a lacrosse field. 
Andy Reid: Super Bowl Champion, BYU Lacrosse Fan
I was checking twitter last week when PLL writer Joe Keegan tweeted he was going to cheer for the 49ers or Chiefs because of their various ties to lacrosse.
I fired back that Andy Reid had talked to the BYU Lacrosse team and watched a couple games from the sideline and asked if that would sway his decision.
He didn't believe the story but Jordan Harris saved the day with picture evidence.
So there you have it folks. A BYU Lacrosse fan is now a Super Bowl Champion!
A Look Ahead
Should be another great week of lacrosse action! (M = Men's, W = Women's)
Friday, Feb 7
M: Westminster @ Rockhurst - 4:00pm MT
Saturday, Feb 8
M: Utah @ Lehigh - 11:00am MT
M: Utah State @ UVU - 1:00pm MT
W: Weber State @ Utah - 4:00pm MT
Sunday, Feb 9
M: Westminster v. Indianapolis @ Rockhurst - 10:00am MT
---
I sent out a survey to high school coaches last week with a variety of questions. I'm going to dive deep into this week and see what it all means.
If you have any other news, let me know: tim@timhaslam.com
Thanks again for reading. Please forward to a friend.
- Tim Haslam