Discover more from Utah Lacrosse Report
The latest happenings with the sport of lacrosse in Utah.
Over 3,000 subscribers
Fairman, Fjeldsted Interviews, Katie Colton (Copper Hills Girls Q&A), College Recap/Previews
Issue 18
There is no better feeling than waking up and starting to see the sun creeping over the mountains, which means the start of the high school lacrosse season is inching closer!
I'd like to try and do a mailbag type feature in the coming weeks, so please send me your questions about lacrosse in Utah! Could be predictions, questions about the past, etc. I'll try to answer any serious question. Shoot your question to: tim@timhaslam.com
One other thing I'd like to mention is an app called Kohort. It was built to connect and organize groups, and it's perfect for lacrosse teams. You're probably thinking that this is a random shoutout to an app, but it has a Utah lacrosse connection! One of the founders/developers is the Highland boys head coach, Neil Blaney, who also started Lax.com. I've been using the app for a couple groups and it is great. You can learn more here, I'd highly suggest it.
Fairman, Fjeldsted Interviews
Two local standouts, Bubba Fairman (Brighton/Maryland) and Aaron Fjeldsted (Lone Peak/Utah) were highlighted recently by local media.
The Q&A With Maryland Men's Lacrosse Bubba Fairman asks Fairman some great questions, but this one stood out to me:
PB: What are some of your long-term goals for after lacrosse?
BF: Definitely graduate college, obviously. I want to make honors every single semester, which knock on wood I've done so far, and then maybe attend graduate school. But just stay involved with lacrosse and try to give back to the program as much as I can. [I'm studying] criminal justice. Long-term goal, maybe go to law school.
You have to love a player getting it done on the field and in the classroom.
The Daily Chronicle highlighted Utah Senior midfielder and captain, Aaron Fjeldsted. You can't ask for a better teammate than Fjeldsted and I am personally excited to see what the future holds for #40. (He has a great reason for wearing the #40 jersey which I asked him about in a past podcast. It starts around the 26:00 mark.)
Reading the Fjeldsted article brought back memories of when I started writing about lacrosse. My first article was for 'The Chrony' back in the fall of 2007. I remember it vividly, a chilly fall day on the slope of Stillwell Field. I remember talking into a recorder as the plays happened instead of doing what normal reporters do: writing it down. That story led to others which led to covering the RMLC championships for CollegeLax.us at Westminster in the Spring of 2008 which led to becoming the News Editor for CollegeLax.us in 2010 which led to Utah Lacrosse News in 2011 which led to being the SID for Utah in 2017/2018 which led to this newsletter!
Katie Colton, Copper Hills Girls Head Coach Q&A
TH: Where are you from/where do you live? 
KC: I'm from Utah grew up here my whole life, but I have moved around a lot as an adult.
TH: What is your lacrosse background?
KC: I played lacrosse in my junior and senior years of high school at Lone Peak and then for two years in college. I helped start the Utah State University team in 2012. I coached the Sky View High School girls lacrosse team for two years before graduating college.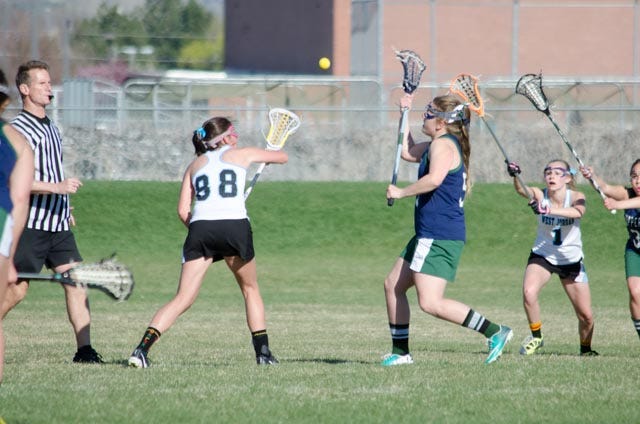 TH: How did you get involved in lacrosse in Utah?
KC: I became involved in lacrosse as a player through an invitation from a friend who played on the high school team. I became a coach because one of my coworkers was a coach and had needed some volunteer help one day. So I went to help my friend and found I loved coaching. Soon after that season, the head coach quit, and I stepped in to help out. It was a rough learning experience, but I found I enjoyed it.
TH: What do you do professionally? 
KC: I am currently working as a substitute teacher as I complete my certification requirements to become a full-time teacher.
TH: What is your favorite thing about lacrosse? 
KC: My favorite thing about lacrosse is how much of a team sport it is. Some team sports you can have an all-star player that carries the game, but it's much harder to have that in lacrosse.
TH: If you could change one thing about lacrosse, what would it be? 
KC: Sometimes, I think it would be easier if girls lacrosse were the same as boys lacrosse.
TH: With this being the first year of sanctioning, how has the school handled the transition?
KC: The school has been great!  Very helpful with any questions I have. Its been a learning curve for them too in establishing what needs to be done by whom.
TH: Who are the assistant coaches, and what is their background? 
KC: I only have one assistant coach (send volunteers my way, please!). My assistant is Mariah Vu, and she previously worked as an assistant for the Copper Hills team, so it's been great having her input. She also played throughout high school.
TH: Who are some returning players that will make an impact this year?
KC: I believe some of the returners I'm expecting a lot from are Allie Reiser, Ellie McDougal, Demi Fagatele, Sydney Brown, and Aspen Norton. They'll be the core of our team, so I'm hoping to get great things from them!
College Recap
UVU had a wild weekend! The Wolverines were bested on Wednesday by unranked Auburn but then edged past No. 4 Georgia Tech Friday before being doubled up by No. 22 Boston College. Utah used a 13-3 run in the second half to down Furman. The Griffins entered the win column twice in dominating fashion while the BYU women split its Colorado road trip 1-1.
Wednesday
M: No. 15 UVU 9, Auburn 12
Friday
M: Westminster 23, CSU-Pueblo 6 - RECAP
M: No. 15 UVU 9, No. 4 Georgia Tech 8
W: BYU 6, Colorado 13
Saturday
M: Utah 17, Furman 9 - RECAP
M: No. 15 UVU 8, No. 22 Boston College 16
W: BYU 16, Colorado State 7
Sunday
M: Westminster 22, Adams State 9
College Preview
Friday
M: No. 14 Utah State v. Wyoming - 7:30pm - Utah State University
Saturday
M: Utah @ Jacksonville - 1:00pm - Jacksonville, Florida
W: BYU @ Westminster - 3:00pm - Dumke Field
M: No. 14 Utah State v. Fort Lewis - 7:30pm - Utah State University
---
If you have any other news, let me know: tim@timhaslam.com
Thanks again for reading, and please forward it to a friend.
- Tim Haslam