Discover more from Utah Lacrosse Report
The latest happenings with the sport of lacrosse in Utah.
Over 3,000 subscribers
IMLAX College Coaches Seminars Return, 2020 BYU Schedule, Adrenaline Challenge Recap, Q&A With Meghan Casper
Issue 11
Happy New Year lax fans! This issue features a look at the IMLAX College Coaches Seminars, 2020 BYU Schedule, a Q&A with Timpanogos Girls Head Coach Meghan Casper, and an Adrenaline Challenge recap.

As always, please forward to a friend.
IMLAX College Coaches Seminar Series
Intermountain Lacrosse announced that they are going to hold seven seminars at their offices beginning on January 7, 2020. The seminars will be on Tuesday nights from 7:00 - 8:30pm and will feature a wide array of teams and topics. I asked Marty Wescott a few questions about the series.
TH: What is the goal/purpose of these seminars?
MW: We feel that in order to increase the level of play in youth and high school lacrosse, we need to help the coaches become more proficient. We have some great resources at the college level and we wanted to utilize that resource to help coaches. We felt this was a better mechanism right now than say a one-day conference.
TH: What can a person expect to learn/takeaway from attending? 
MW: Basically you can expect to learn what is most important.  In a room with coaches at various levels we want the coaches to focus on what is most important for players to learn.  What are the most relevant skills?  Where should a coach spend in practice?  What is the most fundamental things to help move the game forward?
TH: Anything else?
MW: This is also just a fun lacrosse community gathering.  Anyone who comes obviously loves the game and is looking get better.  That's a great time to share and network.  This is somewhat unique to lacrosse that idea of sharing.  There aren't many secrets out there.  
Date - Topic - Presenting
1/7 - Boys: Practice/Pace and Planning - University of Utah Coaches (NCAA D-I/PLL)
1/14 - Boys: Defense - Jason Lamb (Southern Virginia NCAA D-III/PLL)
1/21 - Boys: Transition - Joe Kerwin (Westminster College NCAA D-II)
1/28 - Girls: Practice/Pace and Planning - Nikki Dabrowski (BYU WCLA)
2/4 - Boys: Offense - Marty Wescott (UVU MCLA)
2/11 - Girls: Defense - Westminster College Coaches (NCAA D-II)
2/18 - Girls: Rules - Megan Poulsen (Women's Officials Assignor)
BYU Releases 2020 Schedule
PROVO, UT— The Brigham Young University Men's Lacrosse team released an aggressive schedule for the upcoming 2020 season. The Cougars will play a 15-game regular season schedule that includes games against eight teams that finished the 2019 season ranked in the Men's Collegiate Lacrosse Association (MCLA) Top 25. BYU will make four out-of-state road trips this season totaling over 9,000 miles.
BYU will start the season on the road in the South Eastern Lacrosse Conference (SELC), playing Auburn University at Auburn in the first game of the season on January 31st. The Cougars will continue their road trip, playing top ranked Georgia Tech in Atlanta on February 1st and will wrap up their East Coast swing playing at Clemson who wrapped up the 2019 campaign ranked in the Top 20.
The Cougars play five games at home this season with the home opener coming on February 15th against Western Collegiate Lacrosse League (WCLL) competitor University of Nevada. After their first home game, the Cougars will make their second of four out-of-state trips this season, traveling to Boise, Idaho to take on Pacific Northwest Collegiate Lacrosse League (PNCLL) contenders Boise State University on March 5, Simon Fraser University on March 6, and University of Washington on March 7.
The Cougars will head south to take on Southwestern Lacrosse Conference (SLC) perennial powerhouse Grand Canyon University on March 18 and 2019 MCLA tournament qualifier Arizona State on March 20. BYU will return home to take another PNCLL contender, University of Oregon on March 28.
The Cougars open up Rocky Mountain Lacrosse Conference (RMLC) play in April with a game against cross-town rivals Utah Valley University at home on April 3. Following that matchup, BYU will make their final road trip of the regular season to Colorado to take on the 2019 RMLC Champions, University of Colorado Buffaloes on April 9. They will end the road trip against Colorado State University on April 11.
The Cougars wrap up their last week of regular season and conference play with games against the newest members of the RMLC, University of Oklahoma on April 16, and University of Texas on April 18.
The Rocky Mountain Lacrosse Conference playoffs are scheduled for April 24 and April 25 in Utah and the MCLA National Tournament will be held in Salt Lake City, UT at the new Salt Lake City Regional Athletic Conference May 4 – May 9.
BYU kicks off scrimmage play on January 25 against NCAA Division II opponent Westminster College.
Head Coach Matt Schneck is looking forward to the 2020 season and the Cougar's aggressive schedule. "The team is very excited for the 2020 season and so is the coaching staff", said Schneck. "We will be challenging ourselves early and often in an effort to learn, grow and prepare ourselves for a successful season."
2020 Schedule
Westminster (Scrimmage) - Sat Jan 25
@ Auburn - Fri Jan 31
@ Clemson - Mon Feb 03
Nevada - Sat Feb 15
@ Boise State - Thu Mar 05
v. Simon Fraser @ Boise State - Fri Mar 06
v. Washington @ Boise State - Sat Mar 07
@ Grand Canyon - Wed Mar 18
@ Arizona State - Fri Mar 20
Oregon - Sat Mar 28
Utah Valley - Fri Apr 03
@ Colorado - Thu Apr 09
@ Colorado State - Sat Apr 11
Oklahoma - Thu Apr 16
Texas - Sat Apr 18
Q&A With Meghan Casper, Head Coach, Timpanogos Girls
Meghan Casper has been hired to lead the Timpanogos Timberwolves girls team. Casper hails from Orem and has been playing lacrosse for 7 years.
"My sisters both started playing before me and when they started they tried to get me to play but I refused and then just one day I went to practiced and picked it up really fast and have loved it ever since," said Casper.
TH: What is your favorite thing about lacrosse?
MC: I love the speed of the game and how it is such a new sport to Utah.
TH: How has Timpanogos handled the transition from club to sanctioned?
MC: Timpanogos is going into the sanctioning at full force! We are very excited and can't wait to see what this season brings.
TH: Who are your assistant coaches and what is their background?
MC: Andrea Wood is one of our assistants, she has played for 5+ years now and just recently played for BYU.
TH: Who are some returning players that will make an impact this year?
MC: McCall Dunn, Abbey Peperone, Sophia Nielson, Mariela Perez are all going to make a huge impact on us this season.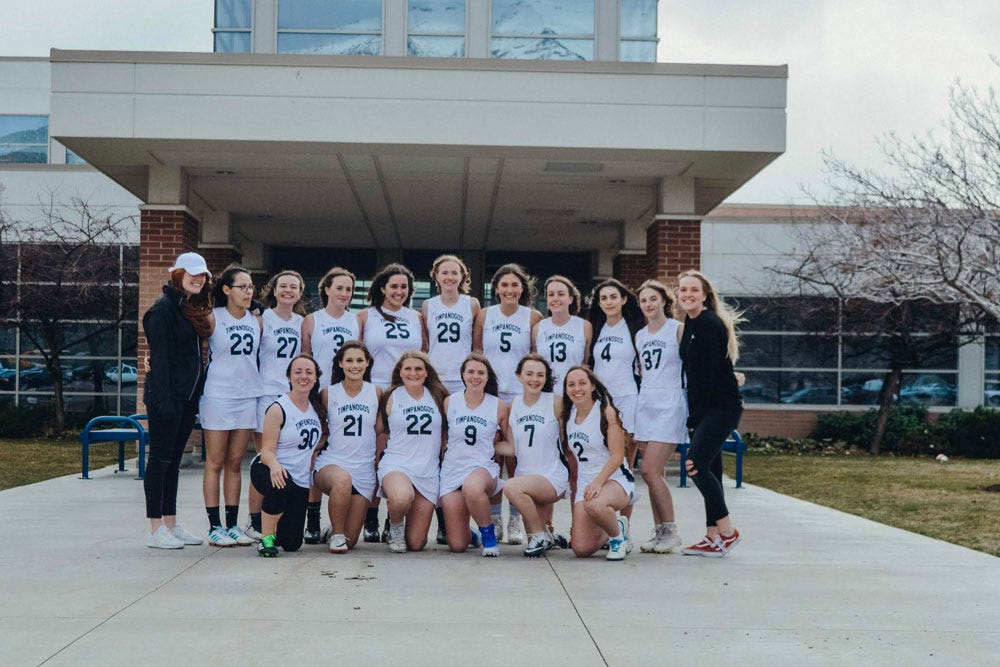 2020 Adrenaline Challenge Recap
2020
Salt Lake Summit was the only Utah team in the 2020 division and went 4-2 on the weekend.
"We had a good mix of 2020s, 2021s, and 2022s hailing from 8 different schools," said Jeff Brzoska. "We also played an exhibition game vs The Japanese National Team U20 and won 6-3. The game was a lot of fun against a squad comprised of mostly 19 and 20 year olds. We were really impressed to see how well the Japanese team has embraced the sport and how well they played on the field."
The lone losses for the team came to the eventual champion (RC Elite) and runner-up (Mad Dog West Elite).
Four players made the All Star games: MJ Cirillo (Brighton), Trae Ika (Loomis Chaffee), Jon King (Corner Canyon), and Mason Quick (Corner Canyon) who also played with True UT.
2021
The Rocky Mountain Rippers went 2-1 in pool play then made it to the championship game before falling to ADVNC SF, 7-4.
2022
True UT was the lone local team in this division that had 20 teams. The squad went 1-2 in pool play, won their opening playoff game then tied and lost the tiebreaker in the next round.
2023
True UT again went 1-2 in this division.
Other Notes
---
Don't forget to follow the Utah Lax Report on Facebook! You can also follow me on Twitter.
If you view the post on a browser, you can leave a comment at the bottom!
Please shoot me a note if you have something you'd like me to cover: tim@timhaslam.com
Don't forget to forward to a friend.
— Tim Haslam