Discover more from Utah Lacrosse Report
The latest happenings with the sport of lacrosse in Utah.
Over 3,000 subscribers
Interview with Ciarán Giroux (Kiywii), Lacrosse Books, UHSAA/NCAA Updates
Issue 22
Thanks for taking some time out of your day to read the Utah Lacrosse Report. I hope you enjoy it. Please feel free to send me any feedback or questions you may have about lacrosse in Utah and I'll do my best to answer them.
#BuyLocal
Buying from local small businesses has always been a thing, but now more than ever, it's critical. I realize that you may not need a new shaft or goal at the moment, but supporting Tribal West and Storm Lacrosse will go a long way for the future of the sport in the state. Both Tribal West and Storm Lacrosse offer gift cards in person or over the phone. Storm has set up an online card as well. Fish mentioned to me that he mailed out several last week so even if you don't need lacrosse gear now, pick up a gift card because there will be lacrosse again one day, and you'll likely need something then. Storm Lacrosse is open by appointment only until March 31 and Tribal West is currently open limited hours. Be sure to call ahead before you go to either store! Tribal West is also offering delivery on Fridays! 
I'd also recommend picking up the 'Teams of Utah' shirt from Tribal West. The logo on the back serves as the logo for this newsletter, which Fish and I designed.
I'd also like to point you to a restaurant called Vessel Kitchen, which was founded by lacrosse guru, Nick Gradinger, who played at Cornell. Vessel operates in Park City, Midvale and Sandy and offers curbside pickup and DoorDash.
If there are other local companies owned/operated by lacrosse families, please let me know!
Q&A with Ciarán Giroux
If his name isn't immediately familiar, that's okay. You likely know him by the work he creates under the moniker of Kiywii. Ciarán Giroux is the man behind the lens who made 'The Wave' a trending video on just about every possible outlet last year and has consistently created quality content since then.
Goalie didn't stand a chance 🤧🤧
Giroux was born in Alexandria, Virginia, and his dad served in the navy, which meant often moving during childhood. Most of his adolescence was spent in Maryland, moving there three different times and eventually where his parents settled.
"I grew up playing soccer and baseball, but I played one season of lacrosse in sixth grade when I was in middle school and my dad pulled me out because I wasn't aggressive enough," said Giroux.
After graduating from high school in Jacksonville, Florida, where he focused on soccer, cross country, and track, Giroux found himself at Southern Virginia University.
"I was recruited to run cross-country," said Giroux. "I was asked to join the lacrosse team because we had just gone from NAIA to NCAA D-III, so there weren't enough players to field a team. After playing that season of lacrosse, I decided to dedicate my time to getting better at it and left cross-country behind. To be fair, I didn't have the right body type for a collegiate cross-country runner, so it made more sense for me to stick with lacrosse long term." 
Giroux was a defensive midfielder but eventually transitioned into a close defenseman where he played 59 games in his collegiate career, starting in 39 of them for the Knights.
It wasn't until the fall of 2017, after Giroux had exhausted his eligibility, but had another year of school, that he begin filming.
"I had edited Call of Duty videos in high school but never had filmed anything or used a camera to any serious degree until then," said Giroux. "I began filming lacrosse that spring of 2018."
Giroux quickly built a following, which led to filming games at SVU, Navy, Loyola, Chesapeake Bayhawks and Charlotte Hounds. After a summer of lacrosse, Giroux was hired by BYU as a new media and digital content specialist in the athletics marketing department. While working for BYU, Giroux would hit local lacrosse games on the weekends, which led to Utah Valley v. Simon Fraser on March 1, 2019.
The Wave Walkthrough
Absolute savagery ✅
Nasty goal ✅
Celebrate with the boys ✅
In his own words, Giroux breaks down one of the most viral lacrosse videos ever.
The Wave is really not as complicated as it may seem. I remember filming the UVU game and I actually had forgotten about that clip until I sat down to make a quick video. I made a really quick edit that took maybe an hour max to finish, showed my wife, and hit upload. 

I knew that it would pop off within the lacrosse community but probably fifteen minutes in, I knew that this video was different. The response was wild and it spread like a wildfire. Maybe an hour after I uploaded it, House of Highlights DM'd me asking if they could repost the video on their page. Once they uploaded it, every big sports account reposted it. 

Luckily, I had just starting using my Kiywii logo at the end of my videos and so people were kind of forced to tag me in the content and so within twelve hours I had gained seven thousand followers on Instagram. 

I remember being extremely anxious and I actually think I had a mild anxiety attack while this thing was blowing up because of how worried I was that I was going to mess this great thing up. Meanwhile, there was a small but loud minority of the lacrosse community that was completely bashing Preston [Burbidge] and the video and so that was another side of this story that was really tough for me to handle. 

After the initial aftermath blew over, which took about two weeks, I had gained even more followers because I had started aggressively posting to meet the demand of new fans which was great but also very stressful. 

At the end of the day, I feel really blessed by what happened but I wouldn't say that I'm super proud of that video or that it made my career because at the end of the day my brand has been based on more than just a one off video. 
To me, this last paragraph is everything. Every lacrosse outlet, and most major sports outlets, had shown the clip, but there is much more to the Kiywii brand. A glance through his Instagram page will reveal someone who is a master at his craft, both through video and photo, someone who loves lacrosse, regardless of the teams, and someone who is living his best life.
Sights and sounds of a rivalry game 👀⚡️🎧 ⠀⠀⠀⠀⠀⠀⠀⠀⠀⠀⠀⠀⠀⠀⠀⠀⠀⠀⠀⠀⠀⠀⠀⠀⠀⠀⠀⠀⠀⠀⠀⠀⠀⠀⠀⠀
Are you not entertained? Bubba Fairman went off for four big time goals against Johns Hopkins in front of a packed Maryland crowd 🤯
You'll also notice that when it comes to lacrosse, he's shot every college team in the state and also spent last summer with the PLL.
"It was a great experience and I'm really glad that I was able to be a part of the new wave of professional lacrosse especially because I know I would have regretted not doing it," said Giroux. "But the truth is that it was really, really hard. My wife was pregnant at the time and I was having to leave her for essentially three days out of every week for fourteen weeks or whatever it was. On top of that, I was also working for BYU so it was a quite a stressful time for me and my wife. I did love spending time with the players and coaches. It was awesome to build friendships with them and to get to know them beyond just lacrosse."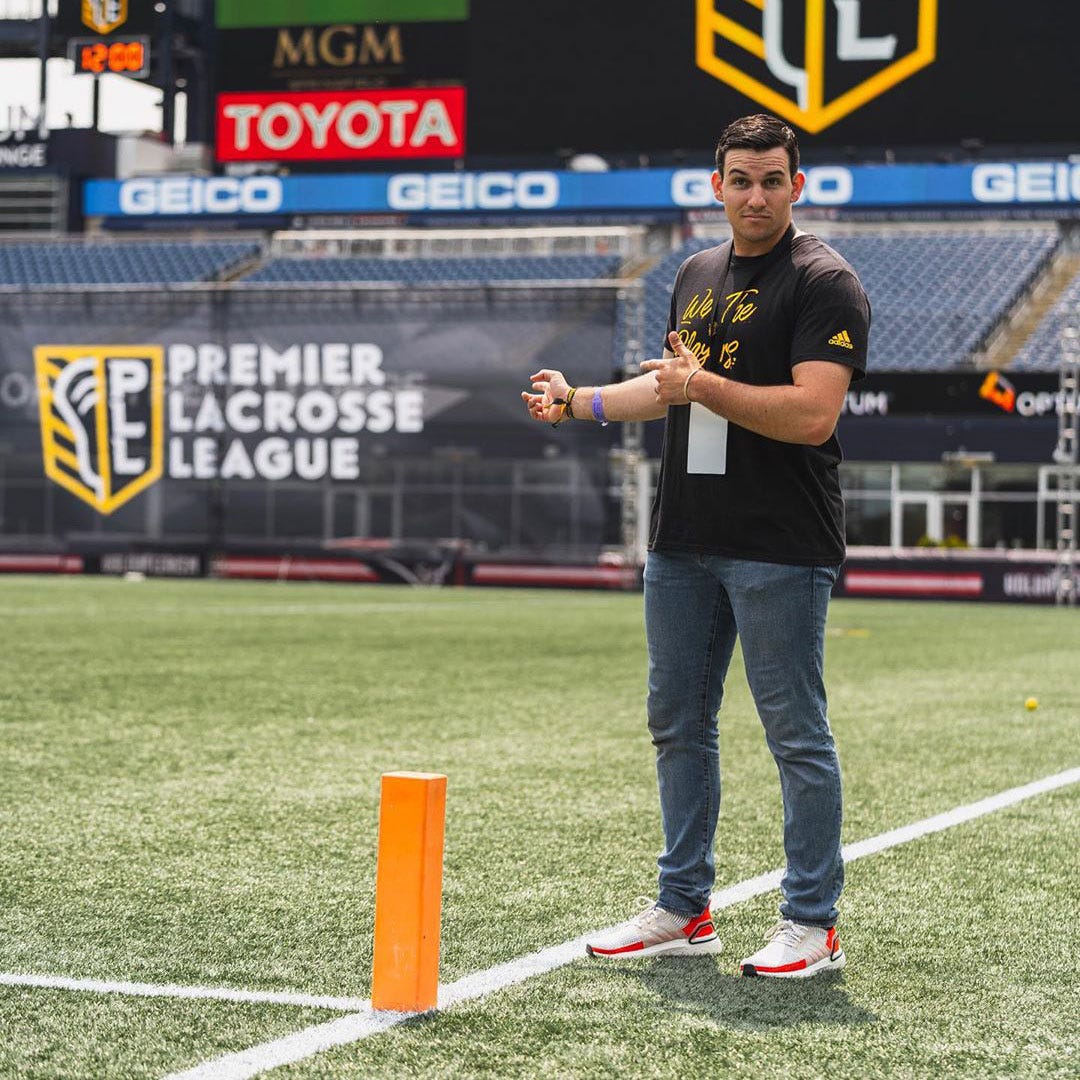 Giroux met his wife at SVU where they knew of each other but didn't talk for a few years. During their junior years, they had a class together and the rest is history. Last fall, the Giroux family became a family of 3 when their son was born.
"Being a dad is awesome," said Giroux. "Theo, my son, has been a huge blessing in my life and has given me a new found motivation to work hard."
Freshmen were showing out on Saturday 😈
Be sure to follow Giroux on Twitter & Instagram. He has great tips to get the best shot and his advice is always on par.
Lacrosse Books
Once you do your daily wall-ball routine, be sure to check out these lacrosse books. At the beginning of this newsletter, I asked you to #buylocal, so if your local bookstore has these, pick them up there! If not, Amazon has them.
Lacrosse: A History of the Game (Amazon)
This reads like a textbook, so if you didn't become a lawyer or doctor because you hate reading, then maybe ask for the cliff notes for this one. From the description: In Lacrosse: A History of the Game, Donald M. Fisher traces the evolution of the sport from the pre-colonial era to the founding in 2001 of a professional outdoor league―Major League Lacrosse―told through the stories of the people behind each step in lacrosse's development.
I Hope You Will Be Very Happy: Leadership Lessons From a Lifetime in Lacrosse (Amazon)
This book was published last fall by legendary lacrosse coach Dom Starsia. I had the opportunity to meet Coach Starsia last year while in Charlottesville, which was a highlight for me. From the description: What you will find within here are letters to players, parents and fans, a series on leadership that applies to both athletes and coaches, essays on the zone defense that carried us to the National Championship in 2011, a family situation that provided an opportunity to make strategic adjustments that led to a Championship in 2003, the language of lacrosse, the value of being a great passer, and many others that recount personal stories and life lessons that have shaped my career.
Legacy (Amazon)
This isn't a lacrosse book, but both Utah and Virginia have used this as a guide to creating lacrosse team culture. I've read it twice and it's by far one of my favorite books about sports. From the description: In Legacy, best-selling author James Kerr goes deep into the heart of the world's most successful sporting team, the legendary All Blacks of New Zealand, to reveal 15 powerful and practical lessons for leadership and business.
UHSAA Update
I reached out to Jon Ogelsby, the lacrosse liaison at the UHSAA and he said, "We continue to process and weigh the information given to our Association leadership by public officials, including public health officials. We look forward to continuing conversations with statewide leaders to ascertain what our next steps will be. Unfortunately, at this time, due to the fast-changing nature of the information regarding the pandemic, we are unable to establish broad timelines of next steps. We will communicate any updates to our member schools and to the general public as updates become available."
This makes sense to me. Everything changes day-to-day and we're dealing with national and local rules/precautions which govern the way we live.
NCAA Update
It was widely reported that the NCAA was going to grant an extra year of eligibility to spring-sport athletes and in a press release on Friday said, "In principle, the coordination committee agrees relief should be extended to spring sport student-athletes and supports providing schools with a framework in which they have the autonomy to make their own decisions in the best interest of their campus, conference and student-athletes." There will be a vote on March 30. In theory, there is a possibility that eligibility isn't granted, which would be tragic. However, not graduating players could have ramifications as well. I feel Matt Kinnear from Inside Lacrosse does the topic justice, which you can read here.
Also, please read the letter to you, the fan, from Utah head coach Brian Holman.
While the world is without sports, ESPN continues to run and each night Scott Van Pelt, a Bubba Fairman fan, honors senior classes across the country who won't get to finish their seasons. In this clip below, he honors the Navy lacrosse team.
You'll likely be spending more time on social media than usual over the next few weeks so be sure to check out Kohort, a great app for communicating. Also, we have a Facebook Page and a Twitter account.
---
If you have any other news, let me know: tim@timhaslam.com
Thanks again for reading, wash your hands and please forward it to a friend.
- Tim Haslam