Good afternoon lacrosse fans and thank you for reading the Utah Lax Report. This is coming later in the day since I wanted to share some important information from Intermountain Lacrosse. Let's get to it!
Intermountain Lacrosse
I spoke with IMLAX Boys Coordinator, Collin Madsen, about his role in the organization and about the possibility of playing this season. He shared some interesting insight so please give it a listen! It sounds like we'll have to wait until later in the week to see the exact plans and then it will be up to the teams to respond.
In my opinion, I think full games for the non-sanctioned high school league would be without fans and temperatures taken before games for coaches and players. For youth, I could see fans spread out but limited to 1 or 2 fans per player.
News & Updates
The Herald Journal wrote about the Cache Valley girls programs.
The Park Record profiled Park City midfielder Brady Baumann and spoke with him about committing to play at Marist.
The Daily Universe wrote about the Monson sisters who star on the BYU Women's team.
Inside Lacrosse published an article about The Geography of Men's DI Lacrosse. The article broke down where D-I men's lacrosse players are coming from. Players are still coming from traditional hotbeds but the article points out rises in players from Colorado, Michigan and Texas.
Along with Georgia, these states produced 13% of the DI men's lacrosse freshmen in 2020. That is nearly double where those states were in 2014 (7%).
Since 2014, Utah has had 25 commits. The article breaks it down by county which looks like this for Utah:
1 - Cache Valley

1 - Davis

16 - Salt Lake

6 - Summit

1 - Utah
Note that these are Freshman on D-I teams so Josh Stout, Cam Redmond and Aaron Fjeldsted aren't counted since they weren't Freshman when Utah went D-I. In comparison, Colorado has 164 commits.
Senior Spotlights
Next week is the last week that I'll publish these so please get them to me before Sunday!
American Fork Girls
Alexa Petersen - Alexa is a hard worker for the team and is always positive. Alexa mostly plays middie but is our utility player that can play anywhere. While she started lacrosse only in high school, she has learned the sport quickly and is very proficient in her knowledge and skills. Alexa is a positive influence on the culture of our team.  Next year she will attend and continue playing lacrosse at Southern Virginia University.  
Avery Knight - Avery is a second year captain. Last year Avery was an all-region attack player. She is a big contributor to our draw circle and plays both attack and middie. She has great ability to get open and score from a pass. Avery has worked hard in the off season and is a great example of positive teamwork and leadership. Next year Avery plans to attend and continue playing lacrosse at Brigham Young University. 
Belle Ernst - Belle is a second year captain. Last year Belle was an all-region defense player. She is the leader of the defense in helping direct our defense strategy. She is always working the wall to get better and is great at encouraging her teammates to get better. She is a trusted teammate that the girls look up too. After high school she is going to work and the following year she will attend UVU with hopes to play lacrosse.
Courtney Giles - Courtney is one of our defense players and has some great cradling skills along with ability to run the field. She is multi-talented with music skills to add to her lacrosse. After high school she plays on going to college and participate in the ROTC.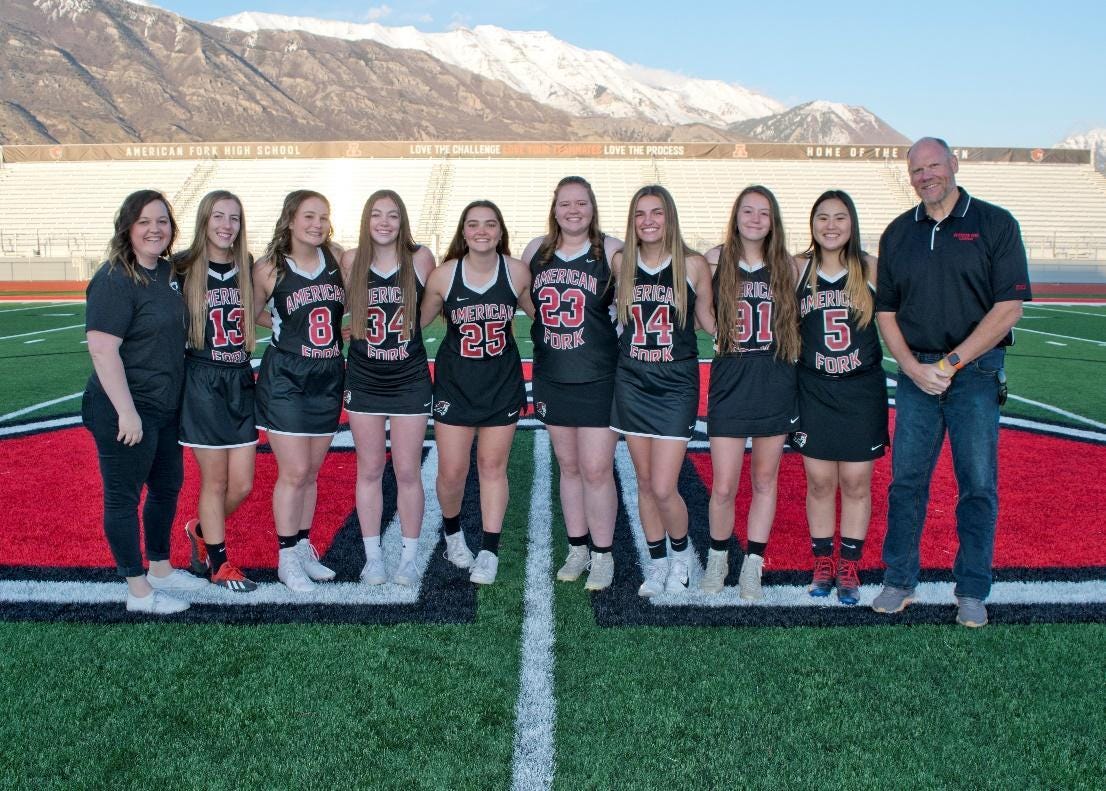 Indy McMillan - Indy is a big contributor to our defense. She has good speed to help in the clears. She never misses a practice and is always working hard to get better.  Indy is always positive and loves to have fun! Next year she plans to attend Brigham Young University.
Maddy McMurray - Last year Maddy was an all-region midfield player. She is always working hard and is  full of energy.  She has been a big part of our draw circle and this year was number 1 drawer. She plays both middie and attack.  She is great at pushing the ball up the field. Maddy plans to attend and continue playing lacrosse at Brigham Young University.
Olivia Hewlett - Olivia is one of our captains this year.  She has a great work ethic, always doing things to improve.  One of the only players that would go workout at 5am in the offseason!  Olivia contributes a lot on attack along with taking the draw.  She is a great teammate and great leader by example. Olivia plans on getting her Personal Training certificate and becoming an EMT.
Copper Hills Girls
Demi Fagatele - A hard worker on and off the field. She decided to challenge herself by attending an early college high school, but that didn't stop her from playing lacrosse at her boundary high school. Demi loves her coaches and her teammates who have pushed her to be a better person these last three years. Her and her best friend Ellie McDougal were this years Copper Hills varsity captains, she wishes that she could have led her team for the entirety of the season but her Lady Grizzlies will always have a special place in her heart. After high school, Demi will be attending Dixie State University where she will be majoring Dental Hygiene and minoring in business and finance. She is excited to live in the sunny part of Utah with Ellie where they both hope to start a girls lacrosse team for that university.
Ellie McDougal - Ellie learned a lot more than just lacrosse during the 4 years she played. She leaned about leadership, determination, hard work, and sportsmanship. She loved her teammates and served them 2 consecutive years as varsity co-captain. Ellie loves orange juice, the ocean, and sharks. She plans to attend Dixie State with her co-captain and best friend, Demi, and major in business.

Emily Monroy - This was her first year playing lacrosse and to train and go to college in spring 2021 to be a certified personal trainer (CPT).
Chelsea Rasmussen - Played lacrosse for two years and managed for one and has enjoyed playing with such amazing girls and consider them family. Chelsea plans to go to college at either SLCC or Snow College in the Fall.
Crystal Melendez - Played lacrosse and have been playing since starting high school and has fell in love with the game ever since! Crystal plans on attending the University of Utah to be in the doctor of physical therapy program and hopefully coach someday.
Diana Hernandez - This was Diana's first year of playing lacrosse. She enjoyed making friends and learning something new. Diana plans on attending college in Utah.
Corner Canyon Girls
Venice Lupus: Attack, Team Captain.  Venice is everything a coach could want in a player, talented, hard working, dedicated and a born Leader.  She started up the Give Lax program.  She was a captain last season and this season.  She is one of the smartest kids in the state, she has 8 honor cords, and a long list of academic accomplishments.  She is still deciding on what college to attend but will be studying biology on the pre med track at UCLA.  
Talia Anderl: Attack.  Talia has been playing Lacrosse for 6 years, she is our best ball handler and most accurate scorer.  She scored the go ahead goal in a tight game against Skyline in the last 30 seconds of the game in our 2nd of 3 games we were able to play this year.  She is graduating with an honors diploma and will be attending college in the fall.
Lexi Davis: Attack/Midfield.  Lexi was one of our more athletic players who was also a fantastic defender.  She is a very selfless player and had a wonderful attitude on and off the field.  She never took a play off at practice or during a game and was a great example to the younger players.  After school she plans on attending college then going on a LDS mission
Alyssa Brown: Defense, Team Captain. Alyssa was our top defender and was the heart and soul of our team. She had to overcome a knee injury from early last fall and was able to play the last game of our short season vs. Park City. She was a 4 year Varsity player and all region defender in 2019.
Sofia Chieco: Midfield/Defense. Sofia was our top all a round player and was well on her way to being a state MVP candidate and All American. She has no equal when it comes to fitness and endurance. She was like an additional coach on the field and her Lax IQ is off the charts. She also runs track and never missed track or lacrosse practices and never gets tired.  She will be attending her dream school the University of Michigan in the fall and will be studying Nursing and will attempt to walk on to their lacrosse team.
Sage Peacock: Defense, Team Captain. Sage is about the nicest person you will ever meat but was still a relentless defender. She was a 2 year captain and 4 year Varsity player. She also has a long list of academic accomplishments and will be attending Utah State in the fall and plans on becoming a teacher.  
Mekiah Muramoto: Midfield. Kiah has been playing lacrosse since middle school.  She is an awesome midfielder and a solid team player. She was also a top notch Mountain Biker who placed in state the fall of 2019. She was planning on going to Thailand to teach english but like everything thing else this year it was cancelled.
Megan Moffett: Midfield/Defense. Megan recently moved from CA where she played for the Edison High Chargers for 3 years, it was only fitting that she moved to Draper to become a Corner Canyon Charger. She is an excellent athlete with a lot of natural talent.  She was ready to make a big impact this year. She will be attending BYU in the fall and will tryout for their lacrosse team.
Camille Carr: Attack. Camille has played 4 years of lacrosse. She is a very fun person who always had a smile. She worked hard and you could tell she loves playing. She will be going to UVU in the fall.  
Amanda Cole: Defense. Amanda started playing Lacrosse her Sophomore year. She is a great teammate and was a joy to have in our program. She is attending Dixie state in the fall.
Megan Mathews: Goalie/Attack. Megan was easily the hardest worker on the team.  She always did what her coaches asked of her without complaint. She played goalie in the JV game Vs. Park City this year where she saved 18 of 27 shots on goal. She will be attending Dixie State in the fall to study Physical Therapy.
Olivia Smart: Midfield. Livi's friends convinced her to try lacrosse her Freshman year and the rest is history. Livi is one of our top midfielders. She is a great ball handler, strong defender, very athletic and has a team first attitude. She is going to UVU in the fall and will possibly play lacrosse. She also played tennis and ran cross country. She is a fantastic all around athlete.
Logan Boys
Jordan 'Big J' Brandon - Goalie - Big J is a veteran goalie for LHS. He's fearless in the crease and doesn't mind taking a 80 MPH sidearm to the ribcage. In addition to a big presence in the crease, Big J has great vision on the clear, a trait that most spectators take for granted. Big J has a contagious laugh and a big personality; he always brightens up practice. Big J was a great leader with a big, booming voice calling for the slide. 
Trevor Bodily - Middie - Trevor was one of our senior captains and an offensive phenom on the field. With one of the biggest lacrosse IQ's I've had the privilege to coach, Trevor always got the ball where it needed to be for the highest percentage shot. He was also great on transition; something every coach wants: an offensive middie that causes havoc on the clear. Trevor was a phenomenal leader who mentored and took extra time to coach up his underclassmen. 
Maverick Douglas - Middie - This was Maverick's first year playing lacrosse. He came into the sport excited and ready to suit up. He would always be in my classroom asking questions and responding with, "that's sick, coach!" His excitement was contagious.  Maverick worked his butt off in-and-out of practice to get to the level we wanted him to play at. Lacrosse isn't an easy sport to pick up, but Maverick became a great D-middie for us that we could depend on. 

Brody McKinnon - Middie - Brody decided to come back to the great sport of lacrosse this year after a few years off. A standout track athlete, Brody could zoom across the field in record time. He played the wing on faceoff and never got beat off the whistle. Brody was another of our senior captains who showed his team how to play with passion. Brody's drive to win helped our team develop a competitive edge they thrived on as athletes. Brody could lay the wood, too.
Mason 'Finn' Hale - Attack - Our attack captain, Finn played X and became a talented feeder from behind cage. Finn is a true student of the game and was always asking questions, drawing up scenarios, and thinking of the game from many perspectives. He loved standing by coaches to dissect the game. Finn saw lacrosse as a team sport and pushed his teammates to be better individually and as a squad.  
Quincy Wildman - Attack - An All-State wrestler, Quincy came back to the game after a few years off. Humble, yet with the strength of an ox, Quincy could truck through just about any defender with ease while still cradling two-handed. Quincy never had a bad attitude; he just put his shoulder down and worked as hard as we asked him to.  An incredible teammate, Quincy can get along with just about anyone; one of those traits that coaches need but is almost impossible to teach.  
Lone Peak Girls
Ava Neuenschwander - Offense: Ava is extremely passionate. She fights for what she believes in, on and off the field. Ava is always focused. At practice she was always watching others and was focused on her goal of becoming a better lacrosse player. When she has a goal set, you know that she will do anything to reach that goal. Ava was one of our secret weapons. She at times would seem pretty quiet but you could see in her work ethic that she was always listening and learning and would prove that on the field. She could defend on the offensive side like no ones business. She is someone I would pick for my team 10 times out of 10. Ava plans on attending BYU in the fall.
Monet Winger - Mid/Center: Monet has such an incredible spirit. She always had a smile on her face and even if she had a rough day, she was still laughing and joking and continued to be a team player. Monet didn't play just one position. She was the whole package. Monet is so fast she was incredibly hard to defeat or defend. Monet's shot was fire. It could come out of nowhere and it was pretty unstoppable. She could stop anyone on defense and she was always ready to make the assist on attack. Monet is a hard worker on and off the field. She was always hustling at practice pushing herself to the max and others, including her teammates, would see that and follow her lead. Monet always put her team first. While being busy with track, school work, and so many other things going on in her life, she always gave her team full dedication. Her team could trust her fully and that is such an amazing quality. Monet plans to attend BYU in the fall and hopes to tryout for the women's lacrosse team.
Brooke Galbraith - Mid/Center: Brooke is a force to be reckoned with. She pushed her limits during conditioning even when others wanted the workouts to end. She is committed to the sport that she loves. You can see this in her daily practice as she plays like it is a game and that truly pays off when it is game time. I have never seen a more dedicated player or a girl who loves the game more. Brooke pushes herself to be better in every way, and that motivation will take her so far in life. She was also someone her teammates could always count on. She was where she needed to be at exactly the right times. One of the best defenders and attackers I've ever met and Brookes shot was one of the strongest, most powerful, forceful, finesse filled shots I've ever seen. Brooke is an incredible athlete. She plans to attend Utah State in the fall and hopes to tryout for the women's lacrosse team.
Summer Mohowski - Center/Mid: Summer is NUTS. She's loud, constantly excited, and would bring so much spunk to the field. But she is so incredible. She has a smile that can never be copied. It's so contagious. When she wouldn't be at practice and when she would, there was always such a different vibe. She had the ability to pump up her teammates not only when they needed it, but all the time. Summer can make a whole team feel included and united so easily. She also carried that personality with her on the field. She was encouraging to every player out there and would push herself more than we could have pushed her. Despite previous injury setbacks, she continued to work hard and prove her abilities on attack and through the midfield. Like the others, she would observe, improve, and then crush her goals. She had an incredible shot, she was a brick wall on defense, and could win the draw 9 times out of 10. She was always able to channel all her energy into her field play and it worked so well for her. Summer plans on attending UVU in the fall and hopes to serve an LDS mission in the spring.
Tiffany Lee - Offense: Tiff is so spunky. Even when training, practices, and our few games became tough she maintained an upbeat attitude and tried to help her teammates remain positive as well. She always has a smile on her face and is ready to take on whatever challenges come her way. She's positive, brings life to the party, is bright, energetic, funny and passionate. As much fun as she had at practice she had just as much passion for the game. Tiff has so much skill on the lacrosse field. Anyone would much rather play with her than against her. She is so fluid in the way she plays and makes it so no matter who she's playing with she makes them look good too. She was also encouraging to the coaches and would cheer us on when things would go right. Tiff plans on attending BYU in the fall and hopes to tryout for the women's lacrosse team.
Gwen Chandler - Defense: Gwen picked up lacrosse in the fall having transitioned from soccer and we would have never known she had never played before. Her athletic abilities are outstanding and I'm so glad she chose to make the switch. She is the type of athlete every coach wants on their team because she was always asking for things she could work on so she could get better. Gwen was killer on defense. She was one of the fastest down there. Her team could always count on her to stop the ride down the field or help push the double team. Even having been new to the sport, because of her athletic mindset and previous training, she always knew where to be and when to be there. Gwen is a fantastic player, a fantastic athlete, and she is going to be unstoppable. Gwen plans to attend Utah State in the fall and hopes to tryout for the women's lacrosse team.
Isabella Turner - Defense: Izzy is incredible. She is a leader at heart. Any time we asked her to do something, she'd do it. At practice, during conditioning, on the field, it didn't matter. She is more mature than her age would tell which really helped us as coaches a lot. Izzy is also an incredibly dependable leader and she always did it with a smile! She could reel the girls in when we needed them and we could rely on her at any time. Izzy is crazy talented. I don't know who taught her to play but they did a really great job. She is someone you can always count on to be where the ball is, to make the catch, to make the right pass, to defend through the midfield, etc. Just like her teammates, Izzy is a force to be reckoned with. Once you get her down on defense she is a rock, and NO ONE is getting past her. Izzy plans to attend BYU in the fall and hopes to tryout for the women's lacrosse team.
Park City Girls
Katherine Luebbers - Started playing in 3rd grade and has played lacrosse ever since. Katherine has played for Park City her whole life including club teams (Mamaci, Tenacity, Select, the Utah National team) and more. She also coached youth lacrosse for the past 4 years and plans to continue coaching. Katherine plans to attend the University of Utah in the fall in the business scholars program and also play on the U club lacrosse team.
Lauren Pederson - Played varsity lacrosse all 4 years of high school. She was an Adrenaline All-American and will attend the University of Virginia where she will play lacrosse.
Sage Russell - Started playing lacrosse freshman year after having to quit gymnastics. She loves that it kept her in shape and made amazing friends on the team. Sage loves the competition and the intensity of lacrosse and will miss it the team when she attends Cal Poly next year to study biochemistry.
Sky Jalili - Started playing lacrosse sophomore year and it's been an amazing experience for her since then. Sky is grateful for lacrosse as she has made lots of new friends while staying in shape. Sky has come come to love the game more than she expected and hopes to play either club or intramural lacrosse in college. Sky plans to major in engineering or computer science at the University of Utah or University of San Diego next year.

Audrey Buchanan - Played competitive seasons for Utah Mamaci and Utah NahWah. Audrey has also traveled to the national tournament in Baltimore, MD to play with the Utah/Idaho team. Audrey plans to attend University of Hartford in the fall where she will play on the lacrosse team.
Caroline Haiijer - Started playing lacrosse freshman year for the purpose of having a fun activity to keep in shape for skiing. She also feels lacrosse gave her a little change of pace when her schedule became repetitive. Caroline talks about how she had a very positive experience, met a number of close friends through the team, and was encouraged to continue playing throughout high school. She plans to attend Babson College in Wellesley, MA where she will major in business analytics or information technology management.
Caroline Powell - First began playing lacrosse after transitioning from playing tennis her whole life. She talks about how it took her a bit to get used to the sport but eventually found her place as an attacker on JV. Caroline credits her coaches and amazing teammates she has had over the last 2.5 years for her progress. Caroline will attend Cal Poly SLO where she hopes to pursue a degree in Industrial Technology and Design. She also hopes to continue playing lacrosse on a club or intramural level.
Cami Burke - Has been playing lacrosse for four years. Her memories include making her teammates laugh and she talks about the memories of playing lacrosse as some of the most enjoyable moments of her life. Next year, Cami will attend Boston College to major in Environmental Science and Biology.
That's it for this week! Stay safe out there.
— Tim Haslam