Discover more from Utah Lacrosse Report
The latest happenings with the sport of lacrosse in Utah.
Over 3,000 subscribers
Jeff Brzoska: A Utah Lacrosse Legend
Issue 2
Thank you once again for reading! Don't forget to forward to a friend!
If you're reading this you've likely heard the name Jeff Brzoska at some point in your lacrosse journey. To many in two sports he's known as 'coach'. To my wife, he's 'my guy in Park City'. To me, and I'm sure others, he's a quick, reliable source for lacrosse information. To everyone, he's a great friend and someone you can always count on, especially when it comes to lacrosse.
Brzoska was born and Raised in Norwalk, Connecticut which is right in the middle of the Fairfield County hotbed of lacrosse with schools nearby such as Darien, Wilton, New Canaan, Ridgefield, Greenwich, Brunswick, and Staples.
"I grew up in a great neighborhood filled with lots of kids that did nothing but play sports," said Brzoska. "We played everything all the time. I know its kind of cliché but it was one of those neighborhoods where you left the house in the morning and didn't return until after the street lights came on. My (non-pro athlete) idol was a kid in the neighborhood who was 4 years older than me named Dave Berry. The kid was a beast in every sport and he would never go easy on me when I played football, lacrosse, or hockey with the older kids. He gave me his old green STX Laser Hi-Wall and I was determined to walk in his foot steps and wear his number in High School some day."
Brzoska did end up wearing #20, the same as Berry, in High School. Long before that though, Brzoska got his first stick in the 1st grade and couldn't put it down.
"It was very different back in those days," said Brzoska. "Organized lacrosse in my town really didn't start until middle school and there was no such thing as club lacrosse. I loved the game but also loved baseball so I played both all the way through high school. I actually went to college to play hockey and was fortunate that I could also play lacrosse after the season. I turned out to be a better college lacrosse player than hockey player."
Brzoska played at Western Connecticut State, a D-III college in the Little East Conference before transferring to the University of South Florida where he helped build a club team that eventually became D-II Tampa and USF in the MCLA. After college, there was a stint and merger on Wall Street but Brzoska felt the pull of California and moved to Newport Beach for 9 years before moving to Utah in 2008.
"I came to Utah on a ski trip from and after 48 inches of snow and postponing my flight home twice I was hooked on Utah and moved out less than a year later," said Brzoska.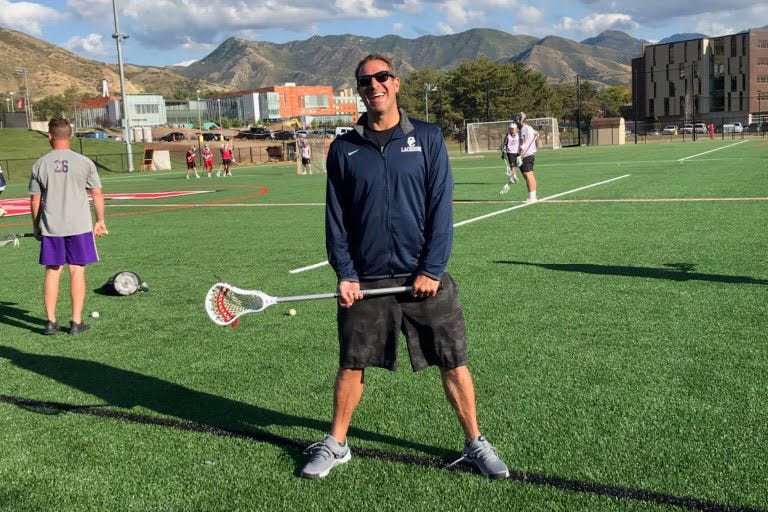 Brzoska didn't immediately get involved with lacrosse.
"To be honest, when I first got here I watched a couple high school playoff games and thought it was pretty terrible to watch," Brzoska recalls. "The game was slow, sloppy and the fundamentals were completely ignored. I thought to myself that the best team in Utah couldn't beat the worst team in Connecticut. After a coupe of years living here I realized that I really, really missed the game. So, I got involved with the Park City youth program to see if I could give back to a new lacrosse community what the game had given me for so many years before."
There he met former Park City head coach Andy Langendorf.
"What makes Jeff special is without a doubt his enthusiasm for the game," said Langendorf, who coached the Miners for several seasons. "He cheers for everyone, he cheers for the players on both teams, he absolutely loves the game. I always remember when we won our first state championship in Park City. He walked up to me in the dying seconds of the game and gave me a hug that almost broke my ribs. My ribs hurt me for a week afterwards! Jeff loves the game more than anyone I know."
Nowadays you'll find Brzoska on the sidelines of the Freshman Park City Miners Football team and the Corner Canyon lacrosse team as the JV head coach and a Varsity assistant. He has coached at the youth, high school, and club levels including co-founding the Utah Blackhawks, Utah Elite, Utah Prime LC, and Utah LC. He is currently working the Salt Lake Summit and is an evaluator for Adrenaline and Legends.
Brzoska has spent just as much times beyond the sidelines as well. He has served on several boards: Park City Lacrosse Organization, SkiTown Shootout, and the ULA/IMLax Youth. He has been a Co-Director of SkiTown and is current the Adrenaline Park City Showdown Co-Director. He's been a council member or chairman for the ULA U-15 Boys and U-17 Girls National Teams, UHSLL Executive Council, UHSLL Playoff Host, UHSLL Awards, UHSLL All-State Game Founder and Chairman, and currently serves as the Utah Representative to US Lacrosse and the UHSAA Coaches Representative.
I asked Jeff who his mentors are/were and the list is literally too long to publish but one part stood out to me when Jeff said, "When I got into coaching in Utah the game changer for me was Jay Fairman. I had never met anybody who was not only passionate about the game but more importantly the kids. The guy may not have a lacrosse pedigree, but I'm convinced Jay could create a cricket team in a week, coach them like a football team, make them win and in the process make them love the sport. I never met a coach that could get every player to run through a brick wall for him like he can and that's what I strive for every day."
Needless to say that if you've had a great conversation with Jeff on or off the field, you made his list.
"I guess the bottom line is a ton of things have changed since I started 10 years ago coaching in Utah for the better," said Brzoska. "I'm really excited to see the next wave of coaches come from the college ranks and give back to the game that gave them so much like Josh Stout, Steele Headden, Garrett Bullett, Garrett Michaeli, and Bubba Fairman. In the next 10 years I can see huge growth in the high school and youth ranks. With all the excitement around Utah, UVU, Utah State, and BYU I would not be surprised if we have 75 boys High School programs playing. I think if boys soccer shifts to the fall like in other states that growth could happen faster. Back east so many soccer players play lacrosse in the spring. I also think the more the football coaches around the state learn the game and appreciate it, the more they will push their players to play the sport in the off-season."
Wherever lacrosse in Utah ends up in 10 years, I can promise Jeff will be there somewhere.
Utah Valley Making Strides
I checked in this week with UVU head coach Brian Barnhill about the Wolverines fall progress.
The Wolverines have a set of scrimmages lined up for this fall. On October 5 at 1:00pm, the Wolverines host Utah State. On October 12, UVU will be at the University of Utah round robin event, and on October 19, the Wolverines head to Las Vegas for scrimmages against Arizona, USC, and Northern Arizona.
The Wolverines have 28 new players this fall which brings the total to 52.
"The short of it is we have a good combination of transfers and freshmen joining our program," said Barnhill. "We have a lot of returning talent while also bringing in some new players that are all capable of immediately contributing to the team."
Each coach approaches the fall season differently and for the Wolverines, its purpose is to focus on mechanics, then consistency and then intensity. 
"If we can be sound mechanically, it will lead to consistent play," said Barnhill. "Once that happens, the player and by extension the team will have confidence in the player and his abilities on the field.  Once we have this level of confidence in each other, the intensity of the team play will be a quality intensity – not a chaotic intensity.  Our purpose in fall is to focus on these three areas (mechanics, consistency and intensity). 
The Wolverines have added a familiar face as an assistant defensive coach in Colin Maxfield. Maxfield played at East, then Utah State then Southern Virginia University where he graduated with a liberal arts degree. Maxfield coached with the Knights last season before coming back to Utah to coach at UVU.
Follow the Wolverines on Instagram if you're not already. The coming weeks will feature check ins with the Aggies, Cougars, Griffins, and Utes.
Wasatch Invitational Scheduled for October 12/13
The second annual Wasatch Invitation is scheduled for October 12 & 13 at Sugar House Park in Salt Lake City.
"We are holding this tournament to get exposure for Utah lacrosse and lacrosse players in Utah," said Danny Larkin. "We know there is a lot of talent here, so we want to bring college coaches to Utah so they can see it for themselves. With Wasatch LC we have shown coaches from all over the country that Utah can play with some of the best competition in the country. Many players want to play college lacrosse but have no idea where to start looking."
Teams include 212 Lacrosse, 801 Tribe, Colorado Chill, East High School, Jackson Hole, Laxski (Brighton High School), Mountain Ridge High School, Rocky Mountain Rippers, and Wasatch LC.
Coaches from the following schools have committed to be at the event as well:
Furman University (SC) - NCAA D1
University of Utah (UT) - NCAA D1
University of Alabama-Huntsville (AL) - NCAA D2
Colorado State University Pueblo (CO) - NCAA D2
University of Indianapolis (IN) - NCAA D2
Palm Beach Atlantic University (FL) - NCAA D2
Queens University of Charlotte (NC) - NCAA D2
Westminster College (UT) - NCAA D2
Wilmington University (DE) - NCAA D2
Concordia University Chicago (IL) - NCAA D3
Earlham University (IN) - NCAA D3
Johnson & Wales (CO) - NCAA D3
Medaille College (NY) - NCAA D3
Trine University (IN) - NCAA D3
Harford Community College (MD) - NJCAA
Mercyhurst North East (PA) - NJCAA
Midland University (NE) - NAIA
St. Ambrose University (IA) - NAIA
William Penn University (IA) - NAIA
Boise State University (ID) - MCLA D1
Concordia University Irvine (CA) - MCLA D1
Grand Canyon University (AZ) - MCLA D1
Utah Valley University (UT) - MCLA D1
University of Colorado Colorado Springs (CO) - MCLA D2
College of Idaho (ID) - MCLA D2
Northern Arizona University (AZ) - MCLA D2
For more information, please visit the Wasatch LC website or follow them on Instagram.
Around The Web
Kyle Devitte of Inside Lacrosse profiled Utah coaches Will Manny and Marcus Holman after the duo combined for 13 goals and 4 assists in the final PLL weekend.
Air Force released its schedule which features a trip to #SaltLaxCity on February 15 to take on Utah.
In Ohio, Lacrosse was the only profitable sport at the spring sport state tournaments.
Kentucky is making strides to have lacrosse be sanctioned at the high school level. Sounds very familiar!
Tweets & Grams
It was the PLL championship game last weekend and the Whipsnakes beat the Redwoods in OT.
The Utes got after it this week on their new practice field.
Another week of fall practice down!
#goutes
I've been digging through some archives and have found some really interesting stuff about the early days of lacrosse in Utah. More to come on that in later issues.
Please shoot me a note if you have something you'd like me to cover: tim@timhaslam.com
Don't forget to forward to a friend.
— Tim Haslam