Discover more from Utah Lacrosse Report
The latest happenings with the sport of lacrosse in Utah.
Over 3,000 subscribers
Kenning at Corner Canyon, Bingham at USU, and a Super 7s Update
Issue 3
This issue features an interview with Corner Canyon girls head coach Matt Kenning, Utah State Aggies head coach Scott Bingham, a Super 7s check-in with Soni Bartlett and a notice for The Great Pumpkin Shootout. Please don't forget to forward to a friend!
Kenning Primed to Take Chargers To New Heights
As we inch closer to the spring season, I reached out to Matt Kenning who was hired by Corner Canyon to lead the girls lacrosse team.
Kenning was born in Anaheim, California and moved to Salt Lake City in 1983 when his dad was hired by Western Airlines. After a football, baseball, and wrestling career at East High School, Kenning went to the University of Utah where he met his wife and got married. Kenning dropped out of school and begin moving up in the finance world.
"I got married young and decided making money was more important," said Kenning. "Not finishing college is certainly a regret but I believe every decision I made in my life has lead me to one of my greatest callings: coaching lacrosse."
Kenning was first exposed to lacrosse when his second daughter, Kylee, decided to play.
"I would come to practice to watch and ask the coach, Chad Bode, questions," said Kenning. "I loved football and basketball and pretty much most sports and considered myself a student of game when it came to football and basketball especially. I figured I should get to know the game my daughter was playing. After about the third practice, Chad made me his assistant and the rest is history."
Kenning then went on to take over the thunder team that his third daughter was on when she was in fifth grade since his second daughter moved on to high school.
"The team consisted of mostly Corner Canyon, Alta, and two Jordan players: my daughter and a great senior attacker, Olivia Davis, who are now at Jordan," said Kenning. "That spring we went 7-1 and from there I was permanently hooked. I coached the Juniors teams at Jordan for a few years and at the same time joined the board at Jordan High School and helped out from time to time at practices with the girls teams as an unofficial coach and was on the parent board for 4 years. My last year at Jordan we won the D-II state title."
Kenning is also heavily involved in the club lacrosse scene.
"In 2016 we had a great juniors team and I knew kids from other schools so we formed the club Force Lacrosse," stated Kenning. "We won most of our games including one tournament. The next year we created a high school and middle school team within Force and we were able to recruit the best players from all over the state."
Force has had great success on and off the field. Three of the six freshman at Westminster are Force players, while Jaimeson Meyer (Waterford) recently committed to the Naval Academy with several other players currently talking to colleges all over the country.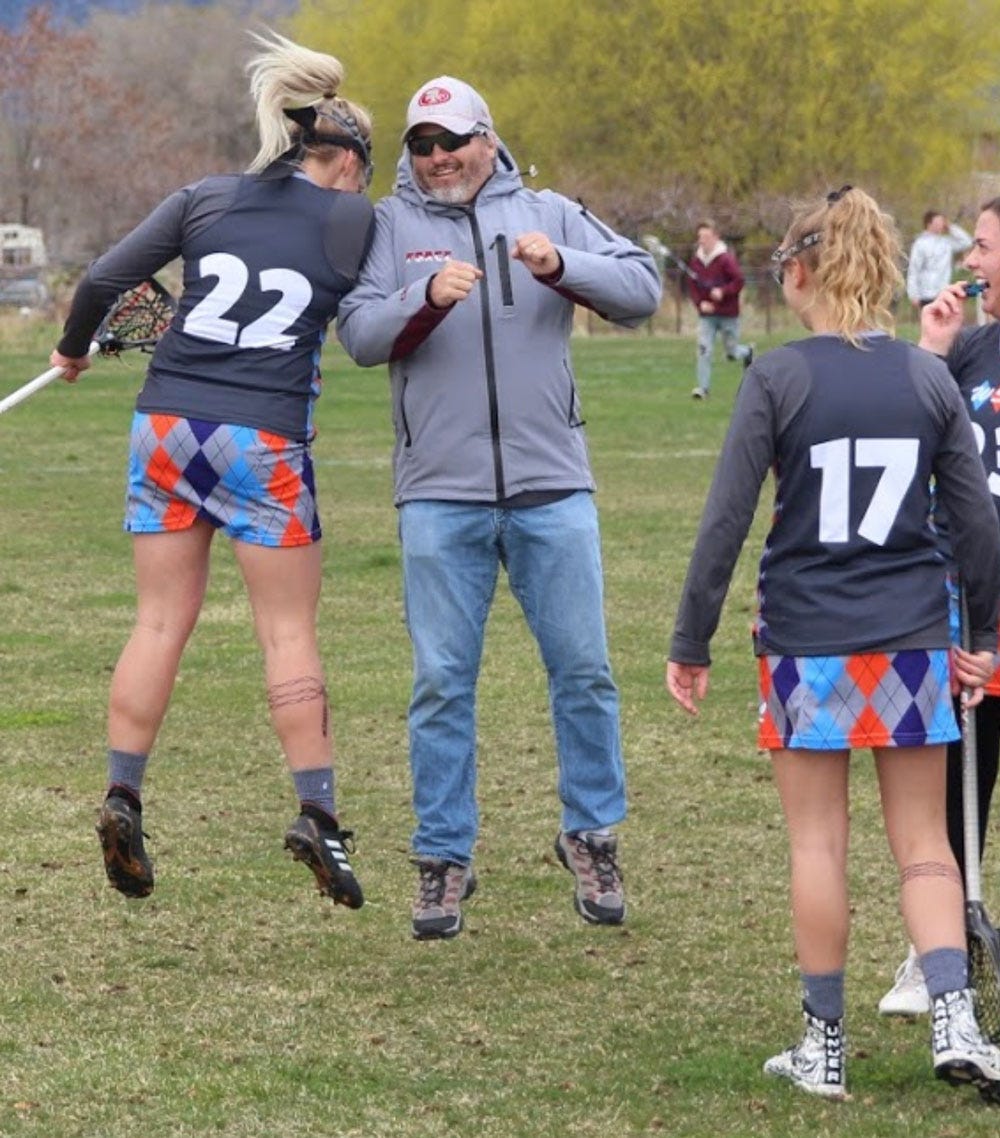 Kenning with #22 Eliza Jorgensen and #17 Lauren Ackerman who are now Corner Canyon JV coaches.  
Kenning still owns Force and coaches the Elite high school team but he longed to coach at a high school.
"Jordan had a coach so I went searching for a position with the blessing of my wife and kids," said Kenning. "A few good positions were available. I interviewed with Herriman and Lone Peak but they went different directions. It worked out for those teams in the end, for Herriman especially and I totally understood. One of the parents of a player on the Lehi combined team WSL heard that I was looking for a job and talked their board into hiring me. I knew the season was a success when after losing in the D-II title game to Corner Canyon the previous coach, Dough "Jorgy" Jorgensen, who's daughter Eliza was one of our senior captains, gave me a giant bear hug and told me this was his daughters favorite season of Lacrosse ever. And now Eliza is on my coaching staff at Corner Canyon."
Kenning was hoping to continue coaching at Skyridge, but the administration had different plans.
"I went the same route as the year before and applied at a few schools," said Kenning. "Fortunately, several schools were looking for coaches. Corner Canyon was one of those schools and were my first choice. I talked to the principals or vice principals at every school I applied to but Corner Canyon acted fast and brought me right in and offered me the job. I love the Skyridge kids and they will always have a place in my heart but I truly believe I was meant to be at Corner Canyon."
When not coaching lacrosse, Kenning is a loan officer for Veterans First Mortgage where he has worked for 18 years where he helps Veterans buy and finance homes.
"It is an incredibly rewarding profession," said Kenning. "I also credit the skills I have learned at this company for making me a better coach."
Kenning will look to continue a strong tradition of excellence at Corner Canyon. The Chargers finished the 2019 season with a 7-8 record and lost to Juan Diego in D-II Championship game.
"Well it is no secret that Corner Canyon is the best overall sports school in the state," said Kenning. "I am a little biased now, and Lone Peak may have an argument, but they are the best or among the best in every sport. And I now know exactly why. It is the administration. They are smart, supportive and want every program to succeed. Their priorities are all in the right order and when this happens winning just becomes ancillary. The Principal, Darrell Jensen, Assistant Principal Dave Barrett, Athletic Director Pat Thurman and Kathy Hilton have given me great support and trust and I know this program will succeed for years to come with administration like this in place."
Last but not least, Kenning gave praise to his family and assistant coaches: "I have the support of a loving wife and family and without them I would not be successful. My wife comes to games all the time and now when asked who's child is hers she points to me on the sideline. I have to give a lot of my coaching success to my assistants over the years. At Corner Canyon my Varsity assistants are Code Bode and Madison Ingman and our JV coaches are Lauren Ackerman, Eliza Jorgensen and Maya Thayne."
TH: What is your favorite thing about lacrosse?
MK: My favorite thing about lacrosse is being part of a community that is unlike any other. We are all one big family. We are incredibly supportive of one another, whether it be the youth, club, high school you name it. Everyone wants everyone else to succeed with almost zero exception. I learned this the most from Soni and Fish at Tribal West. My first year of running Force they gave me advice and pointed me in the right direction from time to time when they did not have to. They had Mamaci at the time and could have seen me as a threat. They showed me that to grow the sport we all have to work together and help each other succeed. I will always do what I can to help players, coaches, club owners, school administration, whoever needs my help and advice at any time.
TH: If you could change one thing about lacrosse, what would it be?
MK: For the girls game I would want to put in the simultaneous whistle rule on shooting space calls. If shooting space is called after or in the middle of a shot and it goes in it should count, this rule exists at the collegiate level right now.
The Great Pumpkin Shootout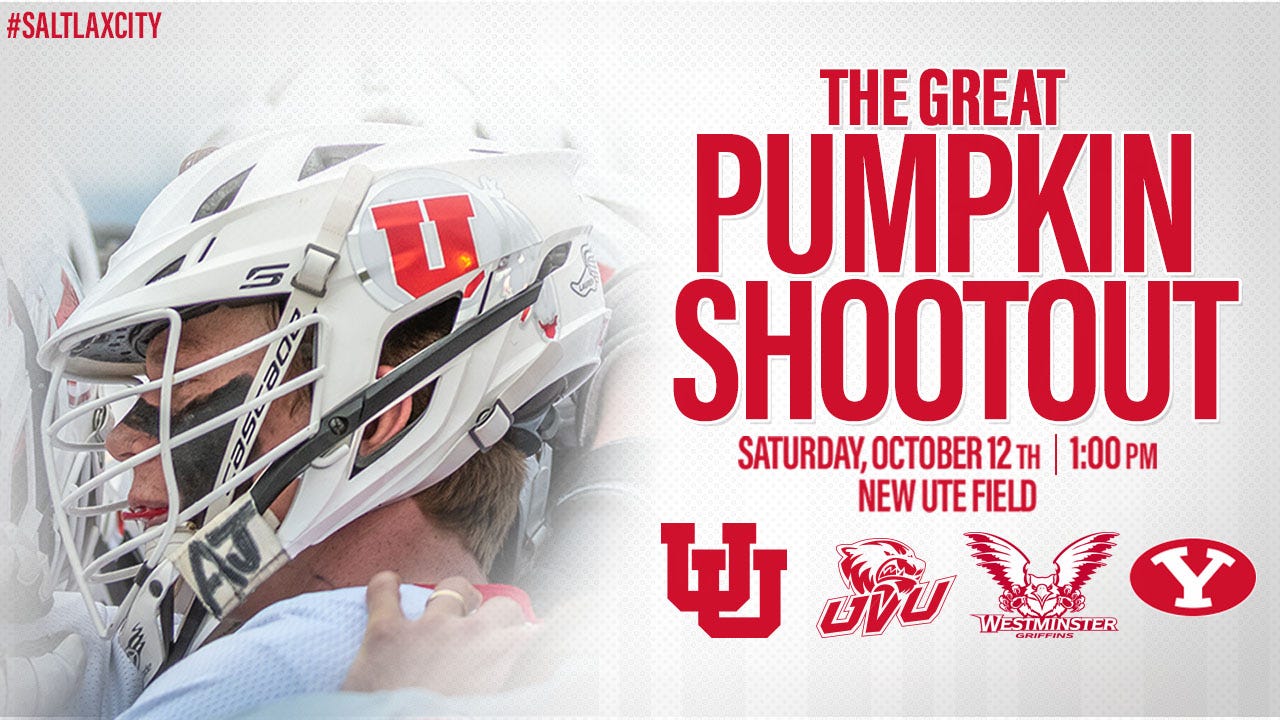 On October 12th, the University of Utah is hosting The Great Pumpkin Shootout featuring scrimmages between Utah, Westminster, BYU, and UVU. The event will be at the New Ute Field which is just west of the Softball complex. It's a great opportunity to see each team this fall.
Aggies Ready for Heightened Competition
The Utah State Aggies are coming off an 8-4 season and a RMLC D-II Championship which earned a trip to the 2019 MCLA National Tournament.
"The biggest thing we're looking forward to is the elevation of competition," said head coach Scott Bingham. "We did quite well last season and so high caliber D-II teams have taken notice. Expect a competitive 2020 schedule for the Aggies featuring more than a few nationally ranked opponents."
The Aggies are putting a huge emphasis on the fundamentals and integrating the new recruits into the Aggie style of lacrosse.
"Our coaching staff from the 2019 spring season remains the same going into 2020," said Bingham. "Sean Flounlacker, a Kent Island, Maryland product who played at Salisbury and Navy heads our defense while Michael Stock, a USU alumni, works closely with our offense."
Follow the Aggies on Instagram for the latest team information.
Super 7s Continues to Be Fan, Player, and Parent Favorite
The annual Super 7s is back for its 13th season. The event began in the fall of 2007 when Soni Bartlett saw the format while at a tournament.
"I saw the format when I was coaching for X-Team and we attended a tournament at Northwestern in the winter," said Bartlett. "Not like it was a totally new format, but seeing it in the tournament setting in their cramped tin can of an indoor facility was pretty awesome."

The league has continued to grow through out the season and currently boasts 49 teams from 32 high schools. Multiple high schools have two teams and a couple have three. The league features 634 players.
"We run 3 to 4 fields a night, two nights a week for 6 weeks," said Bartlett. "It is a league for "by the players for the players" and is a fun league for the girls to enjoy the game without the pressure on performance that a coach on the sideline often brings and with an intent to keep a stick in their hards during the off-season to get touches on the ball in a competitive environment which will improve their game."
The first time I saw the format was in 2011 when Soni invited me to come to the games to write an article for Utah Lacrosse News. I remember it being very cold but the format was awesome. I'd highly recommend heading to a few games before the season ends.
Bartlett concluded, "We love it not just because we think it is awesome but because the girls love it. Parents love it. Players and parents often tell us they love Super 7s more than the spring season!"
Games are played at the Alta Canyon Sports Center. For more information include schedules, please visit the Super 7s website.
If you missed the first two issues, you can view them here: ISSUE 1 | ISSUE 2
Please shoot me a note if you have something you'd like me to cover: tim@timhaslam.com
Don't forget to forward to a friend.
— Tim Haslam