Good afternoon lacrosse fans! It's great to witness live lacrosse once again. Despite being June, there is plenty of lacrosse to talk about, so let's get to it!
Kyle Hartzell Interview & Clinic
Kyle Hartzell (Team USA/PLL Atlas) took some time out of his day to talk to me about a wide range of lacrosse topics. Give it a listen by clicking play above.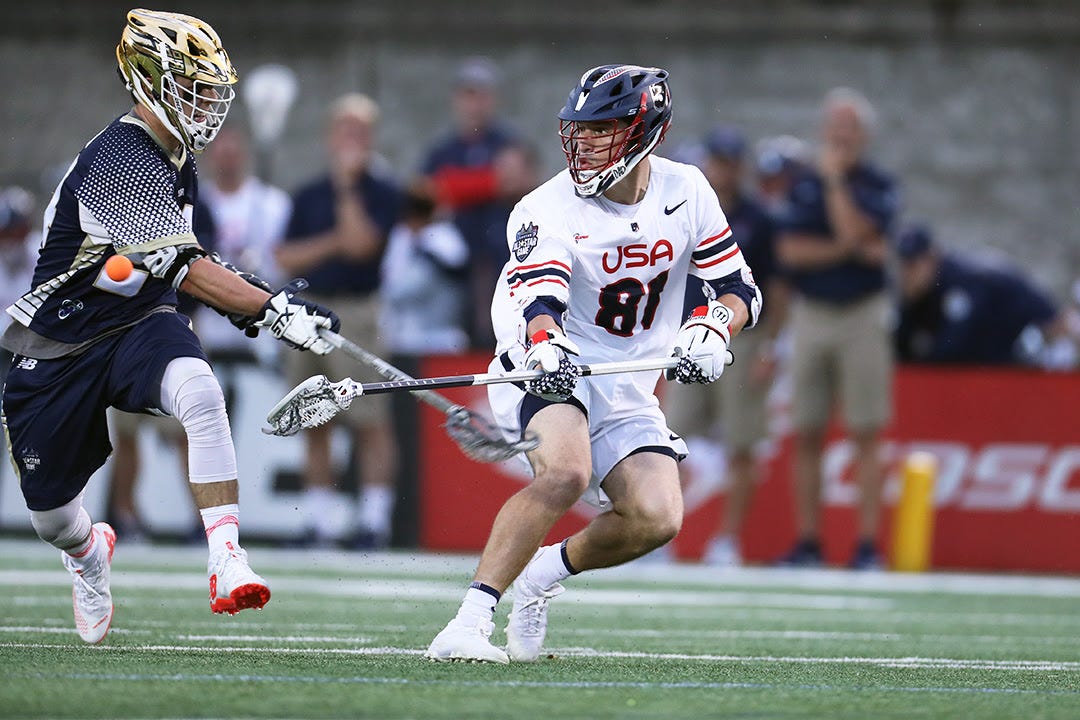 Tomorrow, June 9, Hartzell is holding a lacrosse clinic for Defensive players of all ages. Hartzell will teach defensive skills, footwork, stickwork and much more.
Date: Tuesday: June 9th, 6:00 p.m.

Location: Sunnyside Park, Salt Lake City, UT

Cost: 50$ per Player

*VIP SESSION: 7:15 PM (Limit 10 Players)

75$ per Player or Bundle 2 Sessions for 100$

How to Signup: Venmo @Kyle-Hartzell with: Name, Grade, Sessions Attending, Contact Information (E-mail Preferred).

No Venmo? Email: KHartzell@premierlacrosseleague.com and/or Pay Cash.
IMLAX High School League
The IMLAX high school league began play last weekend with games on Friday and Saturday. You can see the scores at imlaxutah.org. Here are the standings (W-L-T):
Fremont (4-0)

Farmington (3-0-1)

Davis (3-1)

Bonneville (2-2)

Bountiful (2-2)

Syracuse (2-2)

Northridge (1-2-1)

Roy (0-4)

Viewmont (0-4)
There are games this Wednesday and Saturday. The top two teams will play in a championship on Saturday. Ties will be settled by goals allowed. It's still wide open as Davis plays Farmington and Fremont on Wednesday. Syracuse and Bonneville also play on Wednesday.
Discussion with the CEO of US Lacrosse
US Lacrosse is hosting a discussion with Steve Stenersen, CEO of US Lacrosse. Here's that the email said:
You're invited to join US Lacrosse CEO, Steve Stenersen, for a discussion with US Lacrosse members about who we are, what we do, and where we see the sport going. You can submit your questions for Steve during registration.
Date/Time: Wednesday, June 10th @ 6pm Mountain
University of Utah Virtual Lacrosse Camp
The Utes are hosting a three-day camp later this month.
We invite you to attend an innovative, virtual experience with the Utah Men's Lacrosse Staff. The Utah Lacrosse Virtual Experience is a full immersion into the sport of lacrosse for driven lacrosse players who want to discover new-age instruction, leadership development, lacrosse IQ, and much more.

Virtual Zoom Meetings

Day 1: On-Field Positional Training  *Unique Zoom link provided for each position

Day 2: Leadership Championship Mindset Development/What it takes to be the best...

Day 3: On-Field Positional Training, Film Study, & Lacrosse IQ. Go Deep into the Game to Learn from the Best to ever Play.

For: BOYS GOING INTO 6th-9th Grades for 2020/2021 School Year  *Current HS players are NOT eligible per NCAA Recruiting Rules

Dates: June 24, 25, 26

Time: 11am-12:30pm

Tuition: $125
New Regions for 2021 High School Season
With Weber, Davis and Nebo school districts sanctioning in 2021, here is the updated regions. Fifty-eight teams will be competing next year!
6A
Region 1 - Region 1 is a new region created from teams in the IMLAX league or new teams.
Clearfield

Davis

Fremont

Layton

Northridge

Roy

Syracuse

Weber
Region 2 - Region 2 is unchanged.
Bingham

Copper Hills

Herriman

Jordan

Riverton

West

West Jordan
Region 3 - Region 3 is unchanged.
American Fork

Corner Canyon

Lone Peak

Pleasant Grove

Skyridge

Westlake
5A
Region 5 - Only Box Elder remains from 2020 and the other teams are from the IMLAX league.
Bonneville

Bountiful

Box Elder

Farmington

Viewmont

Woods Cross
Region 6 - Judge Memorial, Park City and Waterford were moved to other regions.
Brighton

East

Highland

Olympus

Skyline
Region 7 - Juan Diego, Provo and Wasatch were moved to other regions.
Alta

Lehi

Mountain Ridge

Mountain View

Orem

Timpanogos

Timpview
Region 8 - Didn't exist. Park City, Provo and Wasatch join IMLAX or new teams.
Maple Mountain

Park City

Payson

Provo

Salem Hills

Spanish Fork

Springville

Wasatch
4A
Region 10 - New region with smaller schools.
Cedar Valley

Juan Diego

Judge Memorial

UMA - Hill Field

Waterford
Region 11 - New region with Northern Utah teams.
Bear River

Green Canyon

Logan

Mountain Crest

Ridgeline

Sky View
That's it for this week! Please send any questions/comments/feedbacks/tips to tim@timhaslam.com.
— Tim Haslam