Discover more from Utah Lacrosse Report
The latest happenings with the sport of lacrosse in Utah.
Over 3,000 subscribers
Lacrosse in Utah in 1946?
Issue 4
This issue features an article from 1946 about a lacrosse game at East High School, an interview with Brighton girls head coach Melissa Nash, a high school boys region update, a promotion for t-shirts that can be purchased at Tribal West, and an update for The Great Pumpkin Shootout and the schedule for the Wasatch Invitational.

Please forward to a friend!
History of Lacrosse in Utah: A game in 1946?
I'm working on a project (more details later) that deals with the history of lacrosse in Utah. One of my searches led me to an article from the June 29, 1946 edition of the Salt Lake Telegram (below) that says players from Notre Dame college in Canada will come to Utah to play an exhibition game as a fundraiser for the Knights of Columbus youth committee. The game was to be played on July 10, 1946 at East High School and the author claims it's the first of its kind ever staged in the intermountain area. I've found several articles around this event (and other, earlier events) that I'll share in the coming weeks!
If you know of anyone or anything relating to lacrosse in Utah prior to 1960, please let me know!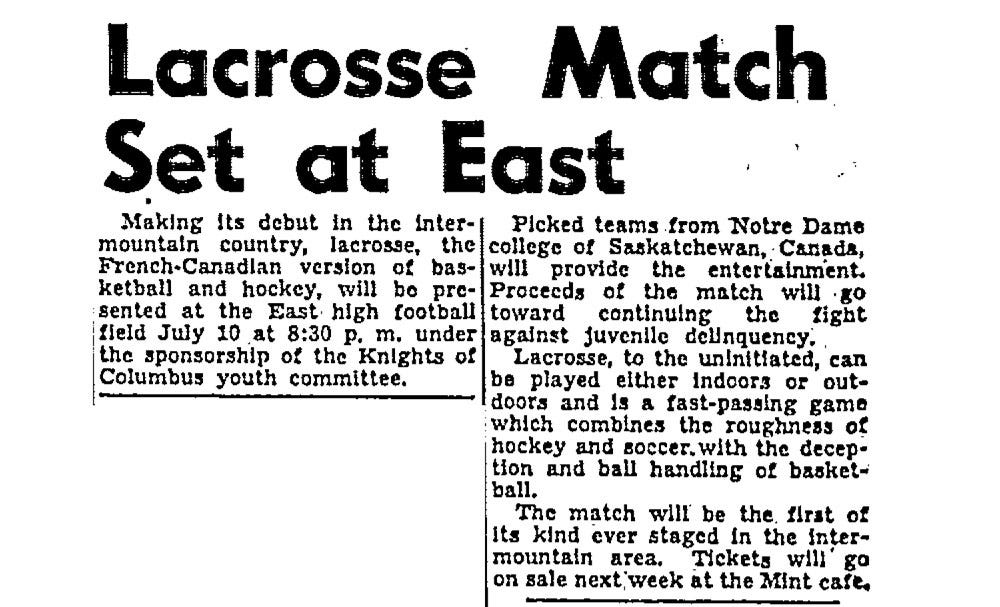 Bengals Enter 3rd Season With Nash At The Helm
The Brighton girls lacrosse team is hoping for a memorable 2020 season after a 9-5 2019 season that ended in the quarterfinals of the playoffs with an 18-7 loss to Park City.
Brighton head coach Melissa Nash, who grew up in Salt Lake City and went to Highland (Go Rams!), originally started playing lacrosse to stay in shape for soccer season, but quickly realized lacrosse was much more fun.
"I played for the Oly-High team which was made up of Highland and Olympus players," said Nash. "My freshman year, I was voted as Rookie of the Year. During my junior year I was a captain and broke my collar bone in a game against Woods Cross, just days after making the Utah/Idaho National Team. During my senior year, I was an MVP, All-American and Academic All-American."
After high school, Nash went on to play for BYU where she excelled on the field, earning Rookie of the Year, becoming a team captain, and league MVP and top scorer.
"Playing for BYU was a dream come true and where I met some of my best friends," said Nash. "It is so fun now to play on our BYU Alumni team every summer during Women's Super 7s. Most of the girls have babies and live all over the state but still have a huge passion for lacrosse."
After BYU, Nash started to coach immediately and picked up a job at Skyline in 2013.
"I coached with Elise Caffee at Skyline and we won the D-I State Championship," said Nash. "Since then, I've been coaching at Brighton. I started with their Juniors program, then went to JV and am now in my third season as head coach. So the little 7th graders I started with back in the Juniors program are now seniors, and I've climbed the ranks with them. I can't wait to see what they do with their senior season."
Nash also coaches for Utah Elevate where she can get her lacrosse fix all year long.
When not coaching, Nash is still part of the Bengal family after being hired as a health teacher this summer.
"I've been working at a school in West Valley for the past 4 years, which I loved," said Nash. "But it has already made such a big difference to teach and coach at the same school. Brighton has been so welcoming and I love walking the halls and seeing players. I am so excited for team lunches in my classroom on game days and now we have a great place to watch lots of film."
It's not a secret in the lacrosse community that Brighton has always been supportive of lacrosse.
"Even before sanctioning, the Brighton Administration has been so supportive," said Nash. "They have always been so generous and helpful. We've been lucky to practice and play on our turf field for a few years. And now as a sanctioned sport, Principal Tom Sherwood, and Assistant Principals; Mark Mitchell, Justin Pitcher, Marielle Rawle and Robin Tenbrink and Athletic Director; Lynn Moncur are extremely ready to hit the ground running and keep the strong Brighton lacrosse tradition going. There are a lot of new rules with sanctioning and they've all been so helpful and supportive as we get started. The parent board is so supportive and encouraging. They have always stepped up big time with fundraising and organization, down to the little details. Brighton parents are incredible."

For the on field play, the top four scorers from last year all return for the Bengals. Haley Taylor led the team with 34 goals and 5 assists with Grace Rappl (25/2), Hannah Gebauer (19/2), and Paige Sieverts (17/3) rounding out the top four scorers. The 2019 draw control leader was Emily Osterloh (59.44%) who graduated last spring.
"We lost four seniors last year," said Nash. "They were amazing players but more than that, they were our strongest, most positive leaders. Our seniors this year have big shoes to fill but they are extremely motivated so I think they will step up. Hannah GeBauer is an incredible senior leader for us. She wants to improve and win so badly, she'll lead her younger teammates to success. We also have Alyssa Le back in goal - she keeps getting better and better. Alyssa and Coach Annie will make a powerful team. Tyler John has developed into an amazing defender and midfielder. We also have a forceful defensive end with Baylee Bruce and Sam Heugly. And of course we have our three National team players - Grace Rappl, Paige Sieverts and Haley Taylor - a powerful trio which makes us really hard to defend. Addi England will definitely be an impact player this year. She's still relatively new to lacrosse but is a quick learner - and extremely quick on her feet. We have a few players coming up from JV too that we're really excited about."
Joining Nash on the sidelines will be four coaches who bring an array of experience to the Bengals.
"I really believe we have the most experienced and well-rounded coaching staff in the state," said Nash. "I'm so proud of the women on our staff and love what they all bring to our team. We have five coaches, all of whom played college lacrosse. Together, we have 36 years playing experience, 15 years coaching experience, 3 high school state champions and 2 college regional champions along with several other awards and accolades."
Courtney McCabe will lead the JV. McCabe is a Brighton alumni and will be in her third season at Brighton and in her second season as JV head coach. McCabe also is currently playing lacrosse for Westminster where she was also a track & field star. Assistant coaches for the Bengals are: Chelsea Owens (Brighton/BYU), Rachel "Quigs" Muller (Bingham/Utah State), and Annie Van Valkenburg (Bingham/UVU).
"Chelsea loves Brighton lacrosse so much and Quigs played a big role in building the Utah State team," said Nash. "She is our defensive coach and draw specialist. Annie was the state champion goalie for Bingham in 2012. We're going to miss our previous goalie coach, McKalee Fife, but Annie has already stepped in and made a dramatic impact. I think we provide our team with some really strong examples of powerful athletes and strong women."
Q&A
TH: What will it take to advance past the quarterfinals in this years playoffs?
MN: It will take hard-work and a lot of teamwork! But I have no doubt that with the seniors we have returning and some of our up and coming players that we can do it. Not only because of their talent - but because of their drive, dedication and passion for lacrosse. We hit a good stride at the end of last season, falling to Park City, and I think we are still carrying our upward momentum. We are lucky to be retuning most of our Varsity team and all but one of our coaching staff - the consistency from one season to the next will really help us pick up right where we left off. 
TH: What are some of the off the field things Brighton does to build team unity?
MN: Team unity is so important in lacrosse! We've gone bowling, hiking, team lunches, ice cream parties and some fundraiser activities like High-Fitness, restaurant nights and selling competitions. One of the best things we've done is little activities built into practice to encourage team unity. Playing in Tribal West's Super 7s is also a great bonding experience - we have 3 teams this year and each team goes to cheer on the other teams which has been really fun. The coaches have a lot of big plans for team unity activities this season, it's going to be a good season. 
TH: What are the teams goals for the season?
MN: Obviously, we'd love to see a Bengal State Championship.  We have a large group of talented seniors this year who I've coached since 7th grade, I would love to finish our story together with a state championship. My biggest goal as a coach is always to create a safe place - physically, mentally and emotionally - for my players. I want them to look forward to practice and become a Bengal Family.  Smaller goals to get towards that state championship would be working on our ground ball percentage and draw percentage. 
TH: What does the fall schedule look like?
MN: We've had a really fun fall season so far. We have around 12 new players who have never played before so we are working on catching them up to speed with the fundamentals. We hosted a scrimmage against Jackson Hole on a Friday night at Brighton's turf field which was really fun. Next week we will scrimmage Davis at Brighton's turf. We end our Fall Ball with a Switch The Sticks scrimmage and Halloween costume contest with our boys team, a fun tradition the boys coach, Chris O'Donnell and I are working on starting. 
TH: What is your favorite thing about lacrosse?
MN: My favorite thing about lacrosse is the relationships that are formed between players and coaches. My teammates and coaches throughout the years have become my best friends. Like the BYU Alumni Super 7s team... I look forward to every summer not only to play lacrosse but to catch up with old teammates. A lot of the coaches and referees in Utah are girls that I played with in high school or college. I love building relationships with my girls and watching them succeed on and off the field. And I love watching players continue onto college teams and just life in general. My coaching staff at Brighton is amazing, I really believe we have the most experienced coaching staff in the state. All five of us have become so close. I'm so excited to work with them again this year! I'm lucky to have played with and coached some amazing women who have had giant impacts on my life. 
High School Boys Regions Update
Regions 4 and 5 have decided to do home and away games for their in-region games. This sets up some great matchups between some traditional rivals!
2019 Region 4 Standings - Team (Rank)
Corner Canyon (3)

Lone Peak (5)

American Fork (6)

Westlake (11)

Pleasant Grove (22)

Skyridge (29)
2019 Region 5 Standings - Team (Rank)
Green Canyon (12)

Sky View (21)

Box Elder (23)

Bear River (31)

Logan (32)

Mountain Crest (40)

Ridgeline (42)

UMA (JV Only)
Regions 6 and 7 have opted to do one game against other region opponents.
2019 Region 6 Standings - Team (Rank)
Park City (1)

Olympus (4)

Skyline (14)

East (15)

Judge (34)

Highland (37)
2019 Region 7 Standings - Team (Rank)
Brighton (2)

Juan Diego (18)

Alta (30)

Waterford (33)

Lehi (DNP)

Mountain Ridge (DNP)
Utah Lax Report Logo T-Shirts at Tribal West!
Last year, Fish at Tribal West asked me to design a t-shirt that had all team logos for each team in the state. When starting this newsletter, I opted to use the same logo to tie into the vision Tribal West has to unite the state! So, if you're looking for a great new shirt, head to Tribal West and pick one up!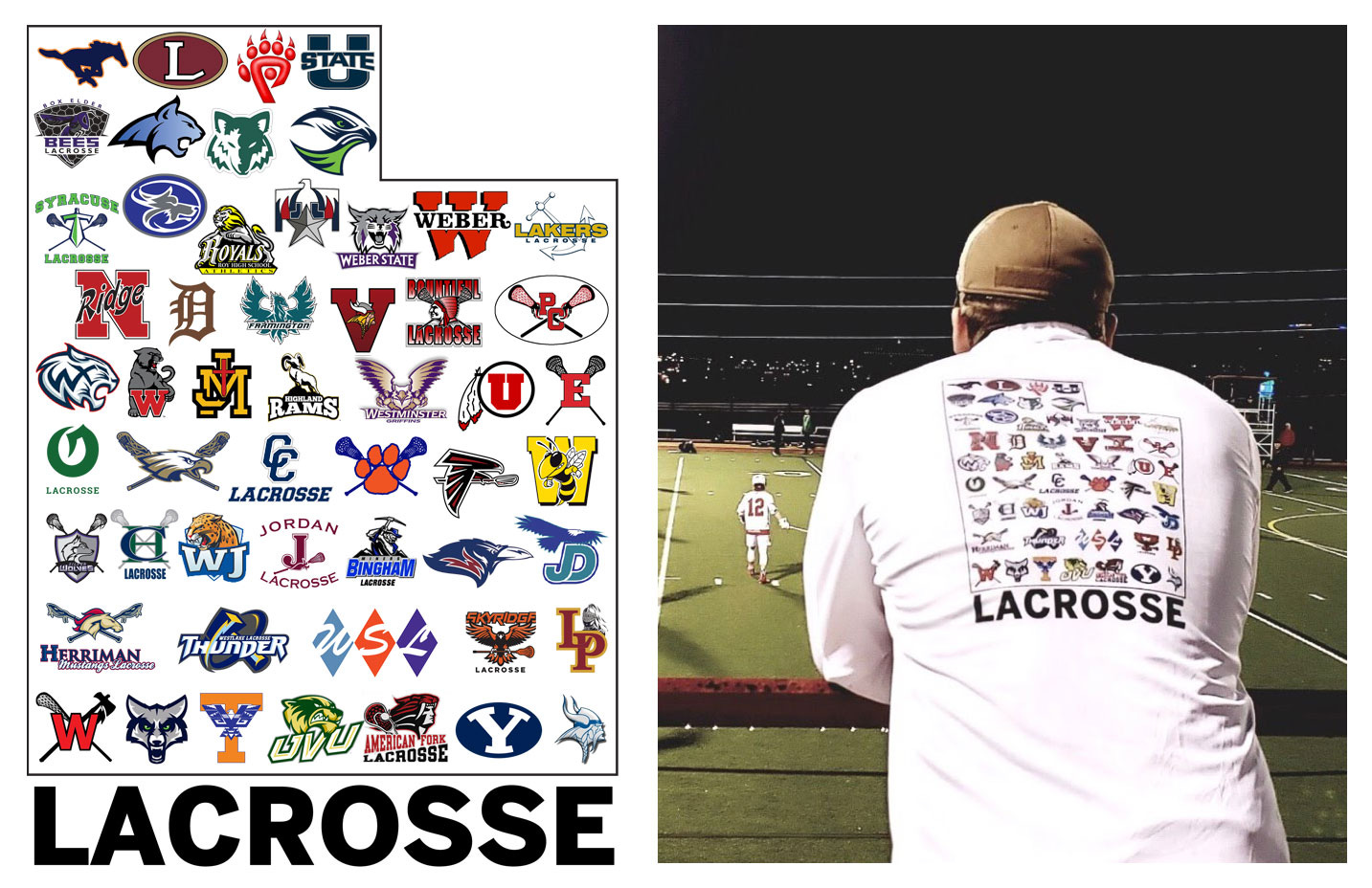 The Great Pumpkin Shootout
A little more detail for The Great Pumpkin Shootout at the University of Utah this weekend:
The Great Pumpkin Shootout Schedule (Oct. 12)
1:00 p.m. – Utah vs. Utah Valley; Westminster vs. BYU
2:15 p.m. – Utah vs. Westminster; BYU vs. Utah Valley
3:30 p.m. – BYU vs. Utah; Westminster vs. Utah Valley

All Utah games will be held at Ute Field with the non-Utah game on Crimson Field. Bleacher seating is available at Ute Field and we encourage fans to bring blankets and/or chairs for seating at Crimson Field. The Ute and Crimson Fields are located west of the McCarthey Track and Dumke Softball Stadium off South Wasatch Drive. Food trucks will be available.
Wasatch Invitational
This weekend is also the Wasatch Invitational. Here is the schedule.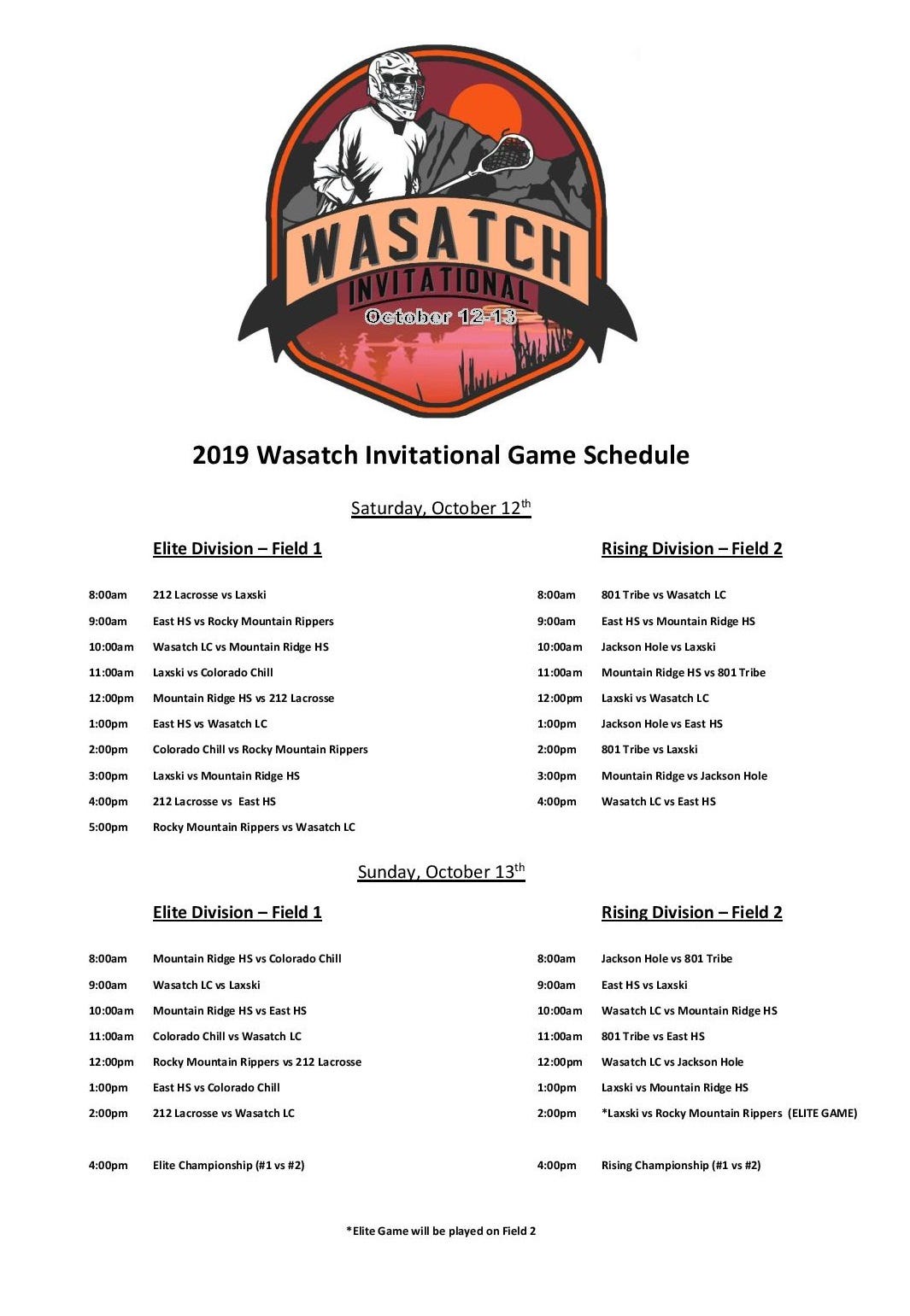 ---
If you missed the first three issues, you can view them here: ISSUE 1 | ISSUE 2 | ISSUE 3
If you view the post on a browser, you can leave a comment at the bottom!
Please shoot me a note if you have something you'd like me to cover: tim@timhaslam.com
Don't forget to forward to a friend.
— Tim Haslam