Discover more from Utah Lacrosse Report
The latest happenings with the sport of lacrosse in Utah.
Over 3,000 subscribers
Matthews at Waterford, UHSAA & Non-sanctioned Meeting Notes, Rendezvous Pictures
Issue 7
This edition features an interview with Jack Matthews who is taking the reigns at Waterford, notes from the UHSAA Boys meeting, notes from the non-sanctioned league, and more.

As always, please forward to a friend!
Matthews Excited to Lead Waterford
Newly minted Waterford head coach Jack Matthews is living the dream. Ever since attending the Gilman School in Baltimore, Maryland, Matthews has wanted to combine his love of history and lacrosse and teaching and coaching at Waterford has allowed him to do just that. Currently Matthews is the Sixth Dean, Varsity Lacrosse Head Coach and History Teacher.
Growing up in Baltimore, Matthews has had a stick in his hand since he can remember.
"I probably started playing organized lacrosse at age 5 or 6," said Matthews. "My entire family loves lacrosse and everyone in my immediate family played in college."
His father, Mickey, played lacrosse at Brown, his mother, Dia, played at Richmond. His sister Brooke, won three National Championships at Northwestern and his brother, Andy, won the 2016 National Championship at North Carolina with current Utah head coach Brian Holman who was an assistant on the Tar Heels squad at the time.
"Andy had an incredibly high IQ/knowledge of the game," said Brian Holman. "He had a high level of passion and respect for the game."
Jack played at the Gilman School and started at attack on the 2009 MIAA Championship winning team that was ranked No. 1 in the nation by Inside Lacrosse. While at Gilman, Matthews played with several top talent players including Davey Emala (North Carolina, Archers), Ryan Tucker (Virginia), Jack Doyle (Harvard/Notre Dame, Chesapeake Bayhawks), and Marcus Holman (North Carolina, Archers) just to name a few.
"Jack was always a very smart and skilled attackman," said Marcus Holman. "With his IQ, he was able to be in the right spots to score or to set up his teammates with his feeding ability."
"In terms of favorite Lacrosse memory I would have to say winning the 2009 MIAA Championship," said Matthews. "The season before that we had gone 18-1 with our only loss being the championship game, so it was great to come back the next year and win it. But the great thing about Lacrosse is that it has allowed me to make friends all over the world with whom I have had countless unforgettable memories."
Matthews went on to play at Rutgers and also in England for the Heaton Mersey Sports Club while he got his Masters in History.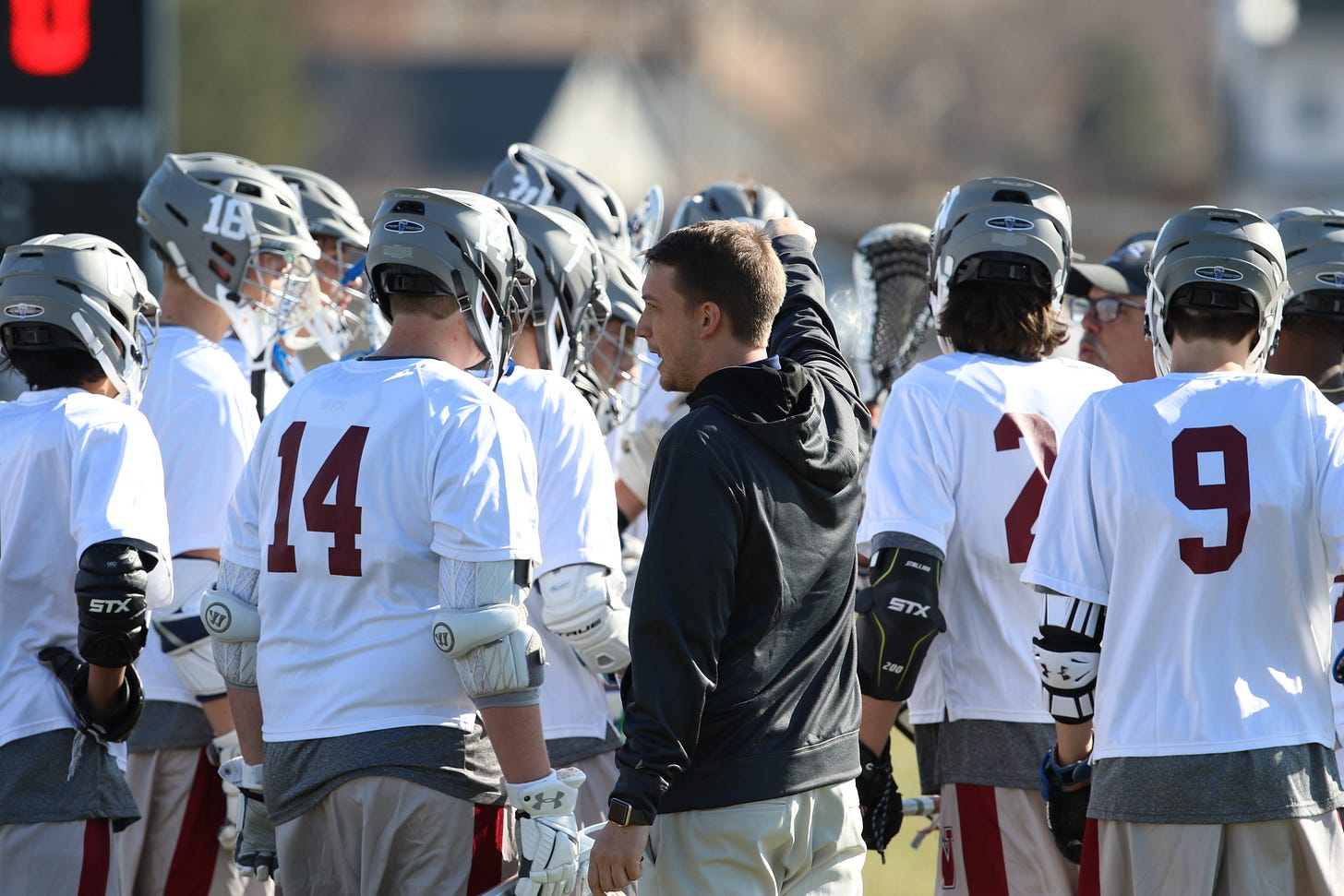 c/o David Welsh
Last year, Matthews was the assistant coach to former head coach, Dave Brattin. The roles are reversed this year with Brattin becoming the assistant coach.
"Lacrosse is in his blood," said Brattin about Matthews. "He is a strong communicator and is well connected with coaches on the east coast bring new/fresh drills and ideas to our program. It is exciting having Jack on campus in direct daily communication with our players."
Waterford also hired Mike Acee as the Lacrosse Program Director. Acee played at North Carolina and runs the 212 Club Program.
"At Waterford we aspire to be a world class institution, and recognize that as a 2A school we have a difficult task in front of us as we compete with schools from 5A and 6A designations frequently," said Matthews. "However, we have passionate coaches and eager athletes from our youth teams all the way up through our Varsity squad who are not afraid of a challenge."
On the field, the Ravens have a good group of upperclassmen who are hoping to set a positive example for the rising freshmen and sophomores on and off the field.
"Junior Mike Osborn, our leader in points last year, will continue to shoulder the responsibility as the leader of our offense," said Matthews. "With a young goalie in the cage we will be reliant on several of our experienced upperclassmen on defense to step up and become more vocal leaders on that end of the field. We have a young team that is hungry to prove themselves and who can not wait for the Spring season to roll around so that they can make their mark in the storied Waterford Lacrosse history." 
Matthews currently lives in Sugar House with his wife Mallory and their two dogs, Gus and Maisie.
"My wife got a job at Park City Day School as the Middle School Head for the 2018-2019 school year (she is now Director of Studies for the whole K-8 school)," said Matthews. "So we were moving here to Utah no matter what, but I was lucky enough to find a job at Waterford teaching and coaching for the 2018/19 school year."
Q&A
TH: What is your favorite thing about lacrosse?
JM: It's hard to pick one thing about lacrosse that I would say is my favorite.  It is probably a toss up between the fast pace and the opportunity for anyone no matter their size or athletic ability to play the game.  I have always been drawn to teams that play at a fast and frenetic pace and the shot clock in college has clearly made the game more fun and interesting to play and watch.  I also love the ability for people of all shapes and sizes to become a productive member of the lacrosse team whether you are 5'5" or 6'6" there are a multitude of ways to contribute and have fun playing the game. 
TH: What would you change about lacrosse?
JM: If I could change one thing about lacrosse I would make it more accessible to everyone, no matter their socioeconomic status or background.  As it stands now, lacrosse equipment and leagues are extremely expensive and that can turn away a lot of possibly great athletes. US Lacrosse has done some great things lately to make the sport more accessible to people of all backgrounds and I look forward to seeing that continue in the future as the sport of lacrosse continues to grow.
The Ravens finished 8-10 last season and lost to Judge in the Class C Championship game.
2019 Region 7 Standings - Team (Rank)
Brighton (2)

Juan Diego (18)

Alta (30)

Waterford (33)

Lehi (DNP)

Mountain Ridge (DNP)
UHSAA Meeting Notes
Here are some notes and observations from the UHSAA boys meeting on Monday.
MaxPreps will be the source for scores. This aligns with the rest of the UHSAA sports.

Eligibility will align with current UHSAA Transfer Rules. Students who attend a district member school without lacrosse can Co-Op to another member school that has lacrosse. Students who attend a private/charter school without lacrosse must Co-Op to their brick-and-mortar boundary district member school. Student can not play for a club during the season while also playing for a high school team. It was said though that a student-athlete could practice with a club team but not play games or scrimmages. 'Club' in this sense would be a travel/comp team, not a non-sanctioned team.

In terms of scheduling, each team gets 16 games with each game counting as a single game except for tournaments. Tournament games count as 2 for 1 if the games are regulation length, 6 for 2 if the games are shortened-length games. UHSAA member schools may only play teams who are sanctioned through a member school of a respective state association. Teams that UHSAA members can't play: Non-UHSAA sanctioned teams in Utah, Club teams, non-sanctioned club/high school teams in other states.

Playoffs will be nothing new to the lacrosse community. They will be RPI based with the Top 16 teams playing in the Division A bracket with the remaining teams in Division B. The Boys & Girls Championships will be at Zions Bank Stadium in Herriman. The Semifinals will be at two host schools while the rest of the rounds will be at the home site of the higher seed.
Non-Sanctioned Meeting Notes
I headed to the IMLax offices after the UHSAA meeting for the non-sanctioned league meeting. We went over everything except for a name for the league, oops! At the moment there are 12 confirmed varsity teams: Fremont, Bonneville, Roy, Weber, Syracuse, Northridge/Layton, Davis, Farmington, Viewmont, Bountiful, Woods Cross, and Maple Mountain. There were representatives from Spanish Fork who are on the fence about submitting a Varsity team due to numbers/experience, playing as just a JV team or just a Freshman/Sophomore team since most of the players are young.
Each team will play the other teams once for a total of 11 (potentially 12) conference games. Each team can play up to 16 total games.

The championship game will be on May 9 at a location TBD but most likely a school within the league.
2020 Awards
I spoke with Jeff Brzoska about end of season awards and he said that both leagues will receive 1 All-American and 1 Academic All-American slot for every six teams. So if the current structures hold true, there will be 7 UHSAA slots and 2 non-sanctioned slots. Each league will have a Coach of the Year and Bob Scott Award winner.
2019 Rendezvous
I took the opportunity to head to the Rendezvous last weekend. Outside of some late game northern winds, the weather was perfect. Here's a couple of my favorite pictures from the weekend. View them all here.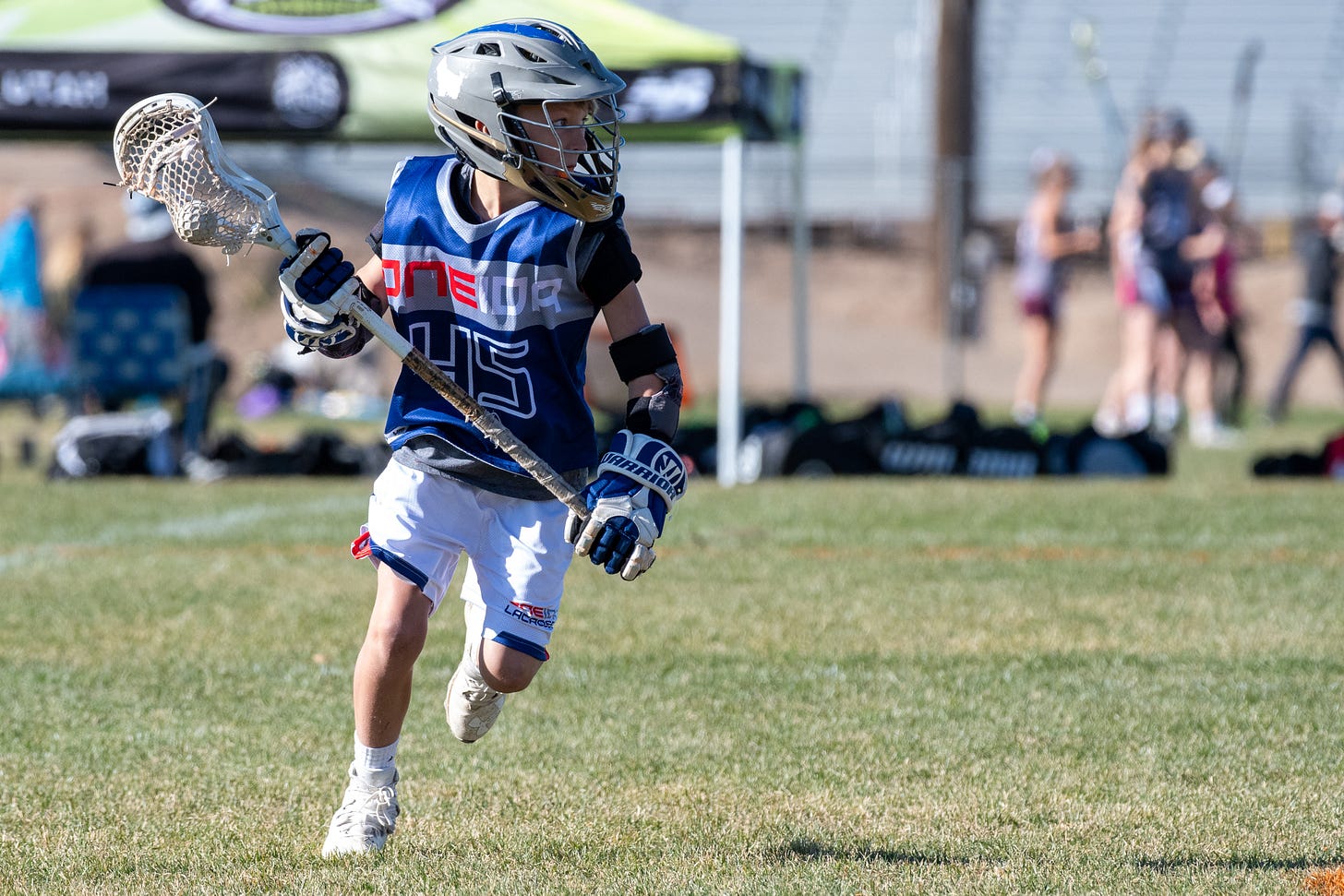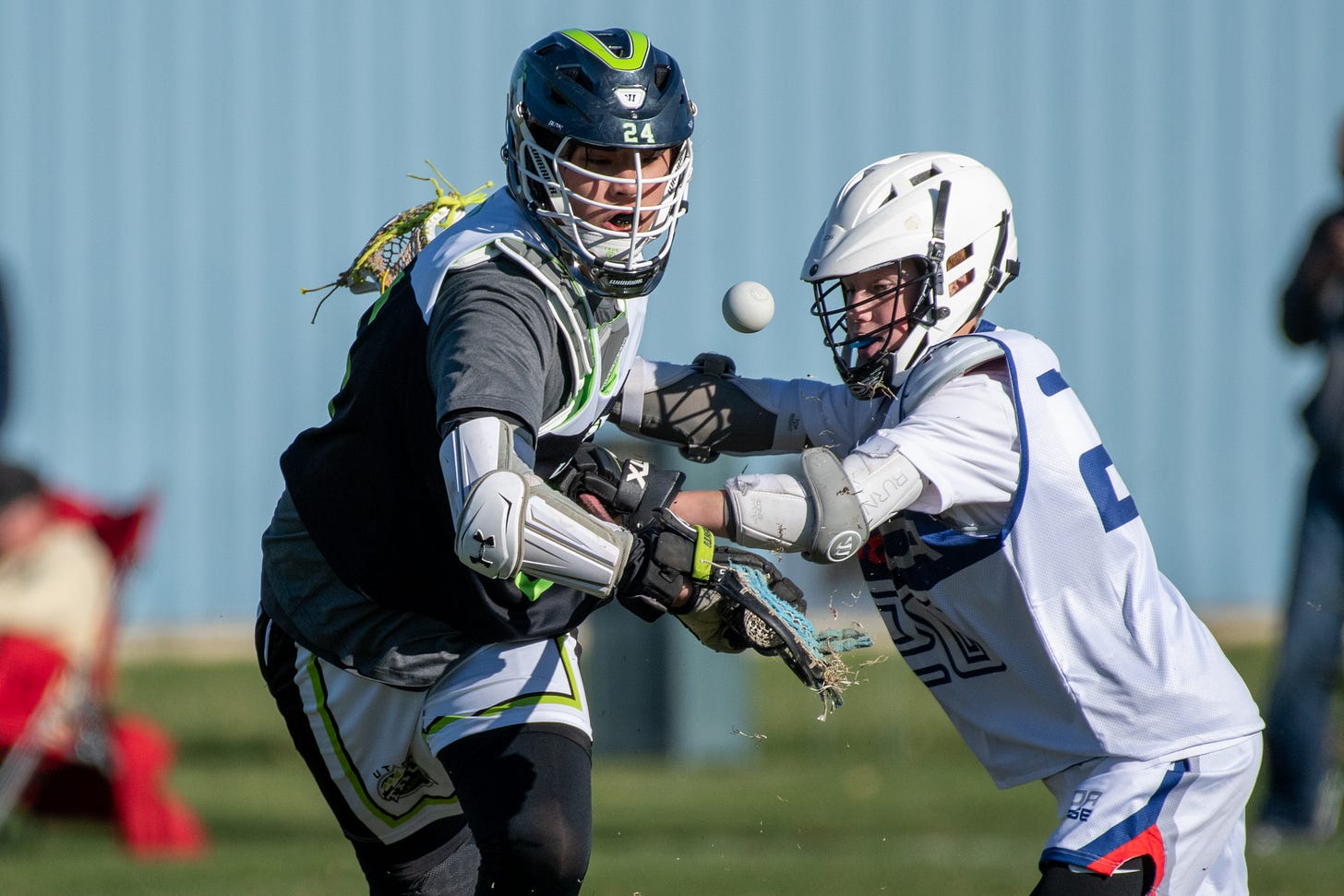 Don't forget to follow the Utah Lax Report on Facebook! You can also follow me on Twitter.
If you missed the first four issues, you can view them here: 
ISSUE 1 | ISSUE 2 | ISSUE 3 | ISSUE 4 | ISSUE 5 | ISSUE 6
If you view the post on a browser, you can leave a comment at the bottom!
Please shoot me a note if you have something you'd like me to cover: tim@timhaslam.com
Don't forget to forward to a friend.
— Tim Haslam