Discover more from Utah Lacrosse Report
The latest happenings with the sport of lacrosse in Utah.
Over 3,000 subscribers
Nebo School District to Sanction in 2021, Is Bingham a Contender?
Issue 20
Good morning lax fans! Last week was a great week to kick-off the high school lacrosse season. The weather was beautiful and the fields were great. There were some great games as well which we'll get to in a second.
If you have a moment, please fill out this survey. I'm trying to gauge where we stand as a community in terms of fandom. Please share it with your teams/friends.
I dug a little deeper into a story that the lacrosse community has been following since last summer. The Nebo School District appeared to be heading towards not sanctioning lacrosse next year. There was a post on the Spanish Fork Lacrosse Facebook page saying that the school district had approved sanctioning for 2021, but there was nothing in the papers or on the district website. So, I reached out to the leadership at the district and received the following reply from the district communications director.
"Nebo School District approved Lacrosse teams for the 2021 season. We are thrilled for what this means for so many of our athletes," stated Lana Hiskey Communications and Community Relations Administrator for Nebo School District.
So there you have it! Nebo is in for 2021. However, the work isn't done. The programs in that school district are in hustle mode to be sure there are enough players at each school to form teams.
A great way to talk about this news is the Kohort app! It was developed by Highland head coach and lax.com founder, Neil Blaney to help organize sports teams. It's a great app with local ties. Check it out here.
Twitter News
Let's start with some #exposure for Utah lacrosse. Freshman attackman MJ McMahon received high praise when Donovan Mitchell tweeted at him when McMahon scored against Jacksonville.
The clip has been viewed over 40,000 times. The backstory is that McMahon's older brother played basketball at Louisville with Mitchell.
While you're on Twitter, head over to @UtahLaxScores. I reached out to the UHSAA and MaxPreps and they were kind enough to help me get connected to the MaxPreps score engine. Then with a little help from an automation tool, we have a Utah lacrosse twitter score machine. Give it a follow for the latest scores. Be sure to put your scores in as soon as possible.
The first sanctioned game was a good one with Bingham beating Olympus last Tuesday, 13-11. Congrats to Bingham midfielder Connor Green for scoring the first goal in sanctioned lacrosse history!
That leads me to my next question: Is Bingham a contender this year? After last week it would be hard not to at least include them in the contender pool. You have the favorites: Corner Canyon and Park City. Then there are a handful of teams who could contend for the title. I had originally placed Olympus and Lone Peak in the contender's category, but Bingham bested both of them last week. The Miners beat Lone Peak, 6-5 in overtime with Auston Coles scoring the game-winning goal. Bingham is 49-54 in the last five seasons with a 14-7 season in 2015 being its best. Bingham will take on Brighton on Tuesday. The Bengals beat Stevenson (Pebble Beach, CA), 14-3 last week.
Speaking of overtime, Alta beat Huntington Beach (CA), 7-6 in overtime on Saturday. Farmington bested Bishop Gorman (NV) on Friday in overtime, 13-12.
Boys Scoreboard | Girls Scoreboard
The Corner Canyon girls beat Juan Diego on Tuesday, 11-7. Girls coaches: please enter your scores! At the time I'm writing this, there were 19 girls games last week. Only 10 have scores. Please put them in so I can write about them.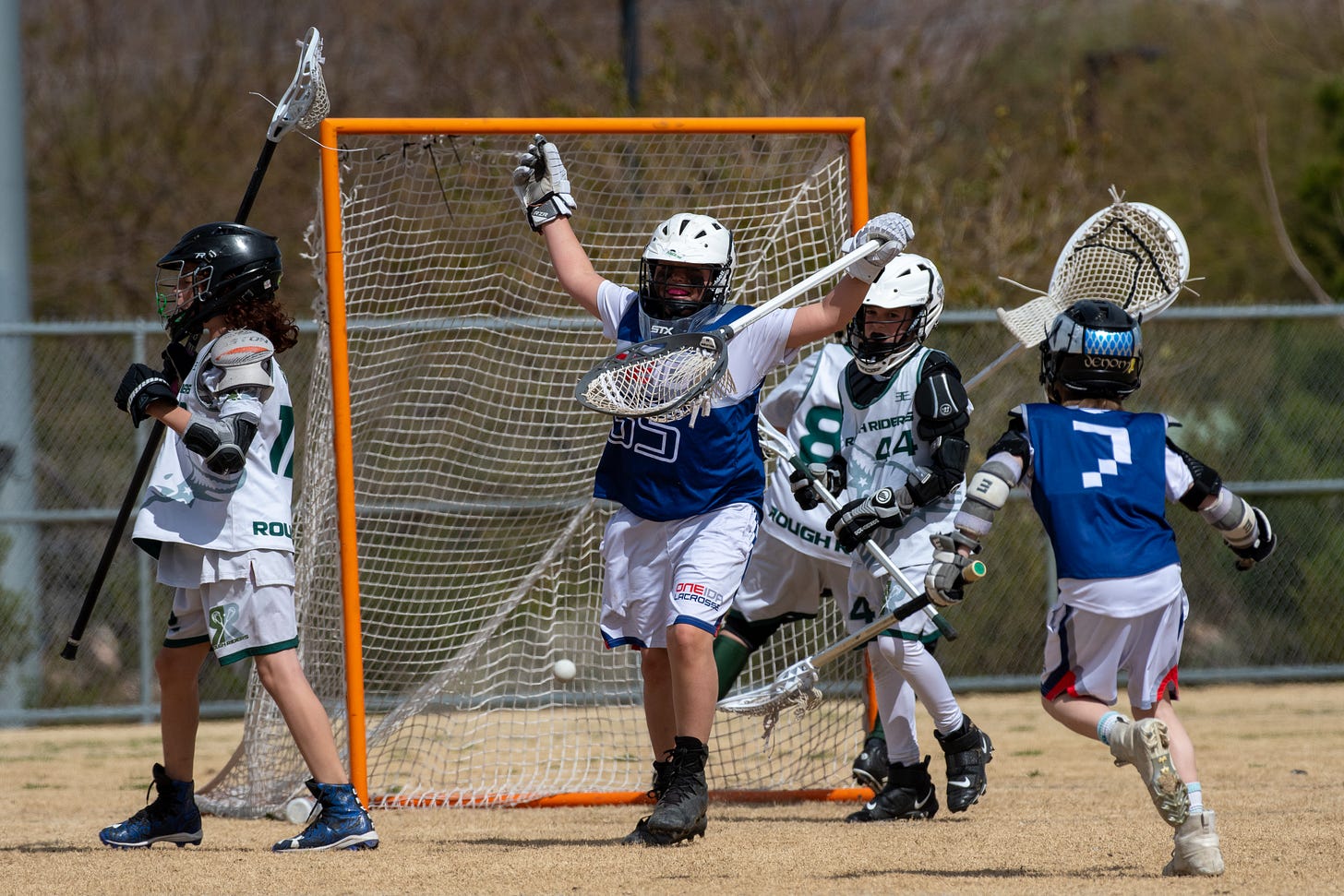 A goalie goal! I took this picture at the Best of the West tournament last weekend. He went coast-to-coast. Send me your pics for inclusion in future newsletters!
College Recap
If you're a fan of the MCLA, then be sure to subscribe to the Virtually Varsity email newsletter. It's put together by Jordan Harris (former BYU player/coach). The highlight of the weekend was BYU sweeping the Pacific Northwest as they rolled Boise State, Simon Fraser and Washington.
Wednesday
M: No. 7 St. Johns 9, No. 14 Utah State 1
Thursday
M: No. 9 BYU 16, Boise State 4
M: No. 13 Montana State 10, No. 14 Utah State 5
Friday
M: No. 9 BYU 17, Simon Fraser 3
W: Denver 11, UVU 6
W: Weber State 8, Colorado School of Mines 5
W: Weber State 7, Iowa State 3
Saturday
M: Mount St. Mary's 11, Utah 10 - OT
M: No. 9 BYU 18, Washington 4
Sunday
W: UVU 9, Iowa State 3
W: Air Force 5, UVU 4
College Preview
Both Utah and Westminster are on spring break trips. The Utes are in Maryland and went to Gettysburg yesterday and will make their way to Long Island before taking on UMass on Saturday. Westminster heads to Florida for a three-game swing in the Sunshine State. There is a WCLA tournament at the University of Colorado this weekend which BYU and Utah State will attend.
Monday
M: Westminster @ Lynn - 11 am
W: Westminster @ Rockhurst - 2 pm
Thursday
M: Westminster @ Florida Tech - 2 pm
Friday
W: BYU v. Boston College @ CU Boulder - 6 pm
W: Utah State v. Colorado State
Saturday
M: Westminster @ Palm Beach Atlantic - 10 am
M: Utah v. UMass @ Farmingdale St. College, New York - 11 am
W: BYU v. Michigan @ CU Boulder - Noon
W: BYU v. Northeastern @ CU Boulder - 6 pm
W: Utah State @ University of Colorado
W: Utah State v. Boston College @ CU Boulder
---
If you have any other news, let me know: tim@timhaslam.com
Thanks again for reading, and please forward it to a friend.
- Tim Haslam