Discover more from Utah Lacrosse Report
The latest happenings with the sport of lacrosse in Utah.
Over 3,000 subscribers
Q&A With Chris O'Connell (Brighton) & Sean Flounlacker (Utah State), and College Updates
Issue 13
This issue features a Q&A with Brighton head coach Chris O'Connell and Utah State assistant coach Sean Flounlacker. We'll also take a look at a couple local college scrimmages and other news from the college lacrosse world.

Please forward to a friend! It's the best way to help this service continue to grow.
Brighton Head Coach Chris O'Connell
O'Connell was born and raised in Herndon, Virginia, and has lived in West Jordan for the past two years. When not coaching, O'Connell does background investigations for the government.
"I have played lacrosse since I could remember," said O'Connell. "I played at Bishop O'Connell HS and Radford University. I coached at Freedom South Riding HS before moving here. One of the coaches at Freedom is good friends with Gerrit Schafrath. When I was moving I got in contact with Gerrit and was added to the Brighton staff." 
TH: What is your favorite thing about lacrosse? 
CO: A door step save. As an attackman I hated getting stuffed on crease but watching a goalie make those saves can change a game and spark a team. 
TH: If you could change one thing about lacrosse, what would it be? 
CO: I would make all levels (Youth, HS, College, Professional) play under the same rules. Currently each level has different rules and it makes watching and learning the game for newcomers harder to understand. Similarity in the rules would also make playing in off-season tournaments easier as you don't have to ask what rules are being used at each tournament. 
TH: With this being the first year of sanctioning, how has Brighton handled the transition?
CO: Brighton has always had an incredible organized club program and a great relationship with the school. We were able to transition over smoothly because of this. Kevin Kehl, club president, Lynn Moncur, AD, and Tom Sherwood, principal, helped build the relationship between club and school over the years that allowed the smooth transition to happen. Now it is my job to maintain those relationships. 
TH: Who are some returning players that will make an impact this year?
CO: MJ Cirillo and Scott Cook will be anchoring or defense after losing three senior starters last year. Offensively we are returning our entire attack. Blake Yates and Carter Budge are returning at midfield with Josh Nelson who is returning from an ACL injury and we expect big things from all three. 
O'Connell will be joined by several familiar faces on the sidelines.
Cam Folkersen -- Brighton Alumni and played at Colorado Mesa
Brody Bolerjack -- Brighton Alumni and played at Utah State
Grant Pierce -- Brighton Alumni and played at Furman
Logan Whipple -- Brighton Alumni
Cody Chase -- Brighton Alumni and played at Southern Virginia University
Hunter Beckstead -- Brighton Alumni
The 2020 schedule for the Bengals looks to be a great one.
Opener: Home game against Stevenson (Pebble Beach, CA)
Toughest stretch: 3/17 @ Corner Canyon, 3/19 v. American Fork, 3/25 v. Park City - Possibly a semifinal preview, this stretch will help give fans a glimpse into what the Bengals have to offer.
2019 Region 7 Standings - Team (Rank)
Brighton (2)

Juan Diego (18)

Alta (30)

Waterford (33)

Lehi (DNP)

Mountain Ridge (DNP)
Utah State Assistant Sean Flounlacker
When I interviewed Aggie Head Coach Scott Bingham in Issue 3, he mentioned his assistant coaches and Flounlacker caught my eye so I decided to reach to get to know the Kent Island, Maryland native.
"I lived in Kent Island for 25 years," said Flounlacker. "I became introduced to lacrosse with the Kent Island Comets lacrosse program when I was 6/7 years old. My mom had watched one of my friends Tee ball games and could not stand it so we signed up for lacrosse instead."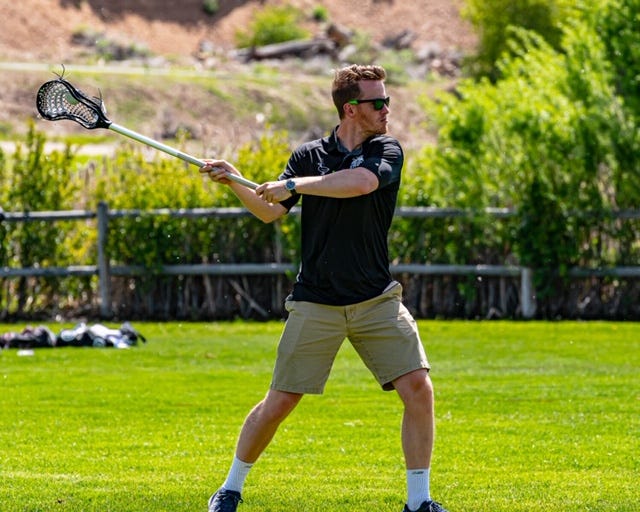 Flounlacker fell in love with the game and continued to pursue opportunities.
"In 2011-2012, I played for the Naval Academy Preparatory Lacrosse team," said Flounlacker. "After that I played basketball at the United States Naval Academy for their JV team in 2012-2013. I then played lacrosse in 2014 for Anne Arundel Community College where I was a 2nd Team JUCO All-American and my team made it to the National Semifinals. In 2015, I transferred to Salisbury University, playing for one season before sustaining a lower back injury. I played both LSM and close defense. Since then I have played for the Lasersharks Box Lacrosse Club."
Flounlacker remembers beating Stevenson in the playoffs while at Salisbury and credits the game as his favorite memory.
Flounlacker found himself in Utah when he moved here with his girlfriend who is a graduate student at Utah State.
"The best thing about Utah is the abundance of outdoor activities it has to offer from fly fishing one day to hiking up a mountain the next," said Flounlacker. "I am also the current Mountain Regional Director for True Lacrosse which is a state lacrosse program that has multiple teams ranked in the Top 25 Club teams in the nation."
Utah State opens its season this Saturday as they host Boise State at 3:00pm.
College Updates
As mentioned above, Utah State takes on Boise State this Saturday at 3:00pm. The Aggies will start the season as the No. 12 team in the US Lacrosse MCLA D-II Poll.
Utah hosted Providence in a scrimmage last Saturday and came out on top. Fairfield transfer Colin Burke, Jimmy Perkins and James Sexton were lethal on attack with Josh Stout notching several goals from the midfield. The Utah defense looked solid with Liam Donnelly making several great saves in limited time.
Utah opens it season on Saturday, February 1 against Bellarmine at Ute Field. The game will begin at 1:00pm.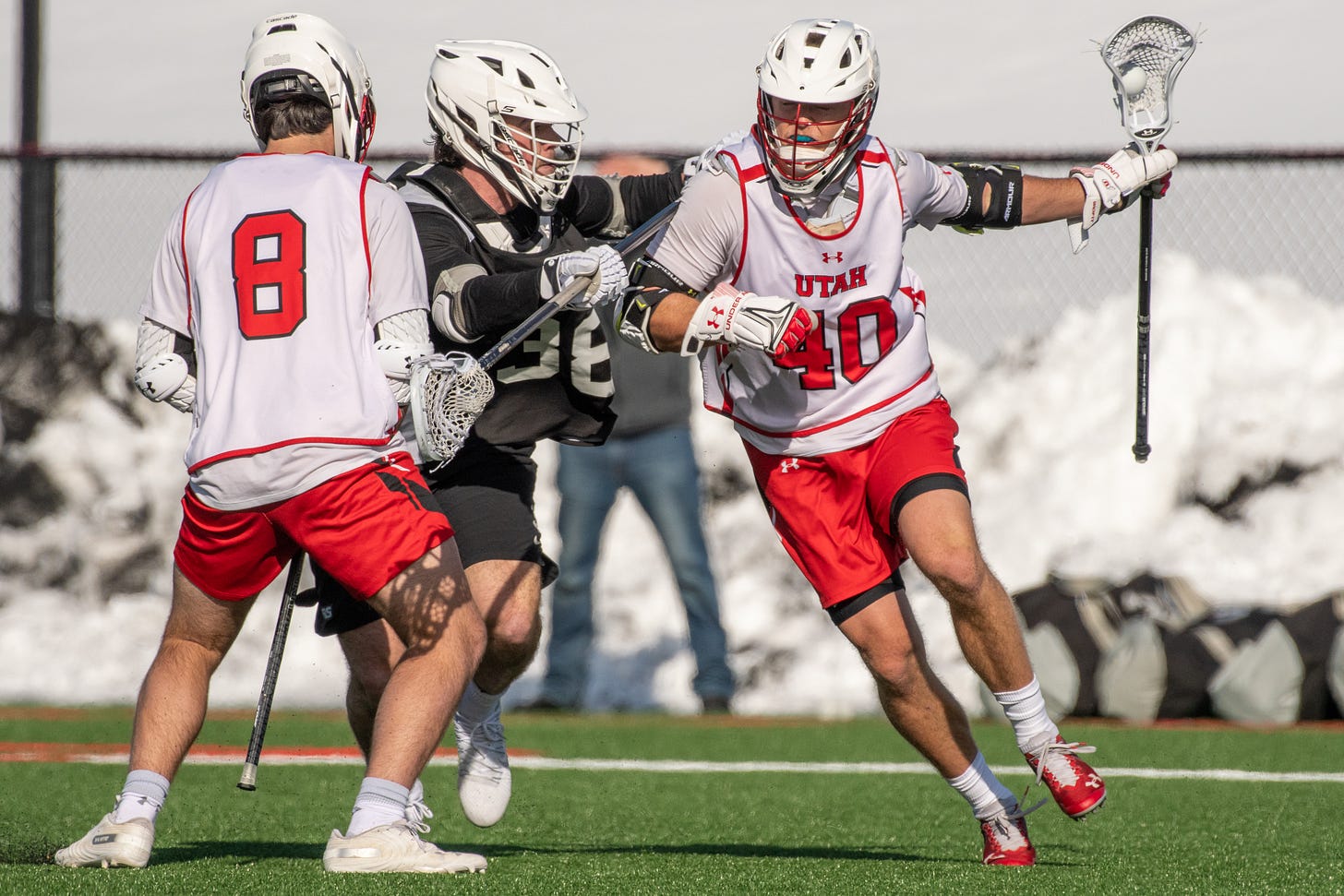 Utah midfielder Aaron Fjeldsted (40, Lone Peak), uses a pick against Providence last Saturday. (c/o Utah Athletics)
Westminster will scrimmage BYU this Saturday at BYU at 7:00pm.
The Griffins will don new helmets this year which I do have to say are pretty sweet. If I recall correctly, this will be the first white helmets for the Griffins who have traditionally sported purple domes or the rare gold dome in the early years. Westminster begins its season on Friday, February 9 at Rockhurst.
BYU was picked as the No. 13 team in the US Lacrosse MCLA D-I Poll. The Cougars being its season on January 31 at Auburn.
Also, the MCLA released its 2020 Hall of Fame members with a couple notable names.
Shoutout to Steve Austin and Coach Lamb. Sonny Pieper also gave me my first real lacrosse writing job so I'm indebted to him for that. We actually met for the first time in person last spring at the MCLA championships.
In the US Lacrosse Magazine WCLA D-I Poll, BYU was picked No. 3 while Utah was slated at No. 17. The UVU womens team was ranked No. 11 in the WCLA D-II Poll.
US Lacrosse Magazine previewed the Rutgers season which highlighted Corner Canyon alumni Zach Franckowiak and Garrett Bullett.
If you view the post on a browser, you can leave a comment at the bottom!
Please shoot me a note if you have something you'd like me to cover: tim@timhaslam.com
Don't forget to forward to a friend.
— Tim Haslam