Discover more from Utah Lacrosse Report
The latest happenings with the sport of lacrosse in Utah.
Over 3,000 subscribers
Q&A with Michael Burbank (Juan Diego); Utah State Beats Boise State; Utah, BYU, UVU Begin Seasons This Weekend
Issue 14
This issue features a Q&A with Juan Diego head coach Michael Burbank, quick game recap from the Utah State v. Boise State game, a look ahead and more!

Please forward to a friend! It's the best way to help this service continue to grow.
Soaring Eagle Prepping to Make Waves This Season
At the helm for the 2020 season for Juan Diego is Michael Burbank. Burbank is in his second year as the head coach but has been coaching lacrosse for 14 years.
"I developed a huge passion for the game and in those years I have become a fanatic student of the game," said Burbank. "I have attend coaching clinics with some of the greatest college coaches in the profession to include two of my all time favorite coaches, Bill Tierney and Jeff Tambroni. I was the first coach in Utah to become Level II certified by US Lacrosse. In addition to my coaching experience, I also played professional squash on the World Professional Squash Association Tour and held a world ranking of 74, so I have an understanding about the demands of athletic accomplishment."
Burbank, who was born in Livingston, New Jersey, currently lives in Draper and was a Salt Lake City Police Officer for 21 years.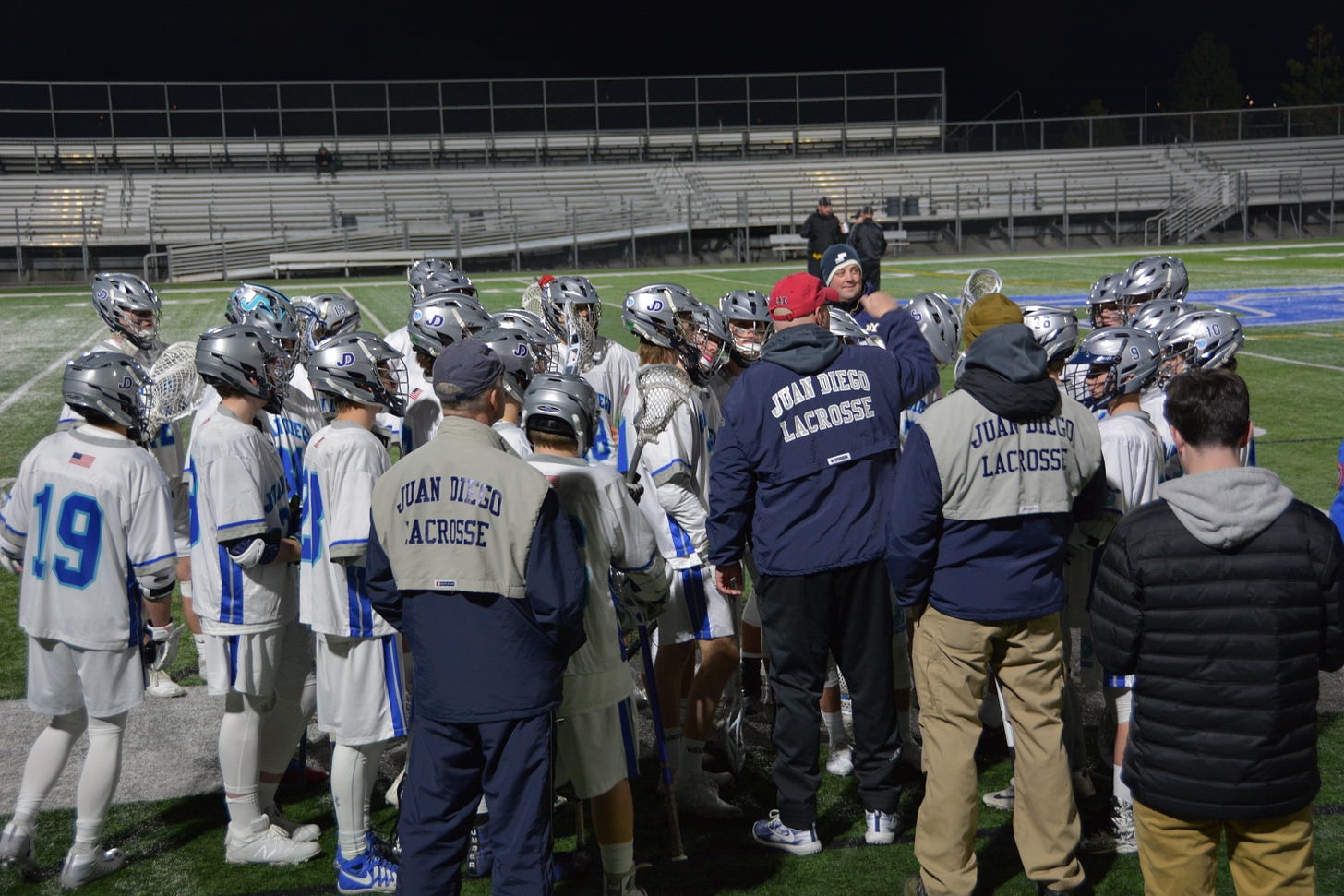 c/o Marcy Perkins
TH: What is your favorite thing about lacrosse?
MB: My favorite thing about lacrosse is the speed of the game. I enjoy the quick transitions from defense to offense with my favorite play consisting of a multiple pass break where a player unselfishly passes up a good shot and gives a teammate a great shot with a well timed feed.
TH: If you could change one thing about lacrosse, what would it be?
MB: I wish there was greater continuity in the rules of the game, not only in how they are enforced, but also having the same rules in high school and in college.
TH: Who are the assistant coaches and what is their background?
MB: My assistant coaches are Craig Cordial, Bryan Davis and Mark Schuman all have coached in the Juan Diego Program for a number of years. They have all played in the men's summer league and old timer's league. Our program is also blessed to have a number of former player that come out from time to time to assist with instruction and give back to the program.
TH: Who are some returning players that will make an impact this year?
MB: I anticipate that our team Captains will have a huge impact this year, not only on the field but in the locker room as well. Our Captains consist of three Seniors; Mathew Perkins (D), Will Anderson (A) and Jackson Gordon (M) and Junior Kyle Ebner (M). In addition to the Captains, we are expecting big seasons from Donovan Fox (M), Colin Cameron (A) and Ian Murray (A). They each made big strides last season and have put in a lot of work over the summer.
2019 Region 7 Standings - Team (Rank)
Brighton (2)

Juan Diego (18)

Alta (30)

Waterford (33)

Lehi (DNP)

Mountain Ridge (DNP)
See the Juan Diego 2020 Schedule here.
The March 17 St. Patrick's Day game against Judge Memorial is one of the best Utah high school lacrosse traditions.
Aggies Best Broncos
The Utah State Aggies hadn't beaten the Boise State Broncos in a long time. The last meeting between the teams saw Boise State run away with a 16-5 drubbing in 2016. It's been so long since the Aggies won, the MCLA website has no record of it. I had to dig through the depths of the internet to find the last victory: A 14-5 win on February 27, 2004 at Boise State.
Couple Notes from HC Scott Bingham:
Utah State scored first and never relinquished the lead, although Boise State managed to tie the game at 9 apiece in the fourth quarter.

10 different Aggies scored in the effort.

Miles Russon led the team with 1 goal and 3 assists; Sam Schroeder and Hunter Pehrson each had 2 goals.

Berklee Baskin made some huge saves for us and helped lead the defense in keeping the Broncos down.

Jeff Bruggeman was doing work at the face-off X, forcing Boise State to start rushing him with double teams just to win possessions.
"It feels great to start off our 2020 campaign with a win, especially over such a talented program like Boise State," said Bingham. "Our guys have worked hard and it was good to see all of that pay off."
The Aggies next contest is February 8 when they head to Orem to face UVU. The game will begin at 1:00pm.
Utah Opens Season Against Bellarmine
The Utah Utes will open its 2020 season this Saturday as it hosts Bellarmine at Rice-Eccles Stadium at 1:00pm. The Utes beat Bellarmine last season, 10-9. It should be another exciting year for the Utes. I'll be recording a podcast with Coach Holman this week to get his thoughts on the upcoming season.
BYU Heads South
The No. 13 Cougars will begin their 2020 campaign on Friday when they take on Auburn in Alabama. A jaunt to Atlanta on Saturday to face No. 4 Georgia Tech and then up to Seneca, South Carolina for a Monday contest against No. 20 Clemson will give the Cougars a tough test early on.
UVU Hosts Boise State
Hoping to follow the example of Utah State, UVU will host Boise State this Saturday in Orem at 1:00pm. UVU won last year, 12-11, in what has become a great matchup between the two teams. If you're in the area, and aren't at the Utah game, head over to check out the Wolverines.
---
Trae Ika Commits to St. Joseph's
---
I'm working on a story about the Best of the West tournament in the beginning of March. Let me know if you're going!
If you have any other news, let me know: tim@timhaslam.com
Thanks again for reading. Please forward to a friend.
- Tim Haslam