Discover more from Utah Lacrosse Report
The latest happenings with the sport of lacrosse in Utah.
Over 3,000 subscribers
Q&A With Provo Boys & Girls Head Coaches & much more!
Issue 10
This edition will be the last one for 2019. I'll restart the weekly emails beginning on January 6, 2020. This issue features interviews with Provo head coaches Christian Burrup (Boys) and Megan Jensen (Girls) and a great article from the Sandy Journal about Jaimeson Meyer (Waterford) and her journey to Navy! Also, Utah State has been picked No. 1 in the RMLC D-II poll.

As always, please forward to a friend.
Q&A With Megan Jensen, Head Coach, Provo Girls
Megan Jensen has been hired to take the reigns of the Provo Bulldogs girls team. Jensen hails from Needham, Massachusetts a suburb of Boston.  She came to Utah to attend BYU and currently lives in Provo. Also, Jensen tells her story quite well so I'm just going to let her do that without much editing.
TH: What is your lacrosse background?
MJ: I started playing lacrosse my freshman year of high school.  I was fortunately to live in a town with a nationally ranked high school lacrosse team.  At the time I was in high school, Needham was at the beginning of a pretty amazing winning streak. Under the coaching of Paula Kelley (the best coach and most influential person in my life) we were undefeated for four years in a row, state champions 5 out of 6 years in a row, and stacked with league all-stars, all-scholastic players, and all-Americans.  Many players from our team played division 1 lacrosse in college.  It really was a remarkable time for Needham girls lacrosse.  I still think back on the opportunity I had to be a part of that team and recognize how unique and special it was.  
I quickly fell in love with lacrosse and quickly learned the game.  I made the varsity team as a sophomore, was a starter and one of the leading scorers.  By the time I was a senior I was captain, top scorer, most points in the league, all-star, all-scholastic, player of the year, and All-American.  I was also chosen for the Lower New England team where I was able to compete in the national tournament.
I was recruited by top Division I schools including Boston University and Northwestern.  I ultimately chose to come to BYU. BYU was always my first choice of college.  In fact, I never really considered going anywhere else until I started getting recruited by lacrosse coaches.  The college application process was crazy and fun and exciting.  Playing sports in college was my dream and lacrosse was opening that door for me!  Unfortunately, BYU did not have a women's lacrosse team - or at least one that did any recruiting or offered any scholarships.  It was a very hard decision to make.
I had a conversation with Jason Lamb (at the time he was the BYU Men's lacrosse coach) and he pretty much convinced me to come to BYU. He encouraged me to come to BYU and help build the program there. It wasn't the ideal college lacrosse opportunity, but it did allow me to still play lacrosse and go to my first pick school.  So I decided to go to BYU.
When I got to BYU I learned that the BYU women's team was not as established as I had thought.  Yes, there was a club team, but it was not an official BYU club.  It was a group of BYU students who played together but not officially recognized by BYU. There was no access to fields or facilities, no uniforms, no transportation provided, no publicity.  Everything was done by the players.  At the time there were 4 college teams in Utah - BYU, Utah, Utah State, and Weber.  We would get together on Saturdays and play each other. But we were still committed to the team and committed to the sport, so many of us began coaching local high school teams while still playing for BYU.  We did all we could to help the sport grow.  
That is how I began coaching.  I became head coach at Orem in 2003 when I was only 19.  I quickly learned how much I LOVED coaching.  High school lacrosse has a unique energy - so much heart and hustle.  I loved being a part of it again. We had a very successful season my first year coaching.  We won the state championship against Bingham that year by one point.  It was a very exciting game and a very exciting win for us!  It felt like home to me - back with a high school team winning the state championship.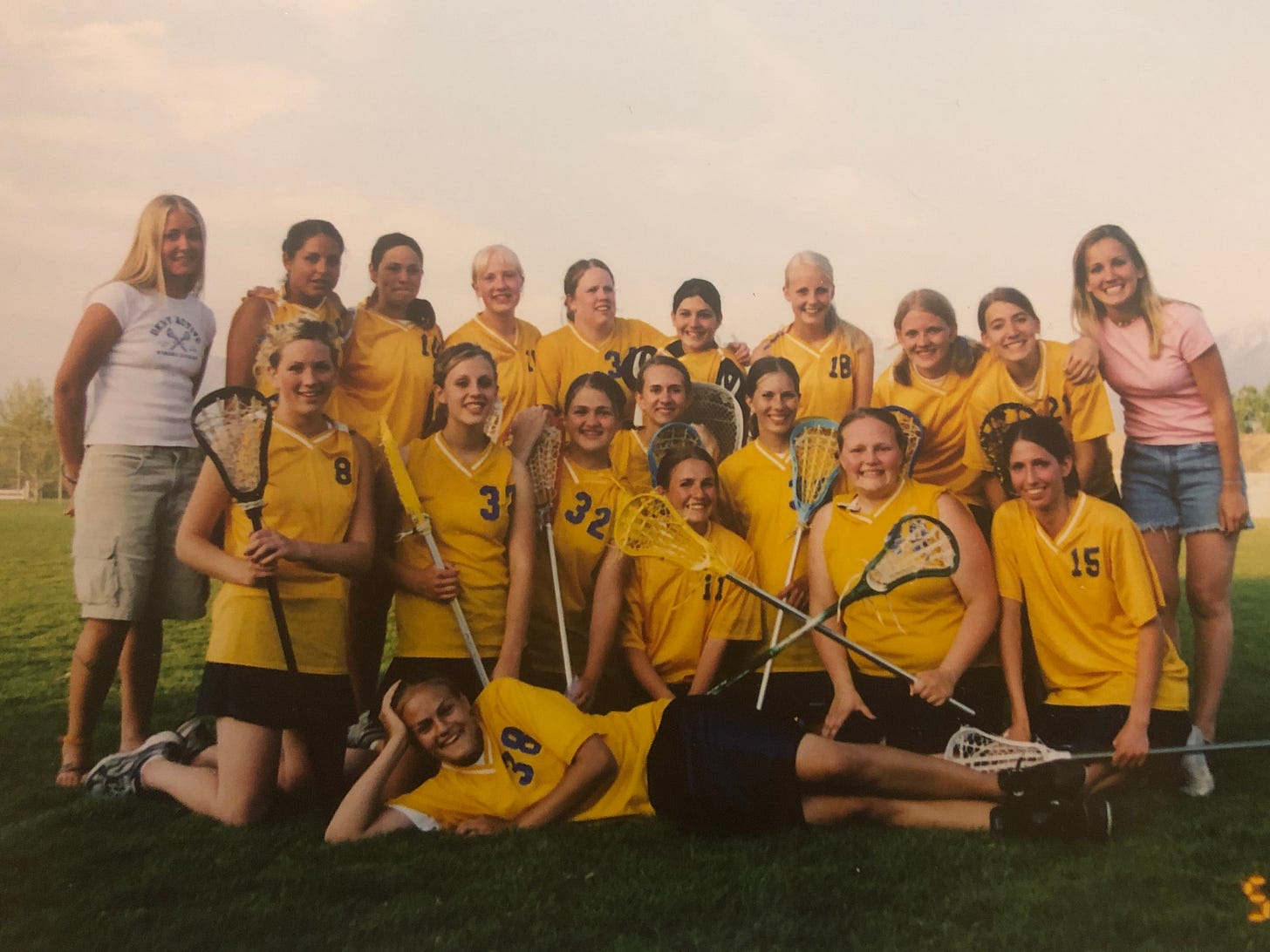 2003 Orem Championship Team (Jensen pictured far right)
I was hooked.
I continued to coach Orem for 3 more years.  We made it to the state tournament every year and continued to have a strong program.  I was also part of the ULA Coaches Association.  I loved being involved however I could.
During that time I also helped create the BYU Girls Lacrosse Camp with Jason Lamb and was the first director there for a couple years.  I also coached a junior league team and ran camps & clinics to help promote the sport.  I also played on the Tribal West team and participated in various tournaments in Las Vegas and Tahoe.
In 2007 I decided to step away from coaching.  I was due to have my second child in March of that year, right when lacrosse season was starting, so I stepped away.  My break ended up being quite a lot longer than I expected.  With young kids it became increasingly more difficult to coach and difficult to drive up to Salt Lake City to play in adult leagues.  I decided that I needed to close the door on lacrosse and focus on my family.  
Well, that break turned into 12 years out of the lacrosse world.  I always kept an ear out for what was going on and always had it in the back of my mind.  Every year or so I would feel like I should get involved again and do more to grow the sport in Utah County, but it never felt like the right time.
Fast forward to this year.
I have five children.  My oldest daughter is a freshman at Provo High and my baby is in first grade.  I finally have all my kids in school and more flexibility with my time.  And out of pure coincidence (or fate) this happens to be the year that Provo is starting a team.
Needless to say I was thrilled to hear that lacrosse was becoming school sanctioned. This is what we were working towards all those years ago at BYU!  I feel so personally invested in lacrosse in Utah Valley because it's so connected with my story - I am just so ecstatic about this achievement for Utah lacrosse.  When I coached at Orem there were only two teams in Utah Valley - Orem and Timpview.  Now there are around 10! And all school sanctioned!  That's huge!
It's been an incredible experience jumping back into the Utah lacrosse scene.  There are only a few people still around that I remember from coaching before.  It's amazing seeing past high school players that I coached or coached against be successful high school and/or college coaches.  It was amazing participating in the BYU alumni game and seeing how far that team has come! They even have players recognized as All-Americans!  So amazing!
TH: What do you do professionally?
MJ: I am a professional mom.  I have five kids and I primarily stay at home.  I have done that for the past 14 years.  My kids, my family, and my home is my full time job. My husband and I make a great team and it's been a priority for us to support each other in pursuing our interests and dreams, professionally and personally. This year I also have returned to another passion of mine - violin. I actually was a violin major at BYU and graduated with a BA in Music.  When I applied for the coaching position at Provo I also applied for an assistant orchestra teaching position. I also am the piano accompanist at Dixon Middle School and Westridge Elementary.  In addition, I play with the Timpanogos Symphony Orchestra. So even though I am not considered a professional musician/teacher, I am very much involved in the local music community as well.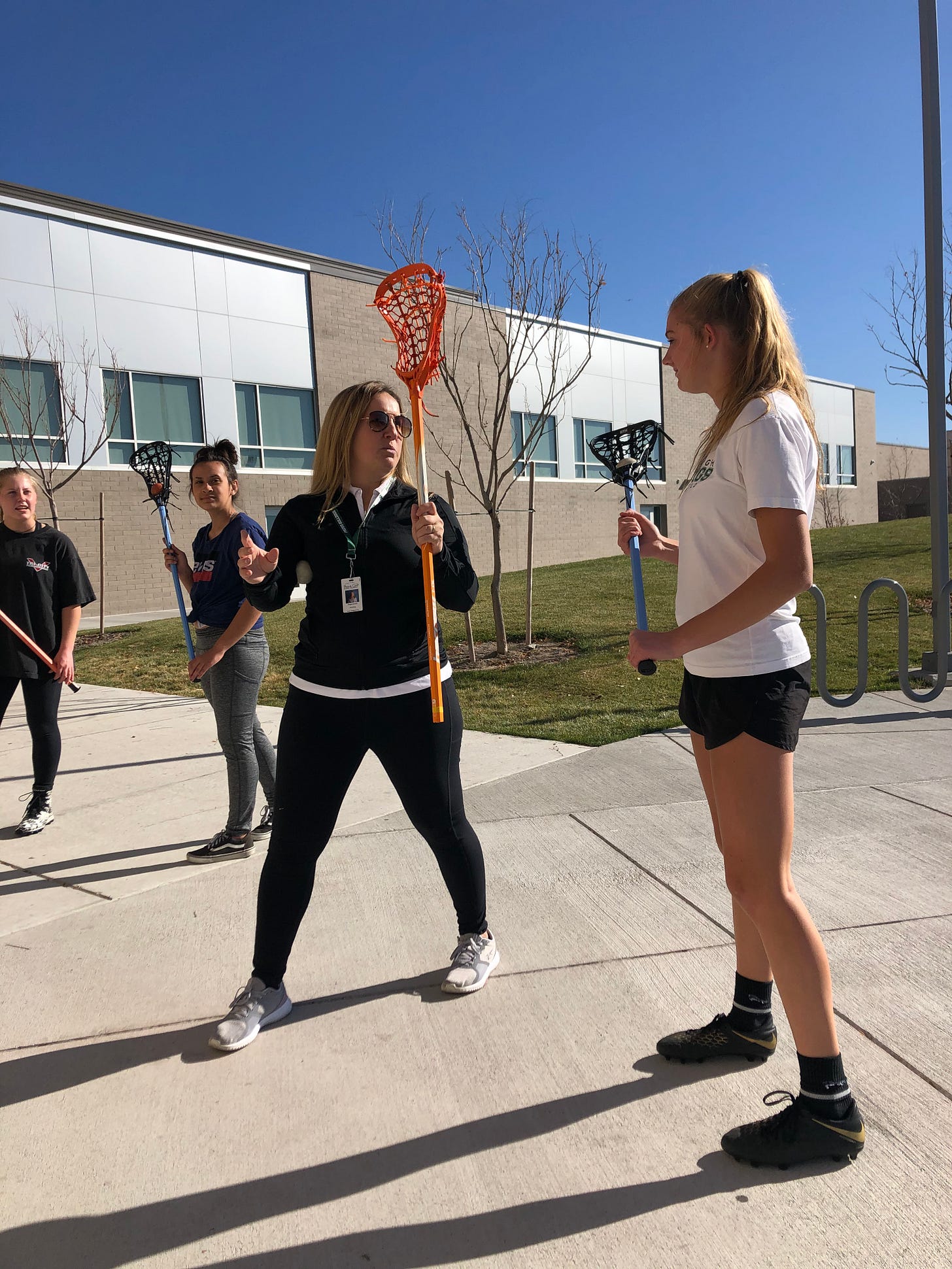 Jensen coaching at a recent clinic.
TH: What is your favorite thing about lacrosse?
MJ: I love lacrosse because it feels like home to me.  I feel the most like myself when I'm playing, coaching, watching, thinking about, or talking about lacrosse.
TH: With this being the first year of sanctioning and a team in general, how has Provo handled the transition?
MJ: Provo has been amazing!  So receptive and supportive. There is a lot of support from administrators, the AD, teachers, and parents to get the team going.  There has been nothing but positivity around the addition of lacrosse to Provo High.
TH: Who are the assistant coaches and what is their background?
MJ: We have two, Shaylee Gallman and Christine Duffy. Gallman played high school lacrosse in Arizona for three years and then one year at Timpview.  She is looking to play on the UVU team this upcoming spring season.  She is a defensively minded player and I think we will compliment each other well.  Duffy is a former BYU goalie and is studying athletic training at BYU. We are so excited to have her goalie expertise and love for lacrosse in our program!
TH: Who are some players that will make an impact this year?
MJ: Before this year players from Provo have always played for Timpview.  With school sanctioning they no longer can - which is what pushed Provo to start their own team. We have six Provo players that are former Timpview players.  They are very skilled players and I know we will rely on them heavily for their experience, leadership, and help teaching our new players.  They are:
Megan Pope - Senior, defense/midfield 
Ellie Pope - Senior, center
Lilli Holmberg - Senior, attack/midfield 
Summer Johnson - Senior, defense
Jenny Calivillo - Junior, defense/goalie
Fielding Adams - Junior, attack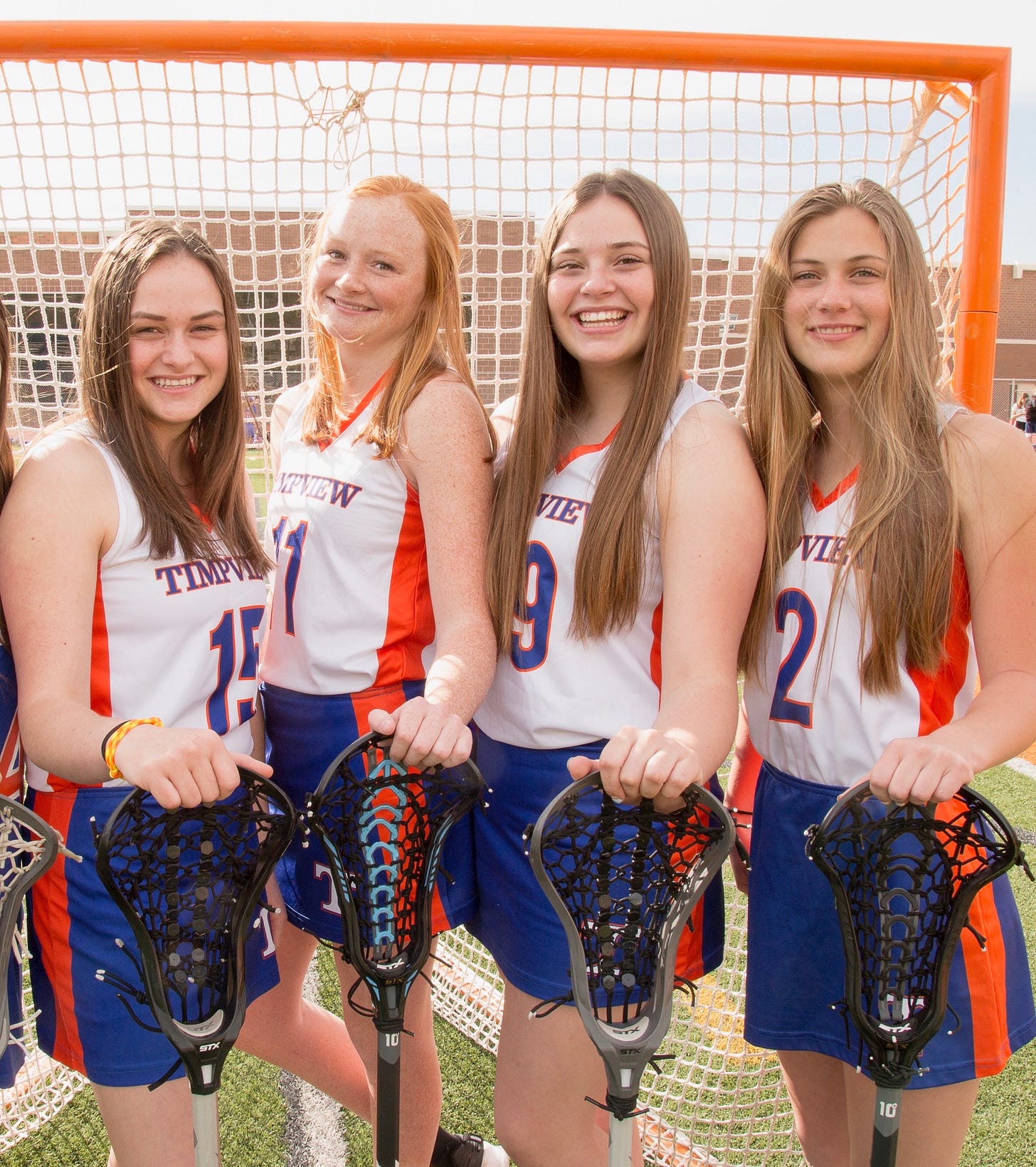 Megan Pope, Ellie Pope, Summer Johnson, Lilli Holmberg. "Even though they are in their Timpview uniforms from last year, these are our (Provo) seniors that will lead the team this year," Jensen said.
The Bulldogs will play in Region 8.
2019 Region 8 Girls Standings - Team (Rank)
Timpview (11)

Timpanogos (25)

Wasatch (28)

Mountain View (DNP)

Orem (DNP)

Provo (DNP)
Q&A With Christian Burrup, Head Coach, Provo Boys
Provo High School is one of the many benefactors of sanctioning and have hired Christian Burrup to be its first head coach. Burrup, who grew up in Richland, Washington currently lives in Heber City and attends BYU.
"I am currently a BYU student and a business owner," said Burrup. "I will graduate in April of 2020 and I am studying construction management. I have been building homes for 4 years and started my own business in August of this year doing remodels, basement finishes, additions or new construction of any kind. I had the opportunity of building custom homes for a little over a year and have been able to participate in some really cool projects."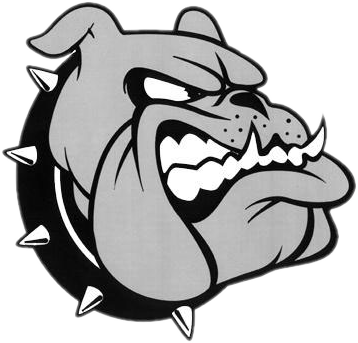 TH: What is your lacrosse background?
CB: I started my sophomore year in high school and quickly caught onto the sport. I played LSM in high school and went on to receive team, region and state awards. I later tried out for the BYU Lacrosse team after my mission and played the 2016 and 2017 seasons. 
TH: How did you get involved in lacrosse in Utah?
CB: My first experience of lacrosse in Utah was attending the BYU Lacrosse Elite camp between my Junior and Senior years in high school. I was later invited to play in the recruiting fall tournament during the fall of my Senior year. After my two season at BYU I had several teammates who coached at Timpview and they asked if I would come coach the defense for their 2019 season. 
TH: What is your favorite thing about lacrosse? 
CB: I love the grit and discipline of lacrosse. Having hard goals and working our tails out there as a team. Making lasting and meaningful relationships with others. 
TH: If you could change one thing about lacrosse, what would it be?
CB: I love the sport and look forward to its expansion. I think the game is well suited for us at the moment but no doubt there will be changes in the future. 
TH: With this being the first year of sanctioning, how has Provo handled the transition?
CB: Provo is an awesome school and has some outstanding athletes. They do not have a pool of players to pull from but the students and faculty are jumping on board and eager and excited to learn more and experience the sport we love. They have handled the transition really well and all hands are on deck. 
TH: Who are the assistant coaches and what is their background?
CB: As of now we have two assistant coaches. Will Ross and Justin Chadwick. Will Ross is from North Carolina and was an outstanding defenseman who lead his team to a state title in his years in high school. He played at BYU with me several years ago. He is an outstanding coach who will thrive teaching and helping this team grow in the fundamentals and encourage the team to move forward with energy and excitement. I have yet to see a coach who can connect with the students better than Will Ross. He lives by this motto: It's 10% X's and O's and 90% Jimmy's and Joe's. He really focuses on individual players and helps them succeed on and off the field. Justin Chadwick currently plays for the UVU Wolverines and plays defense. He graduated from Timpview in 2019 and has a tremendous work ethic and drive to be the best he can be. I had the opportunity to coach him at Timpview and it was an incredible experience to coach him with his open mind willingness to learn. I have no doubt he will help the Provo team in excelling. We are seeking for more individuals to help us coach! Please contact me christianb@provo.edu we would love to have you. 
TH: Who are some returning players that will make an impact this year?
CB: We have no returning players. We are starting this team from scratch. We have a handful of kids who played in middle school or elementary but have not played in years and are now returning to the sport. 
2019 Region 8 Boys Standings - Team (Rank)
Timpanogos (16)

Timpview (25)

Wasatch (36)

Mountain View (DNP)

Orem (DNP)

Provo (DNP)
Sandy Journal Article About Jaimeson Meyer Overcoming a Birth Defect, Heading to Navy
A set of twins has done their part in representing Waterford in sports, academics and music. Now the pair is ready to represent the nation.
Jaimeson Meyer, the female half of the twins, has already started the ball rolling, accepting an offer to play for the United States Naval Academy in Annapolis, Maryland. Jaimeson will become the first Utahn to play for the Naval Academy.
Utah Teams Represented in RMLC Preseason Polls
In Division I, BYU takes the No. 2 spot while UVU claimed the No. 3 spot.
In Division II, Utah State takes the top spot in the RMLC. You can read my interview with Coach Bingham here.
---
Don't forget to follow the Utah Lax Report on Facebook! You can also follow me on Twitter.
If you view the post on a browser, you can leave a comment at the bottom!
Please shoot me a note if you have something you'd like me to cover: tim@timhaslam.com
Don't forget to forward to a friend.
— Tim Haslam