Discover more from Utah Lacrosse Report
The latest happenings with the sport of lacrosse in Utah.
Over 3,000 subscribers
Sam Glauser, Mailbag Questions, College Updates & High School games this week!
Issue 19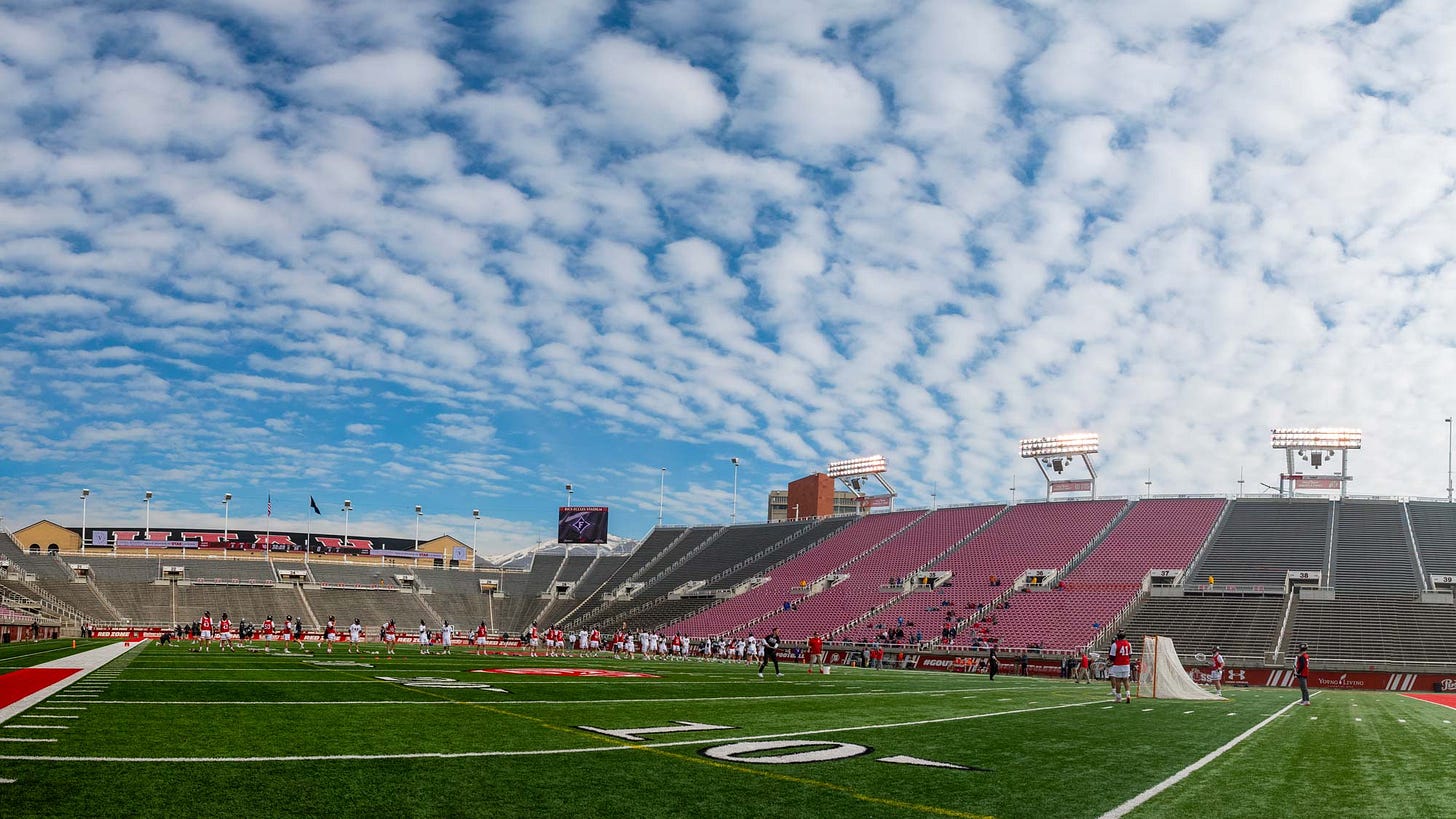 There are many things I love about lacrosse, but by far the best thing is how tight-knit of a community it is. I had a boss who would just shake his head in awe anytime we went to a meeting because there was surely a lacrosse connection in most of these meetings.
On Wednesday, I woke up to an email that I never wanted to get. It was a friend sharing the news that a fellow lacrosse fanatic, a member of our tight-knit community, had lost a son to a tragic accident last Sunday. Sam Glauser was riding his scooter with his brother when he was hit by a car and passed away. These types of accidents happen. They happen more then they should, but they happen. Normally I'm able to feel sorrow for a while and move on, but this one is different. Sam was just 5 years old and his brother is 7. I have a daughter who is 5 and one who is 7. Sam and his brother have a two-year-old brother. I have a two-year-old daughter. Just the day before, Sam was with his dad, Steve Glauser, and friends at the Utah v. Furman game. Steve is currently a coach at Skyline and played at Utah and Skyline, helping the Eagles to the 2005 state championship. Sam was a huge Utah fan.
The Utes beat Jacksonville 15-11 on Saturday and Utah head coach Brian Holman said, "We dedicated the game to Sam Glauser, one of our fans who recently passed in an accident. I thought that our guys really took that to heart. We'll bring his family the game ball."
As we begin high school games this week, I'd encourage you to take a moment for Sam and be grateful for the opportunity to play the Creators game. If you're interested in helping the Glauser family at this time, please see their GoFundMe campaign.
Mailbag Questions
Thank you to those who submitted questions! Feel free to ask me anything - tim@timhaslam.com
I received a few questions about recruiting. In full disclosure, I've never recruited a player or been recruited, but I have a few thoughts. One of the questions asked if the size of your school was a deterrent to college coaches. My answer is no! What matters more is the strength of the high school program and of course summer/club/travel tournaments. I don't love the club/travel scene, but it is currently the best way to get recruited since that is when coaches are out looking for players. They can get the most bang for their buck so to speak by going to a tournament with 300+ kids on a weekend. Now, some may say that a kid gets lost in that amount of player so another way to get noticed is to go to prospect days and camps/clinics. Make sure the coaches know you are coming and want to go to that school. A coach would much rather see you in person than on a tiny laptop screen. They can also see your personality by talking face to face, which is a big deal.
From Ryan: My question for you is, what high school team is most likely to win a state championship in the sanctioned and non-sanctioned leagues?
Thanks for the question Ryan! It's no secret that the UHSAA championship is Corner Canyon's to lose. They return a bunch of talent and have some high powered transfers to boost an already talented roster and are well-coached. Obviously Park City would like to repeat and with Dylan Bauer on the field, anything is possible. After those two, there's a handful of teams who could end up playing in late May: Brighton, Lone Peak, Olympus, American Fork. It wouldn't surprise me to see Green Canyon make some noise this year as well.
As for the IMLAX league, in full disclosure, I coach for Farmington so I'm not going to go into depth about individual teams. I can tell you that it's going to be a fun, competitive season and I can't wait for it to get started. If we look at the final standings from last season, it shook out like this: Davis (7), Fremont (9), Spanish Fork (10), Northridge (13), Bonneville (17), Roy (19), Farmington (24), Bountiful (27), Syracuse (28), Weber (35), Viewmont (39), and Woods Cross (43).
High School
For the historians out there, the first sanctioned game ever in Utah will be Tuesday when Bingham and Olympus take the field at 3:30 pm. The first girl's game will also be Tuesday when Brighton takes on Jordan at 5:00 pm.
Boys Full Scoreboard
Looking at this week's schedule gets me excited for the Bulldog Brawl which is hosted by Provo and will be the school's first-ever lacrosse games which is pretty exciting. There is also a bunch of interstate games which are always fun. Stevenson (Pebble Beach, CA) is coming to town to face Copper Hills, Brighton, and Corner Canyon. The Pirates are coached by Cooper Kehoe who was the 2010 MCLA Offensive Player of the Year and 2x 1st Team All-American while at Colorado State. Alta is heading to Southern California for a three-game swing while Woods Cross heads north to face a few Idaho teams.
Girls Full Scoreboard
There's a slim slate of girls games this week but the action heats up on the first day with Corner Canyon hosting Juan Diego. The battle for bragging rights in Draper will be settled early in the season. The Chargers are also hoping to avenge a 12-10 loss to the Soaring Eagle in last year's Division II championship.
College Recap
Before we dive in, I recorded a podcast with Utah LSM Sammy Cambere. Please give it a listen! Apple | Spotify | Browser
Congrats to BYU head coach Matt Schneck for reaching 150 wins. Schneck took over the program in 2009 after serving as an assistant since 2002.
Friday
M: No. 14 Utah State 14, Wyoming 13 - Brock Arbon had 5 goals and an assist for the Aggies.
Saturday
M: Utah 15, Jacksonville 11 - RECAP
W: Westminster 15, BYU 14
M: No. 14 Utah State 24, Fort Lewis 5 - Hunter Pehrson had 4 goals and 4 assists.
College Preview
There's a full slate of games this week! The Utah State men's team will have its work cut out for them with a trip to Montana State for a two-game slate against ranked opponents.
Wednesday
M: No. 14 Utah State v. No. 7 St. Johns @ Montana State - 7:30 pm
Thursday
M: No. 9 BYU @ Boise State - 4:00 pm
M: No. 14 Utah State @ No. 13 Montana State - 7:30 pm
Friday
M: No. 9 BYU v. Simon Fraser @ Boise State - 4:00 pm
W: UVU @ Denver - 7:30 pm
W: Weber State @ Colorado School of Mines
W: Weber State v. Iowa State @ CSoM - 9:00 pm
Saturday
M: Utah @ Mount St. Mary's - 10:00 am
M: No. 9 BYU v. Washington @ Boise State - 4:00 pm
Sunday
W: UVU v. Iowa State @ CSoM - 8:00 am
W: UVU v. Air Force @ CSoM - 11:00 am
If you're a fan of the MCLA, then be sure to subscribe to the Virtually Varsity email newsletter.
Also, if you missed it last week, be sure to check out Kohort which is a great app to help organize sports teams. It was created by Neil Blaney, the Highland boy's head coach!
---
If you have any other news, let me know: tim@timhaslam.com
Thanks again for reading, and please forward it to a friend.
- Tim Haslam