Discover more from Utah Lacrosse Report
The latest happenings with the sport of lacrosse in Utah.
Over 3,000 subscribers
Senior Spotlights w/ Olympus, Q&A with Waterdogs Midfielder Connor Kelly & More!
Issue 25
Good morning lacrosse fans, I hope you are doing well and thank you for spending some time today reading the Utah Lacrosse Report. If you find this information valuable, please forward it to a friend!
There were a couple of great articles published in the local press recently. The first one is in the Deseret News 20 for 20 series and highlights Maya Lightfoot from Herriman. The second one, from the Daily Herald, is about Jayson Molina at Provo and talks about the challenges of starting a new team. Both are great reads.
Senior Spotlights
With the UHSAA officially canceling spring sports, I reached out to coaches and gave them a format to highlight their seniors. I hope to do these over the next few weeks so encourage your coach to submit something to me. It doesn't have to be long, it could even just be a list of seniors if that's what you want. Send them to tim@timhaslam.com.
Olympus Boys Lacrosse Seniors
Ben Brown: Ben Brown has been one of the unquestioned leaders of our program now for two years. He possesses a bulldog mentality and plays with a tenacity that has allowed our team to always have an edge on the field. Ben is not only a leader on the field but in the weight room as well. He has transformed his body over the past year physically and his game has followed suit! Not to leave out that Ben was a leader in the classroom also, being a High Honor Roll recipient with his studies. Next year Ben will be serving a mission for The Church of Jesus Christ of Latter-day Saints in Paris, France and upon his return will enroll at the University of Utah studying business or architecture. 
Ben Hawes: Generally, you don't think of attackmen as ones to set the tone physically for your team, however, that is exactly what Ben Hawes has done for our team. He physically imposes his will on opposing defensemen during the ride and loose balls, which has led to countless second chance opportunities and huge momentum plays. Next year Ben will be serving a mission for The Church of Jesus Christ of Latter-day Saints in Lisbon, Portugal and upon his return will enroll at BYU studying business. 
Matt Beckstand: Matt Beckstrand is one of the more talented and cerebral players on the team. Voted a team captain this year, the players all look up to Matt as a leader and someone who could always be depended upon when needed. Matt is a lax junkie and put in a ton of work to take his game to the next level and worked out like a machine in the offseason as well. He is a High Honor Roll recipient as well. Next year Matt will be serving a mission for The Church of Jesus Christ of Latter-day Saints and upon his return will enroll at BYU studying business.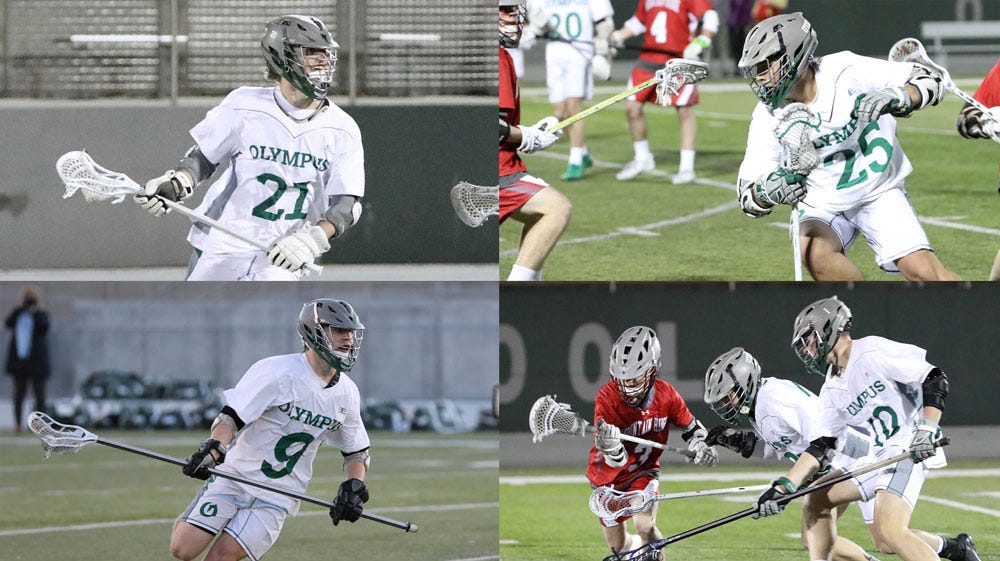 Xander Gordon: Xander is one of the most physically gifted athletes we have ever had the pleasure of coaching. His quick-twitch burst and lights out shooting have made him a nightmare for defenses to try and contain over his years with the Olympus program. His time and dedication to perfecting his craft on his own time has propelled him to being recognized as one of the top players in the state of Utah. While his skills and athleticism on the lacrosse field are undeniable, it has been a greater pleasure as his coach to watch his growth as a leader and exceptional young man. Next year, Xander will be enrolling at UVU where he will play lacrosse and studying business. 
Brinton Herrscher: Brinton's love and passion for the game of lacrosse shines through every time he touches the field. A key member of the defensive midfield in 2019, Brinton stepped his game up to be a true two-way middie. Brinton is a member of Wasatch LC where his game was taken to the next level. Next year, Brinton will be serving a mission for The Church of Jesus Christ of Latter-day Saints and upon returning will enroll at UVU where he will play lacrosse.
Morgan Menlove: Morgan Menlove is one of the better athletes in the program. He's incredibly gifted physically and is a team-first guy. "Mo" has a special ability to bring everyone around him on the team together and is one of the "glue" guys of the program that has been essential to our success. Mo could do a little bit of everything for us playing defensive midfield as well as on the offensive side of the ball. Next year Mo will be serving a mission for The Church of Jesus Christ of Latter-day Saints and upon his return he will enroll at the University of Utah in the business scholars program. 
Austin Tullis: Austin played lacrosse briefly years ago but decided to try and pick it up again for his Senior season. To say his performance was a pleasant surprise would be an understatement. In one month, Austin redefined what is possible by transforming himself from a first-year player to one of our best starting defenders. Olympus lacrosse is incredibly lucky to have had such an incredibly talented and dedicated athlete. Next year Austin will be serving a mission for The Church of Jesus Christ of Latter-day Saints in Canada and upon his return will enroll at BYU. 
Nate Delis: Nate has been a three-year starter and four-year contributor for Olympus. To say he's come a long way would be an understatement. He is known for his hard work and tireless study to be perfect and Nate has blossomed into a premier close defender. Next year Nate will be serving a mission for The Church of Jesus Christ of Latter-day Saints and upon his return will enroll at UVU or Utah State where he will play lacrosse. 
Chase Hopkins: Chase Hopkins has been an integral part of our team, and has excelled at one of the least glamorous and thankless jobs on the field: face-off middie. Arguably the most important position, and one of the most grueling, yet it often doesn't receive enough praise. It didn't matter to Chase as he showed up every day, often early to get more reps, without hesitation. That is just the kind of person Chase is, kind, gracious, and humble. Chase is not just your average face-off middie or "FOGO" as he's an exceptional athlete excelling on both the lacrosse and football fields. Next year Chase will be serving a mission for The Church of Jesus Christ of Latter-day Saints in San Pedro, Honduras and upon his return will play football at BYU studying business.
Porter Graham: Porter Graham has played lacrosse for Olympus for the last seven years. Porter is mature beyond his years, and if there is anyone you can count on to just put his head down and bust his butt, no matter the ask, it's Porter Graham. This is one of the biggest reasons he is such a great teammate and a tremendous person.Next year, Porter will be serving a mission for The Church of Jesus Christ of Latter-day Saints and upon his return he will enroll at UVU.
US Lacrosse Resources
US Lacrosse has released a 'Lax at Home' page where you can see things to do while at home. There are resources for athletes, parents, coaches and officials.
PLL: Q&A with Connor Kelly, Season Postponed, Logo Face Masks
The PLL officially postponed the start of its season and that's all we know at the moment. In an effort to be positive about the season, we are going to prepare as if it's still on. With that said, each week I'll interview a PLL player. Up first is Waterdogs midfielder Connor Kelly.
TH: What is your favorite lacrosse memory?
CK: Winning the National Championship—This moment was surreal. Hard to explain, but when all your focus, time, and effort is on one goal and it is achieved, it's truly the most humbling experience. I failed so many times along the way. Rewinding a year and I had the game on my stick in OT of the national championship and I was saved at the doorstep. Heartbroken but was something I needed in order to take my game to the next level. I never won a championship in any sport. I thought it would never come. Also, to come into a program that had a 42-year drought of a national championship was crazy, it created a culture that was willing to do anything to achieve. We had a group that put their egos aside. It was not a selfish moment for any of us because it meant everything to so many people. We were playing for more than ourselves.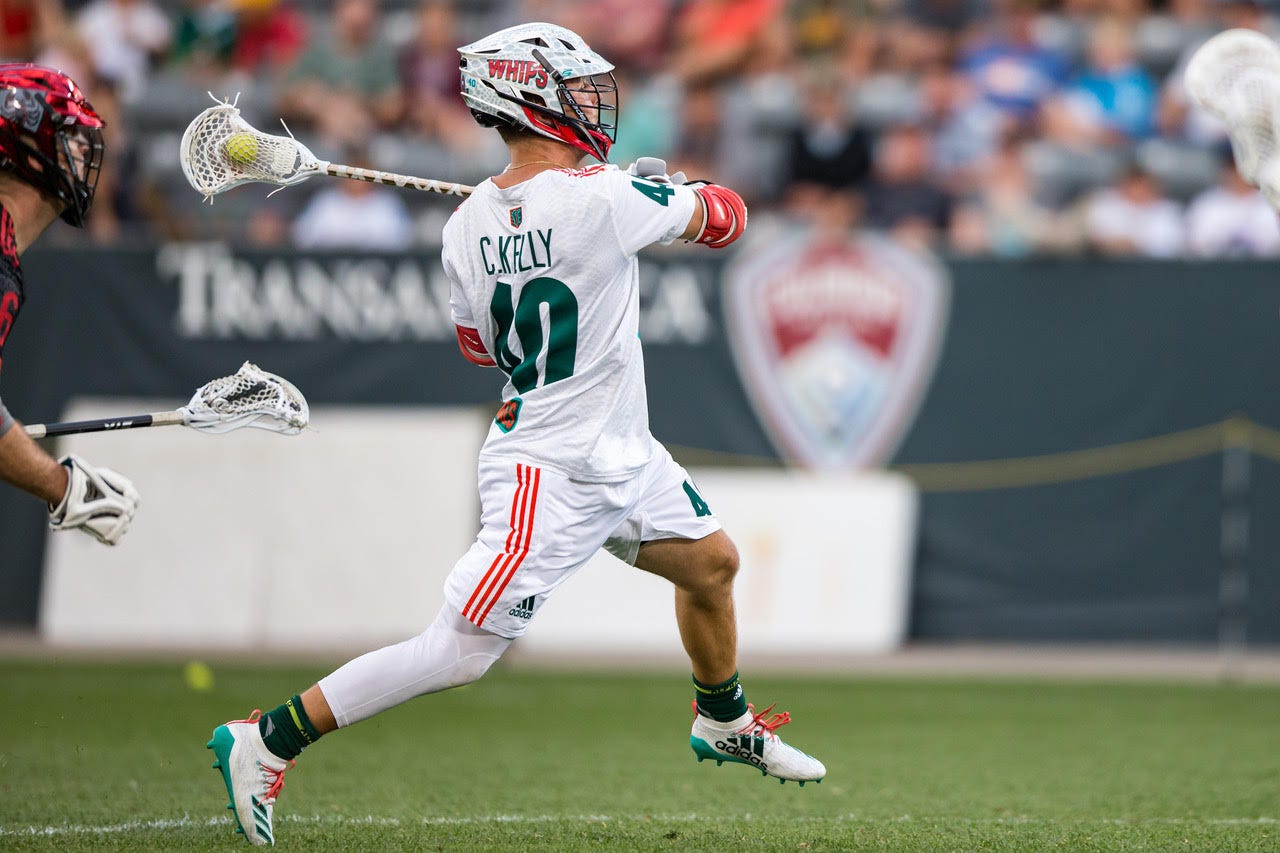 TH: Who is the best teammate you've ever had and why?
CK: Best teammate is a hard question to answer because there are so many. They embody the ultimate teammates—being selfless, will do anything for the team, are willing to push others to the limit, and always having one another's back. Colin Heacock is definitely someone that comes to mind. He was a hell of a player that took a backseat to guys like [Matt] Rambo but he didn't care. He worked his tail off and brought everyone with him. Ultimate respect to him.
TH: Have you ever been to Utah?
CK: I have been to Snowbird a couple of times. Was able to ski there when I was a kid, but due to playing lacrosse I haven't been in over 10 years.
TH: What does being a professional lacrosse player mean to you?
CK: It means that my job can be doing something I love. I never thought that this sport had a professional league worth playing in, but after this past year, I am honored to be called a professional lacrosse player. The best thing about it is it continues to grow! It's a humbling feeling to be able to grow a sport. This game has offered me so much in my life- experiences, friends, memories etc. and to be able to travel the country and share my story with the next generation has filled me with gratitude.
TH: What advice do you have for high school/youth players who want to get better at lacrosse?
CK: Continue to work on skills that isn't your strong suit. Every year I have tried to enhance one part of my game in order to grow my game. I do this by learning from others around me. You can learn so much from players on your team let alone the country because everyone has their own skillset. This is why lacrosse is my favorite sport—there is so much room for creativity. Sky is the limit for everyone's game. You don't have to be the best athlete; you have to be the best student of the game. Always be willing to learn and never think your way is the only way.
TH: Why do you wear the jersey number you do?
CK: I wear number 40 because I wore it for my first three years at Maryland. I never had any attachment to the number until I started to put it on. So many alumni came up to me and we had an immediate connection because of our number. I felt I was representing them instead of just myself, which meant a lot to me. I wear it for them.
TH: What is our favorite book/podcast/TV show/movie?
CK: Book - Man's search for meaning Victor Frankl
Podcast - GaryVee
TV Show - Always Sunny in Philadelphia
Movie - Skyfall (James Bond)
Don't forget, you can watch 2019 PLL games for free until April 30. Also, the PLL is selling PLL team masks made by ProAthletics which is owned/operated by Jerry Ragnonese, the Redwoods face-off specialist, which is pretty cool. Proceeds will be donated to the Feeding America charity.
While you're on the PLL site, be sure to check out an article published this week written by Utah assistant and Archers attackman, Marcus Holman. Holman talks about the things he's learned while being an elite player and coach at the same time.
Thanks again for reading, wash your hands, stay safe, stay home and please forward it to a friend.
- Tim Haslam