May 11, 2020 • 8M
Tribal West North Opens, PLL Championship Series, Burke Goes to Lizards, Senior Spotlights w/ Alta Girls, Oly Girls, Sky View Boys
Covering the greatest sport in the greatest state. #lacrosse #utahlacrosse
Good morning lacrosse fans! I hope you are doing well and thank you for spending some time reading the Utah Lax Report. If you enjoy what you read, please forward to a friend! The podcast is a little different and I hope you enjoy it. Feel free to leave any comments below or respond to this email!
News & Updates
If you didn't hear, the Premier Lacrosse League is going to have a tournament style, quarantined season beginning on July 25 and ending on August 9. They are calling it the Championship Series and each team will play 4 games and then go into a playoff structure. The format is similar to a World Cup or the Lacrosse World Championships. Obviously it's a bummer that they won't be coming to Utah, but at least we'll get live lacrosse this summer!
In the local press, the Daily Herald spotlighted Timpanogos girls lacrosse captain McCall Dunn. "In addition to staying in shape, Dunn is completing her senior course load online, working at a wholesale nursery and going on frequent hikes." Read the full article here.
Also, Utah attackman Colin Burke was selected as the No. 3 player in the 2020 Major League Lacrosse draft. KSL writer and friend of lacrosse, Sean Walker, penned an article about Burke turning pro. There's a podcast in that article as well where Walker interviews Burke about becoming a New York Lizard.
Tomorrow at 2:00 p.m., U.S. Lacrosse is hosting a 'Team Huddle Webinar' and will feature two Team USA players in Marcus Holman (Men's Attack) and Kerrigan Miller (Women's Midfield). It is free to U.S. Lacrosse Members and you can register here.
Last but not least, Tribal West opened a second store in the state, known as Tribal West North! The store is located at 600 S State St. STE 4, Clearfield, Utah 84105. It opened two Saturdays ago and is ready for your business. It features all the same things that the Sandy store offers so check it out! You can also shop online. If you didn't already listen to the podcast above, you should check it out. I talk to Tribal West owner Fish Bartlett about opening the second store.
OPENS THIS SATURDAY!!Tribal West North 10-5 Clearfield UT 600 S State street. 84105
385.552.8364 Be a good team mate... pass it on! Sooo Stoked
Senior Spotlights
I'm going to publish these today, 5/18 and 5/25 then we'll be done so if you want to submit, please do! Send them to tim@timhaslam.com.
Alta Girls
#11 Majena Horoba - Attack - Majena has been playing for our varsity team since her freshman year. Majena's passion for lacrosse is contagious. She is constantly searching for the next thing to make her and her teammates better. From shooting on goal in her free time, to encouraging wall ball throughout the off-season. Majena never stops. As a lacrosse player, Majena plays a sneaky game. She's constantly looking for plays with other teammates and ways to create fast movement on attack. Majena was an extremely consistent player and always ready to attack the goal. Next year Majena will be attending the University of Utah. There she hopes to study Athletic Training. 
#24 Annika Sanger - Defense - Annika has been playing for our varsity team since her freshman year. Annika is a defensive powerhouse. She lets no one by her when playing 1v1 defense and is an incredible communicator. You can hear her from a mile away. Annika's understanding of team defense is incredible and helped our younger players learn so much last season. While Annika played defense for us for four years, she never stopped practicing her shot for her future career as a Midfielder. Next year Annika will be attending the University of Utah. At The U Annika plans to study kinesiology and play on the club lacrosse team.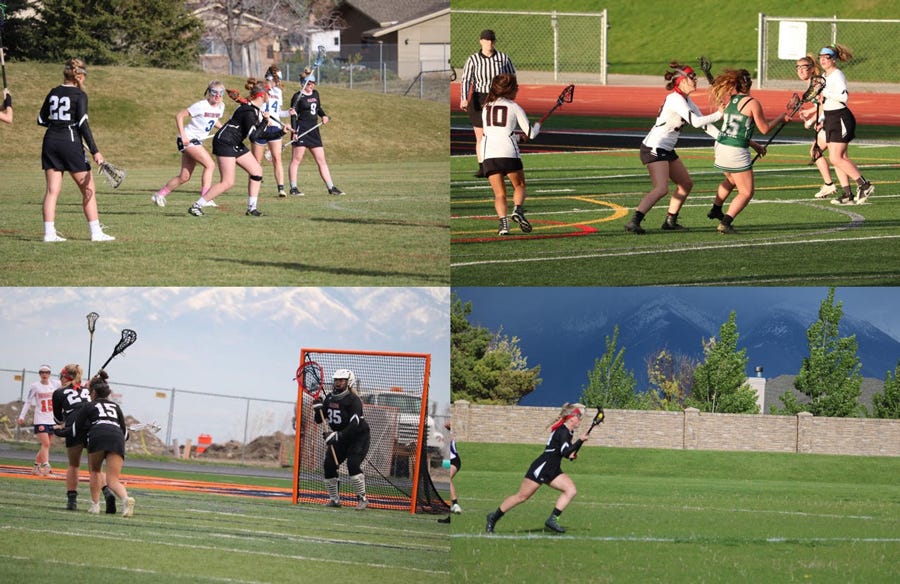 #32 Peighton Kimble - Goalie - Peighton has been playing for our varsity team since her freshman year. Peighton's experience in goal is easy to notice. She plays lacrosse at every opportunity she can. For years, she played for both our JV and Varsity club teams. Over her career Peighton has made hundreds of saves in goal and backed our defense with her voice. This year, fall and pre-season, Peighton showed her commitment to Alta and excitement to spread her knowledge to younger players. Peighton's ability to take direction and apply it during every play is every coaches dream. Next year Peighton will be getting her EMT license and working as an Emergency Care Tech in the Salt Lake Valley.
#38 Kemry Breur - Defense - Kemry has been playing for our varsity team since her freshman year. Kemry is our quiet and tactful defender. Kemry's defensive positioning is impeccable and has challenged our attackers for years. As a senior, Kemry's personality and voice truly came to light. Watching her lead this pre-season was such a joy. She used her voice to encourage teammates and her textbook skills to show the perfect example. Next year Kemry will be attending the University of Utah and hopes to get a bachelor of science in nursing.   
Olympus Girls
Samantha Larkins - Sam was our Defensive MVP last year and was voted a team captain this year. I cannot say enough good things about Sam. She is humble, coachable, reliable and level headed. Her field sense and work ethic have allowed her to be a play maker all over the field. She was the core of our defense but also made some of our best offensive plays. She is a phenomenal player on the field and an even better person off of it. Sam will be attending BYU in the fall and hopes to continue playing lacrosse.
Marissa Meier - Marissa might be the most coachable athlete our program has ever known. She started playing lacrosse her Junior year and set a goal to make varsity this year. Her work ethic and determination are unparalleled. She was a starter this year and an incredible asset all over the field. She always has a positive attitude and was a joy to coach. She will be attending BYU in the fall.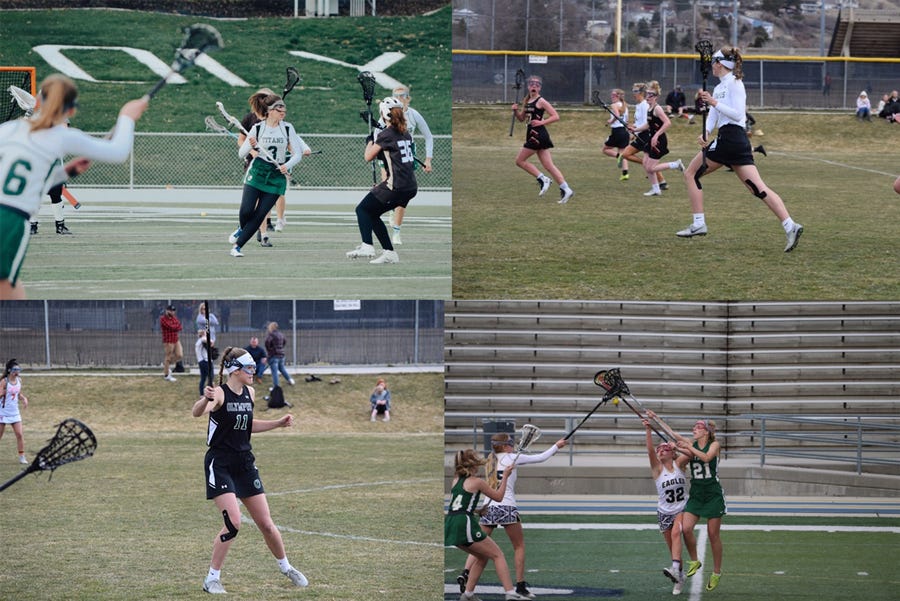 Brieann Adams - Brieann also started playing lacrosse her Junior year. She played defense for us on varsity this year and did a fantastic job. It was incredible to watch how quickly her stick skills and knowledge of the game improved. She, too, is incredibly coachable and is willing to implement new skills as soon as she learns them. She did everything we ask with 100% effort and is always the life of the party. Brieann will be studying medicine at Utah State University in the Fall.
Kayla Knaperek - This would have been Kayla's first year of regular season lacrosse. She transferred to our team from Lone Peak and we feel so lucky to have had her play with us. She is a great leader down on defense and is always looking/asking for ways to improve. She is an incredible teammate—super inclusive and supportive. She always looks for and points out the best in others and we loved having her on our team!  Kayla will be attending UVU in the fall.
Sky View Boys
Caden Tempest - Caden has worked really hard as an LSM for Sky View.  His main focus was speed and stick skills.  He was diligent at making all the early morning practices and was really looking forward to his senior year of lax.  His hustle was fun to watch.

Memphis Checketts - Memphis plays middle and has been playing lacrosse since he was in 4th grade. His hobbies include: snow-skiing, wake-boarding, golf, motocross, and building stuff. Memphis is an honor roll student and works for Premier Cabinets and Diversified Home Loans. After graduation Memphis plans to serve an LDS mission and attend Utah State.

Landon Hill - Hill is honored to be chosen as one of the captains for the Sky View lacrosse team. He has been playing lax since the 4th grade. He loves playing attack and hangin out with his teammates.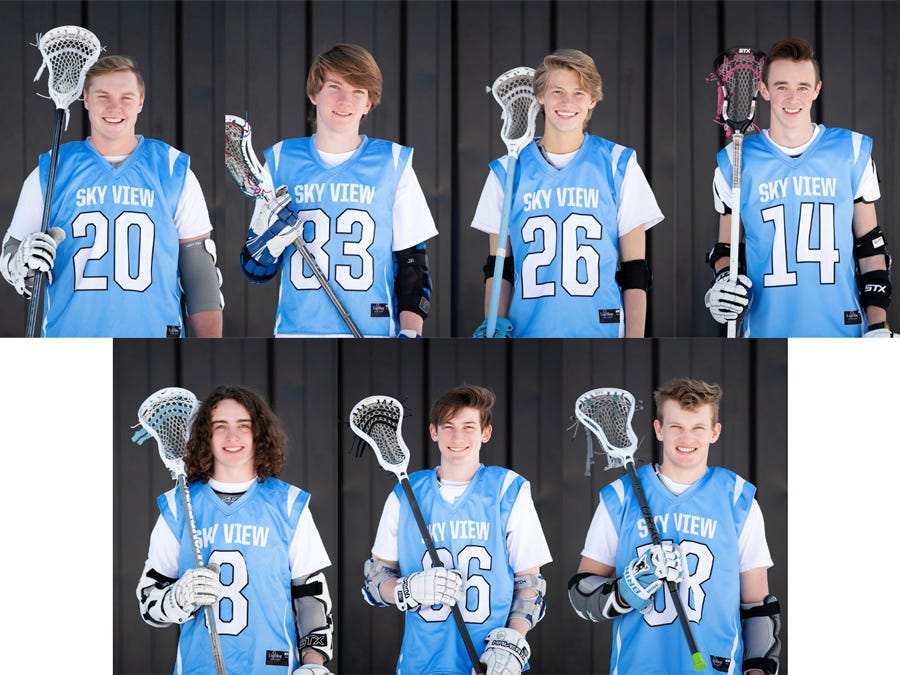 Jacob Zollinger - AKA Zolli, has been playing lacrosse since he was in 8th grade. Not only plays lacrosse but loves Sky View football. He has been playing varsity since his freshman year. He is a defender and has played LSM.

Ty Coats - Coats has been loving and playing lacrosse since he was in the 4th grade. He has so much heart in this game and loves playing LSM. He has focused on strong stick skills and being a team player, building the team and staying positive.

Jonah Teitjen - Tietjen is a hardworking midfielder who loves the sport of lacrosse. He began playing lacrosse in the 7th grade and has played for several school and club teams in the valley. In addition to lacrosse, Jonah has run cross country and sung in the school choir. He is an excellent student athlete and a member of the Honors Society.  In his free time he enjoys playing guitar, skateboarding and riding motorbikes. After graduation he plans to serve a mission for the Church of Jesus Christ of Latter-day Saints and then return to Utah State University to pursue a degree in biology and pre-med.

Kaleb Bodily - Kaleb worked extremely hard and earned a spot as captain for good reason. He is always a great example to the other players and just quietly made a huge difference on the team. After graduation Kaleb will be continuing his education getting experience in the trades.  
Summer Tournaments
The main summer tournaments in the state are still scheduled to happen. Some have adjusted their dates.
Aloha Tournament - June 12 -13
Legends Western Invitational - July 29 & 30
Ski Town Shoot Out - August 7 & 8
Park City Showdown - August 13 - 15
That's it for this week! Be sure to send to a friend if you enjoyed this weeks newsletter and new podcast.
— Tim Haslam