Discover more from Utah Lacrosse Report
The latest happenings with the sport of lacrosse in Utah.
Over 3,000 subscribers
Whipsnakes repeat, what comes next?
Issue 41
Good afternoon lax fans. Are you as sad as I am that pro lacrosse is over? Sigh… until next year!
Whipsnakes Repeat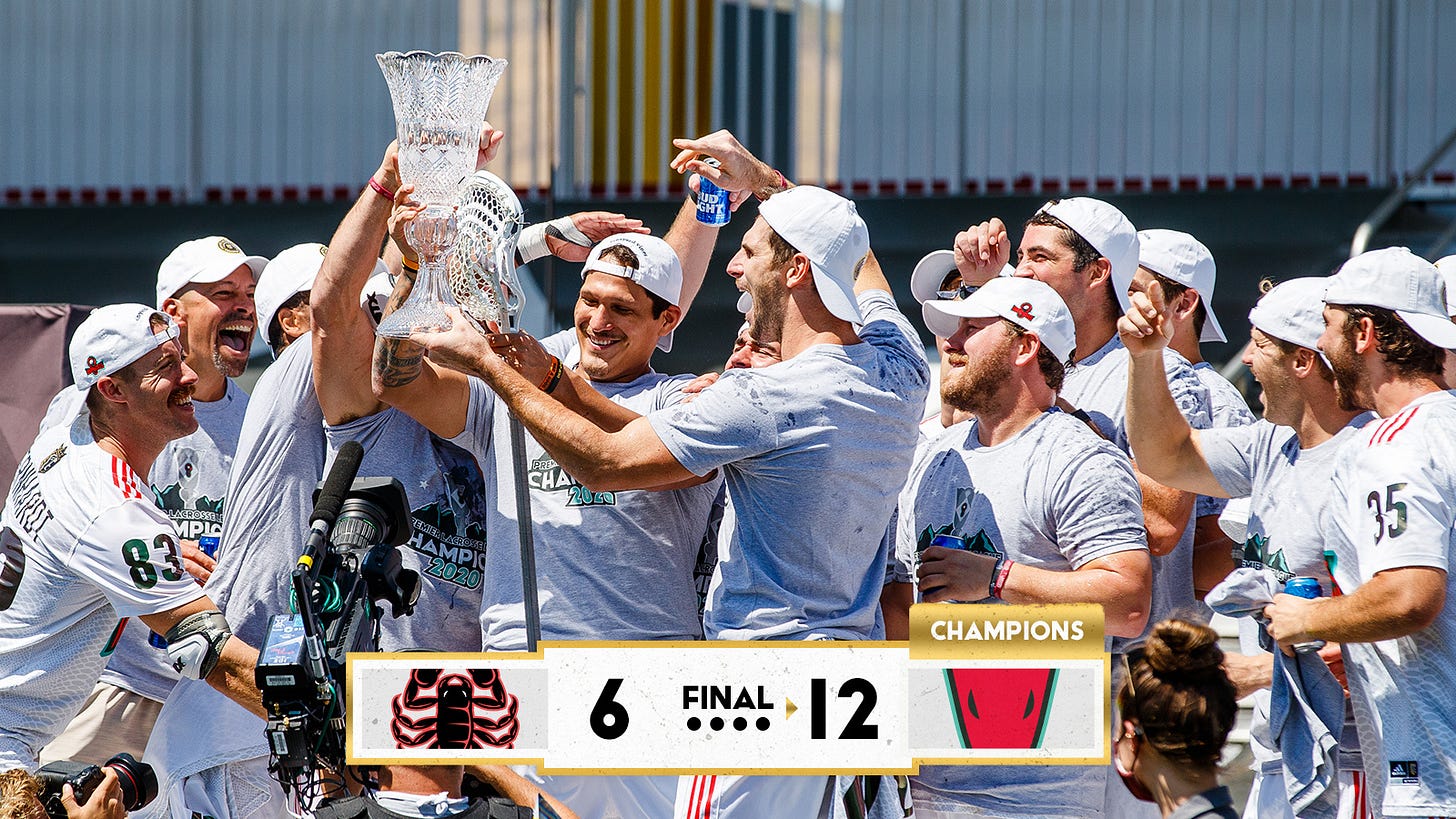 c/o PLL
The defending champs did just that with a 12-6 win over Chaos on Sunday. If you didn't watch the game, the score probably isn't surprising but how the game played out was the big story. Chaos, who didn't win a game in pool play, reeled off two wins in the playoffs en route to the championship. The Whipsnakes scored the first two goals but then Chaos scored the next six goals to take a 6-3 lead into the fourth quarter. The Whipsnakes woke up in the fourth quarter and went on a 9-0 run to take home the title. The fourth quarter will be one to rewatch over and over. Zed Williams, who was crowned the MVP, led the way with six goals. Obviously his play during the entire series was spectacular, but what he did after the game stood out to me. In the post game photos/videos you could see him still carrying his stick. People were wondering why. I think Lyle Thompson said it best:
I hope that if you're reading this, you take a moment to reflect on what the game means to you. Hopefully it's 'more than a game' and if it's not, I encourage you to make it so. Lacrosse will change your life if you let it. Also, take care of your stick!
Another note from the game:
Deemer brings up a good point. Just because you're shots are going into the back of the net during a summer game, don't stop assessing your shot selection/placement. Each game should be an opportunity to get better! The Whipsnakes had to adjust their shot placement because Riorden was making great saves.
What comes next?
First off, I'm going to take a break from writing the newsletter until September or October. Once again, thank you for reading. I really appreciate it. If you have any news you'd like to let me know, please email me: tim@timhaslam.com.
Second, this will be an interesting tweet to follow.
It's a poll and at the time of writing had this as the results:
Yes - 27.7%
Leaning towards Yes - 30.1%
Probably Not - 37.4%
No way - 4.8%
I bring this up with the message of 'Let's control what we can control'. This has been a hard/wild/tough/weird time in history and all we can control is our attitude and reaction towards it. So, if there isn't a college lacrosse season in 2021, let's be grateful for the ones we have had while looking forward to the ones we will have.
Third: Could we see pro lacrosse in this format in the future? As a fan, I loved the bubble format. Obviously I'd love to have fans but the bubble feels like a World Cup or Olympics. Could the PLL do a winter bubble? Will the NLL do a winter bubble?
And a final thought: Please stay positive and know that people care about you. Embrace the downtime to make yourself better. A better person, a better friend, a better lacrosse player/coach/fan. If you're feeling stressed or anxious, go hit the wall! Hitting the wall will be something you can do from the time you're 5 until you're 105 and the rush you get will be the same as it always has been and the same as it always will be.
— Tim Haslam