Good morning lax fans! I hope you're doing well and staying safe. Let's jump right into the action.
UVU Head Coach Brian Barnhill
My latest podcast (available on Apple Podcasts and Spotify or listen above) features Utah Valley Head Coach Brian Barnhill. I first met Barnhill at Alta when his son Mason was a close defenseman who then went on to Corner Canyon. I've always loved to talk to Barnhill about lacrosse because he brings a fresh perspective and is very humble. We talk about how he became the coach at UVU, what the Wolverines have been up to, the culture at UVU, favorite lacrosse memories (hint: it involves an upset of a No. 1 ranked team) and more.
Wasatch Invitational
This weekend was a busy one! The Wasatch Invitational was in full swing at Galena Park. The Boys HS Elite division featured 17 teams and the Boys HS Open division had 10 teams from Utah, Colorado, Arizona, Wyoming, California, Montana and Washington. NCAA, NJCAA and MCLA coaches from as far as Florida were also on hand to view the talent assembled. In the Elite bracket, 212 Lacrosse went undefeated en route to a 6-5 win over OC Crush. The True Utah 2024 team were the Open division champions after beating Colorado Chill, 7-5.
"This years Wasatch Invitational was a huge success and the growth has been exponential," said Danny Larkin, who with his brother Ricky, host the event. "Bringing high level club teams from all over the West and top college coaches from across the entire country to Utah is our goal with the Wasatch Invitational. The college coaches were very impressed with the level of play in Utah."
"It was really amazing to see teams coming from multiple states for this high school only event that brought out twelve plus different college programs," said Ricky Larkin. "The overall level of competition was solid in both divisions. College coaches all were very impressed with the talent out here, and that's what these players from the West need: more exposure."
Follow Wasatch LC on Instagram to see the All-Tournament team when it's released.
Aloha Tournament
The Aloha Tournament also took place this weekend. At the girls high school level, Force Elite won the event with a 3-0-1 record which is no surprise after seeing ball movement like this and a sweet BTB finish.
Fantastic transition and BTB finish. Well done ladies.
In the Boys High School division, ADVNC San Fransisco 2022 took first with a 4-0 record.
News & Notes
Can we talk about a game-changing moment for Westminster Men's & Women's programs? Let there be light!
Yes, that's right, we'll finally be able to enjoy a night game at Dumke Stadium.
Also, don't forget to check out the girls Super 7s. They have a couple more weeks left with championships on October 20/21. Side note: I've been to my share of cold lacrosse games, but the Super 7s Championship I went to in 2014 or maybe 2015 was the coldest I have ever been, but don't let that sway you. Go check out the games!
I also had the opportunity to take pictures of the Farmington v. Bingham scrimmage on Saturday. You can view the full gallery here.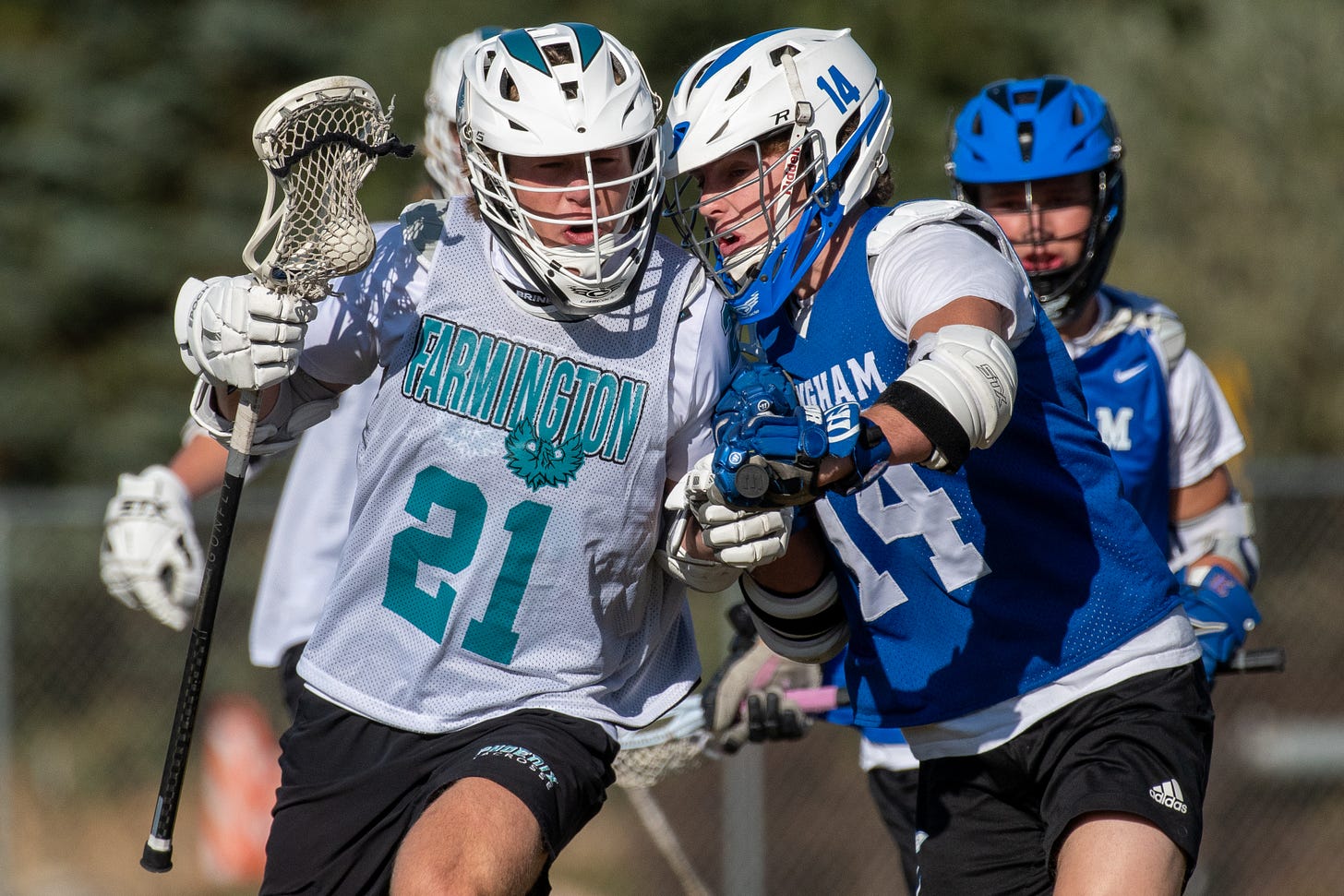 My last thought comes from an experience I had about a week ago. I had listed a fly-fishing net on Facebook Marketplace and a person had inquired about it. We went back and forth, trying to find a good time and eventually did. I got out of my car and he was wearing a Johns Hopkins lacrosse jacket. I asked if he had played at Hopkins and he had. He is living locally and teleworking. We later exchanged emails and he's on his way to becoming part of OUR community. The worldwide lacrosse community is special. The national lacrosse community is unlike any other sport. And our local community is outstanding, but we can be better. While many who have been involved in the sport may say we are huge and we are sanctioned, we must not rest on one's laurels! We need to continue to be welcoming and inclusive, no matter what. To those who are new to the sport, please ask questions! My story also serves as a great reminder to treat everyone with respect no matter what. You never know if the person that gets out of the other car will have a Hopkins, or insert school name, lacrosse jacket on.
Don't forget, please send any questions or comments to tim@timhaslam.com. Don't be a jerk to refs and thanks again for reading. If you've made it this far, please forward to a lacrosse loving friend.
- Tim Haslam